Please note: Premium features are for Handshake Premium accounts only. For more information, please check out this resource.
Using your the Greenhouse integration will delight your team (and early talent!) by:
Providing early talent with a streamlined applicant experience by letting them apply on Handshake

Completing your hiring activities in one system by reviewing applicant information that comes from Handshake all in Greenhouse

Keeping up-to-date on how your applicants are moving through the process within Handshake
Topics:
Employer Job Creation
How your team will link their jobs from Handshake to Greenhouse.
1. Link Greenhouse Job to Handshake
Create a new Handshake job, or edit an existing job (that doesn't have applications yet)

For guidance creating a new job, check out How to Post a Job.

Existing jobs that already have applicants will not be able to link to Greenhouse. If you'd like to sync applications for an existing job, please expire it and start fresh.

Select the job you'd like to link to from Greenhouse

Note: The job must be marked as Live in Greenhouse in order for it to be available in Handshake!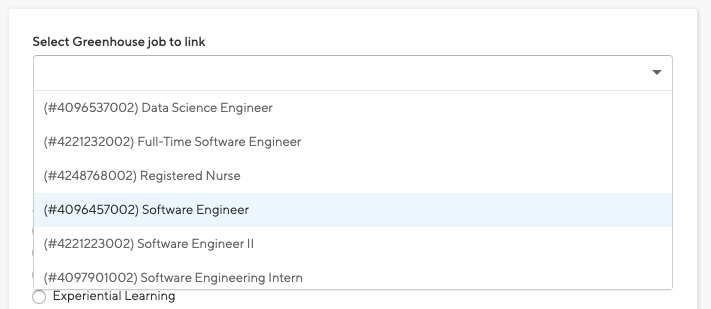 2. Decide whether to require a resume
Optionally include a resume as a part of the student application process

Note: Including this requirement will enable you to receive applicant packages from Handshake as well.
3. Post Your Handshake Job to Schools
Fill out the rest of the job details

Choose the schools to post it to

Note: if you expire your job posting in Greenhouse, the job posting will also expire in Handshake, unless the job is attached to an Interview Schedule in Handshake!
Student Application Process
How students will view and apply to jobs linked to Greenhouse.
1. Student job discovery
Students will browse and discover your jobs normally in Handshake.

Best Practice: use Campaigns to source the most qualified candidates!

To learn how students find jobs on Handshake, please refer to

How to Search for Jobs & Internships

.
2. Student application flow
Once students find your job, they will click to apply for it in Handshake.

Once they've attached any required documents and answered applicable additional questions, they'll click Submit Application, and they're done! Their application will appear in Greenhouse automatically (within a few minutes).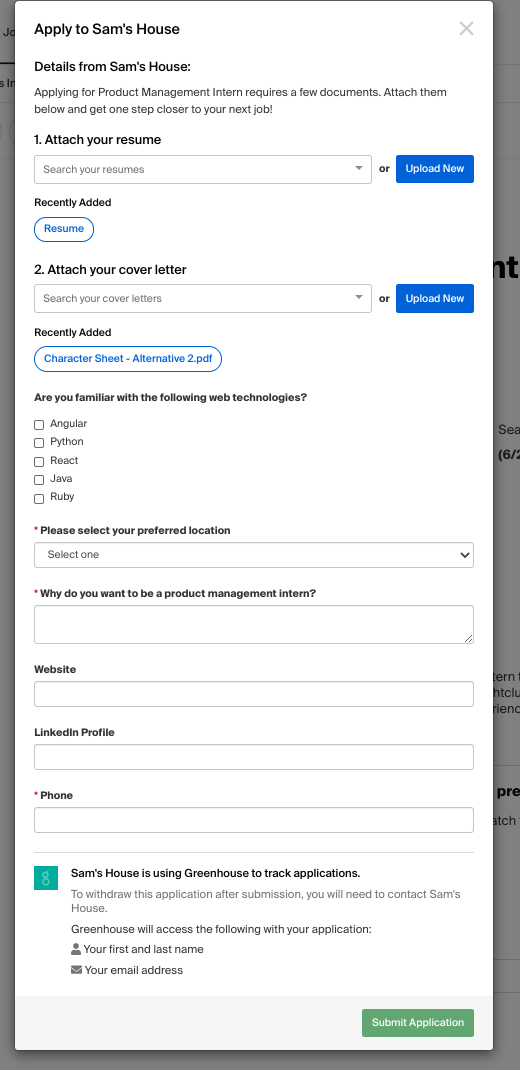 Review Applications in Greenhouse
After a student has applied in Handshake to a linked job, their application will appear automatically in Greenhouse - with their first name, last name, and email address.
In Greenhouse, the 'source' will be listed as Handshake with the candidate's resume attached (if required for the application process).
Application Status Syncing
View hiring data from Greenhouse in Handshake
Handshake has 2-way application status syncing enabled with Greenhouse.
This means the application status will update in Handshake as you hire or reject candidates in Greenhouse.
This updates every few hours - so check the Status column icon to see when data was last synced between our two systems!