Handshake's ATS integration with Greenhouse allows you to streamline your recruiting strategy, connect your activities to outcomes and provide a seamless candidate experience for early talent.

Premium features are for Handshake Premium accounts only. For more information, please check out this resource! Premium partners should reach out to their Account Manager to get set up with our ATS integrations.
If you need to set up your Greenhouse Integration, refer to How to Integrate Greenhouse with Handshake.
Note: Handshake's Greenhouse integration doesn't support custom demographic questions.
Below, we have outlined the steps to post and manage a job on Handshake with Greenhouse.
Newly created jobs in Handshake, or jobs that do not yet have applicants can be setup with Greenhouse.
Existing jobs in Handshake (that have applicants) can't be linked to Greenhouse recruiting postings.
If you would like to sync applications for an existing job, you'll need to expire the job and create a new posting for it.
Note: do not duplicate any existing or expired jobs you wish to re-post, as this will result in an unsuccessful connection between Handshake and Greenhouse.
1. Once your job is in Handshake, select the relevant job from the list of available postings in your Greenhouse Recruiting account from the Select Greenhouse job to link dropdown.
The job must be marked as Live and Public in Greenhouse for it to be available in Handshake!
Note: the integration doesn't automatically cross-post Greenhouse jobs in to Handshake, so a job must be selected.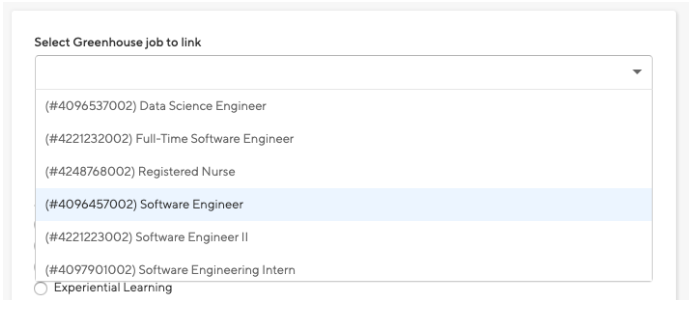 2. When a job is selected, Handshake will also retrieve the following details from Greenhouse Recruiting. Confirm details are accurate and formatted as desired.
Job Details
Number of Positions
Employment Type
Paid / Unpaid
Required Documents
3. Decide whether to require documents (such as resume or cover letter).
Required document(s) must be checked in the Details tab of the job posting in Handshake in order for the selected document(s) to sync in Greenhouse. If they are left unchecked, applicants won't be prompted to submit a document, and their application won't have a document in Greenhouse regardless of the Greenhouse job settings.
Note: including this requirement will enable you to receive Applicant packages from Handshake as well.
4. Complete your job posting and post your job to schools. For guidance, refer to How to Post a Job.
Note: if you expire your job posting in Greenhouse, it will also expire in Handshake unless it is linked to an Interview Schedule in Handshake.
Once configured, Greenhouse jobs should sync instantaneously. If jobs aren't appearing within a few minutes, the configuration may not be working. Reach out to our Tech Support Team by submitting a ticket.
Student Application (process)
Students will browse and discover your jobs as usual in Handshake. To learn how students find jobs on Handshake, please refer to How to Search for Jobs & Internships.
Best Practice: use Campaigns to source the most qualified candidates! For additional details, refer to Campaigns: Create and Manage a Campaign.
Students can apply by clicking Apply Externally on the job posting in Handshake.


Students will be able to upload a resume/and or cover letter as specified, and

complete the required and optional questions configured in Greenhouse.

After completing and submitting the application, their application will appear in Greenhouse automatically (within a few minutes).

In Handshake, the job posting will update to ask the student to confirm whether their application was submitted. The student can click Yes or No to confirm.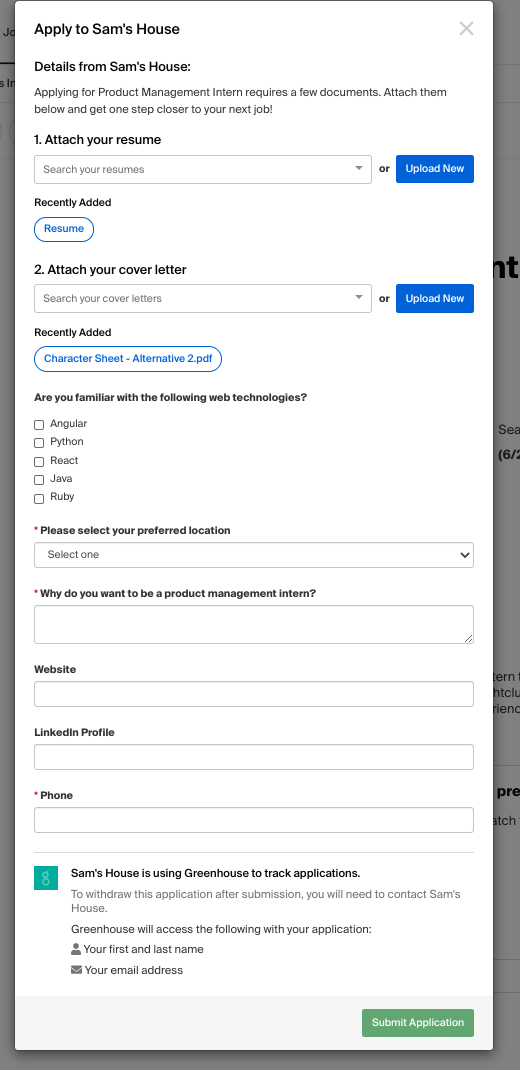 Review Applications in Greenhouse
Once a student submits an application, it will automatically appear in Greenhouse with all of their information.
The application will include the following candidate details:
First name, Last name, and email address
Source as Handshake
Resume and Cover Letter (if required for the application process)

under the

Application or Details tab > Source & Responsibility section.

Responses provided for any required or optional Job Post Questions.
Note: applicant Education information (like degree, school, and discipline) aren't pulled into Greenhouse.
The Greenhouse Recruiting / Handshake integration uses real-time application status syncing, which means applicant statuses update in Handshake as they are hired or rejected in Greenhouse Recruiting.
With these statuses synced, you can more accurately source new applicants and analyze past recruiting efforts.
If you would like to know when the last sync between our two systems occurred, we recommend checking the Status column icon in Handshake.

Managing Applicants in Handshake
Handshake's ATS integrations automatically sync candidates that initiate the application process directly from within Handshake as well as with the ATS posting outside of Handshake to allow for clearer attribution available in Talent Analytics: Applicants.
The job's Applicants tab includes an additional filter titled Origin, which allows you to easily distinguish between applications submitted through your ATS and Handshake. Learn more in our Job Applicant Management Guide.
Employers that wish to opt-out of this feature can reach out to their CSM or submit a ticket to Support here.
To learn more about our other ATS integrations, visit Integrations & SSO.