Handshake's ATS integration with Workday helps you increase efficiency, improve the candidate experience, and connect your activities to outcomes.
Premium features are for Handshake Premium accounts only. For more information, please check out this resource! Premium partners should reach out to their Account Manager to get set up with our ATS integrations.
Jobs are surfaced to candidates based on relevancy, and your team can promote jobs via Campaigns. Candidates experience a streamlined application process and recruiters can seamlessly review applications in one location.
At any point, your team can use Talent Analytics to surface recruiting and sourcing trends and track how many of hired applicants were proactively recruited on Handshake through various activities.
Below, we have outlined the steps to post and manage a job on Handshake with Workday.
1. Navigate to Jobs from the left navigation bar, and click Create Job in the upper-right corner of the page.
Existing jobs in Handshake cannot be linked to Workday — a new job posting is required.
2. Click the downright arrow to the far right of the Select ATS job to link field to select the relevant job from Workday.
The job must be marked as Live in Workday for it to be available in Handshake!

3. Job details from Workday will automatically populate in Handshake. Confirm details are accurate and formatted as desired.
By selecting to request a document, you can also receive applicant packages from Handshake.

4. Complete your job posting and post your job to schools. For guidance, refer to How to Post a Job.
Student Application (process)
Students will browse and discover your jobs as usual in Handshake. To learn how students find jobs on Handshake, please refer to How to Search for Jobs & Internships.
Best Practice: use Campaigns to source the most qualified candidates! For additional details, refer to Campaigns: Create and Manage a Campaign.
Students can apply by clicking Apply Externally on the job posting in Handshake, which will launch the Workday application.


Students will complete their application as configured within Workday.

After completing the application, their application will appear in Workday automatically (within a few minutes).

In Handshake, the job posting will update to ask the student to confirm whether their application was submitted. The student can click Yes or No to confirm.
Reviewing Applications in Workday
After a student has applied to a linked job, their application will appear automatically in Workday with their information.
The application will include the following candidate details:
First name, Last name, and email address
Source as Handshake
Resume and Cover Letter (if required for the application process)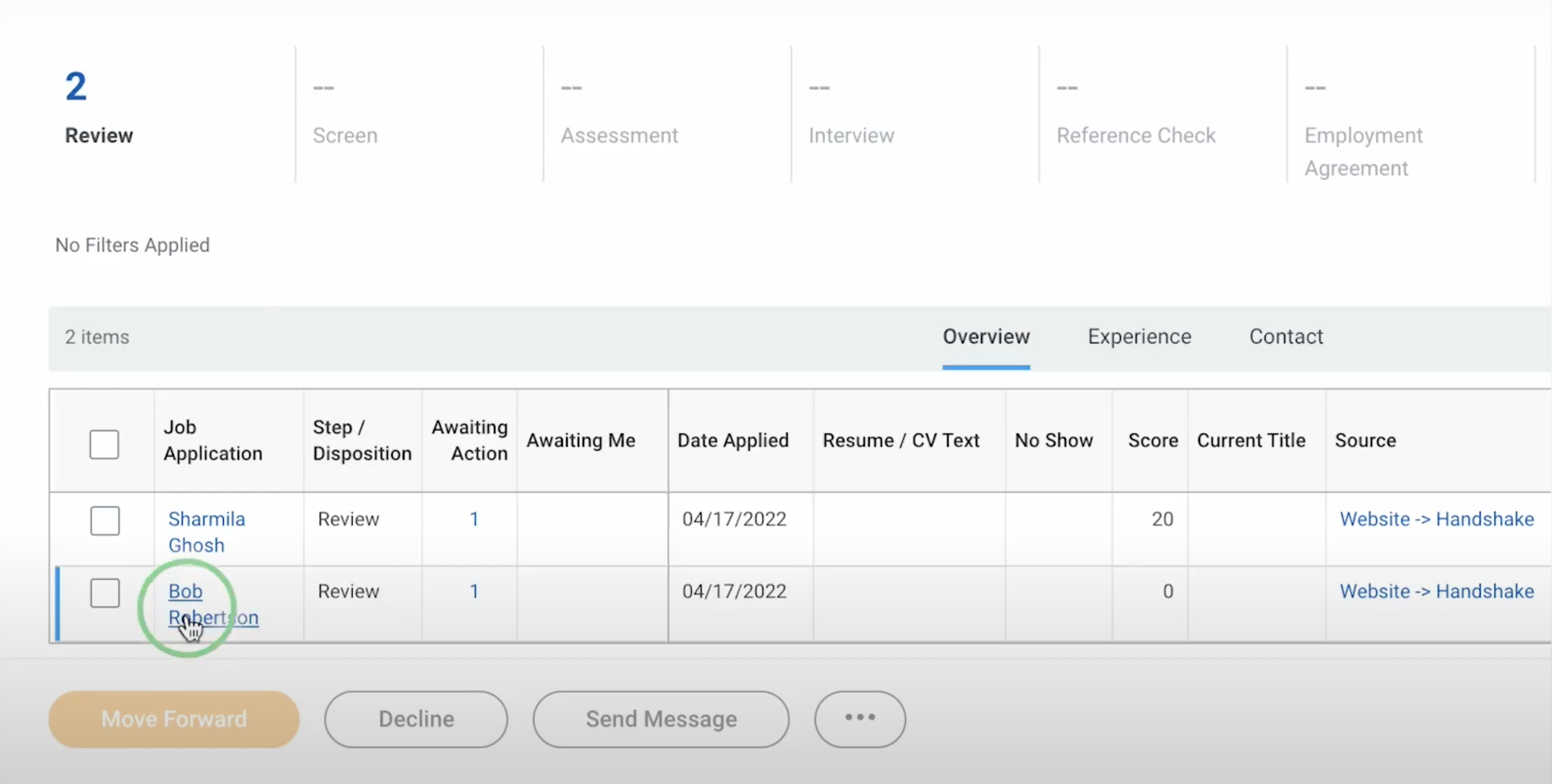 Review the application as usual in Workday.
After reviewing the application in Workday, the application status in Handshake updates automatically on an hourly basis.
The application status in Handshake is dependent on the application in Workday and will reflect one of the following statuses:
Pending: indicates the application wasn't fully submitted in Workday

The student clicked on the Apply Externally button on the job posting on Handshake but did not complete the external application.

Reviewed: indicates the application has been submitted successfully in Workday
Hired: application was marked as "Hired" in Workday

A job posting with only one vacancy will expire automatically in Handshake after a candidate is marked as "Hired" in Workday.

Declined: application was declined in Workday
Note: if you expire your job posting in Workday, the job posting will also expire in Handshake.
Managing Applicants in Handshake
Handshake's ATS integrations automatically sync candidates that initiate the application process directly from within Handshake as well as with the ATS posting outside of Handshake to allow for clearer attribution available in Talent Analytics: Applicants.
The job's Applicants tab includes an additional filter titled Origin, which allows you to easily distinguish between applications submitted through your ATS and Handshake. Learn more in our Job Applicant Management Guide.
Employers that wish to opt-out of this feature can reach out to their CSM or submit a ticket to Support here.
Learn more about using Using the Workday Integration in Handshake.