Global Settings allow Owners and Administrators to configure employer-wide settings based on how your team operates and are available for all Core and Premium employers on Handshake.
Note: if your account is not configured as an Owner or Administrator, you will not be able to manage these settings.
Topics:
How to configure Global Settings
1. Click on your name in the upper-right corner of the screen, then click Company Settings.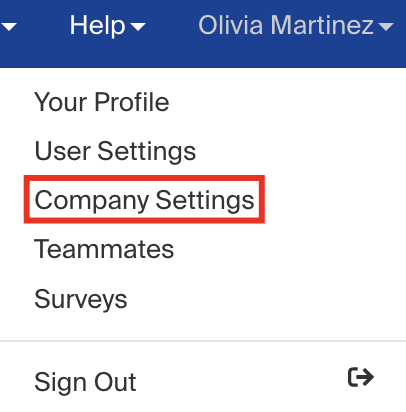 2. From the menu on the left of the page, click Global Settings.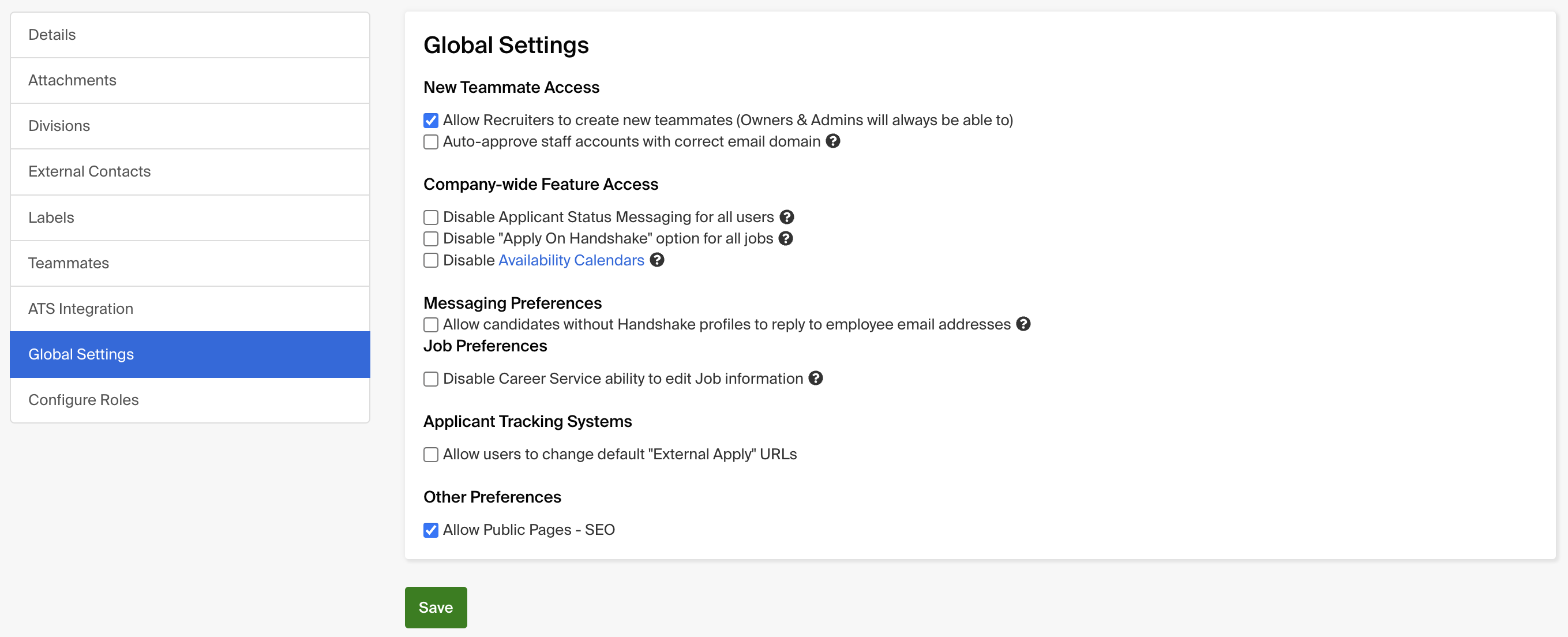 3. Configure Global Settings by checking or unchecking boxes as desired, then click Save.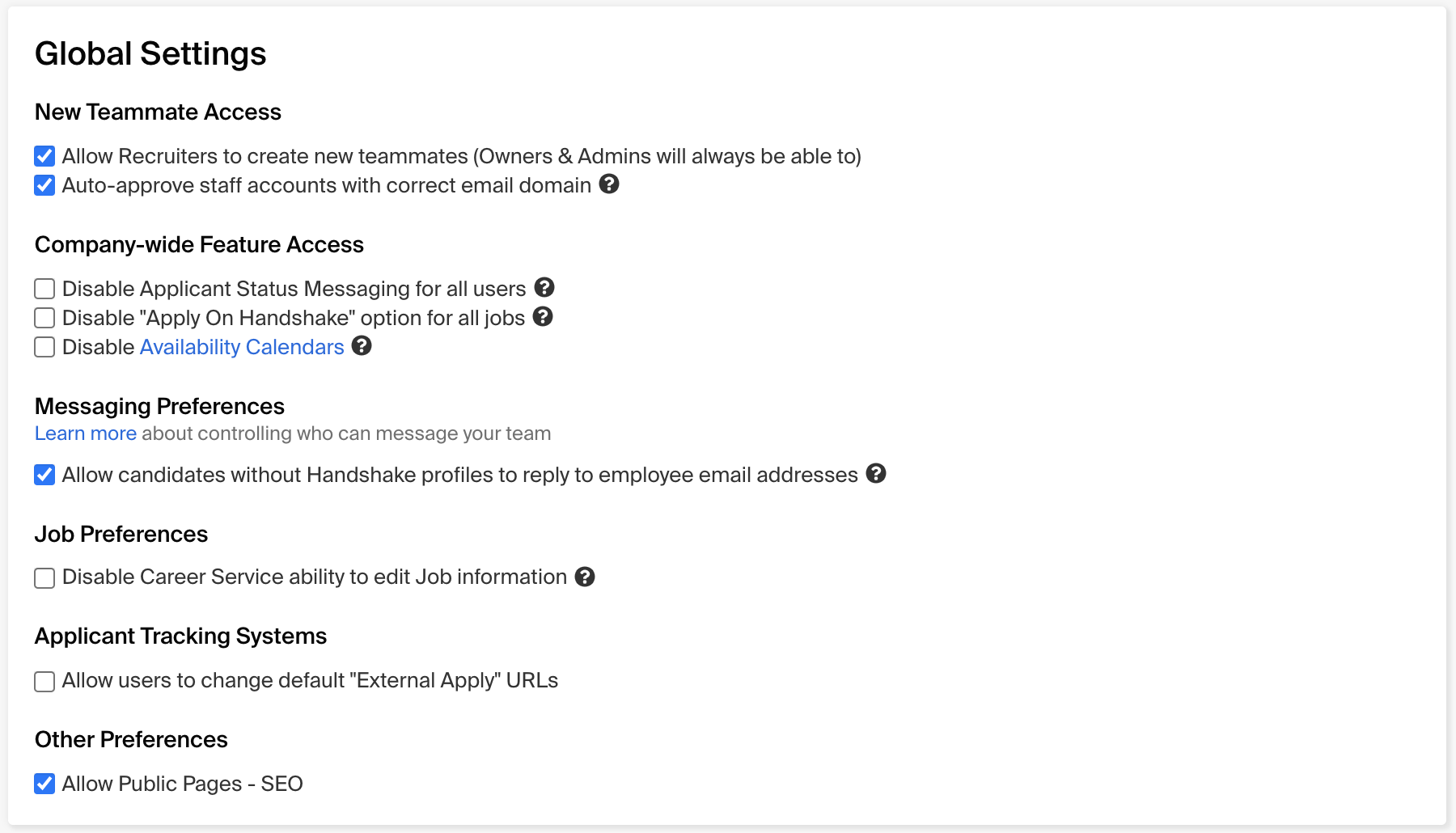 What does each Global Setting allow?
New Teammate Access
Allow Recruiters to create new teammates (Owners & Admins will always be able to)
Only Recruiter (Sourcer) and Recruiter (Advanced) users will be able to create new teammates. For more information on how to use this feature, refer to How to Manually Add Teammates to your Company's Profile.
Auto-approve staff accounts with correct email domain
Checking this setting allows teammates new to Handshake to automatically be connected to your company profile, as long as their email address domain matches the company domain on file. By unchecking this option, only Owners or Administrators can grant access to new staff members.
Note: you will have this option if there is only one company profile in Handshake associated with your email domain. If there is more than one company profile connected to your domain, it will not be an option.
Company-wide Feature Access
Disable Applicant Status Messaging for all users
Applicant Status Messages are automated responses sent to applicants when their applicant status changes. If checked, they are activated and customizable per each team member (via user settings), as shown in the example below: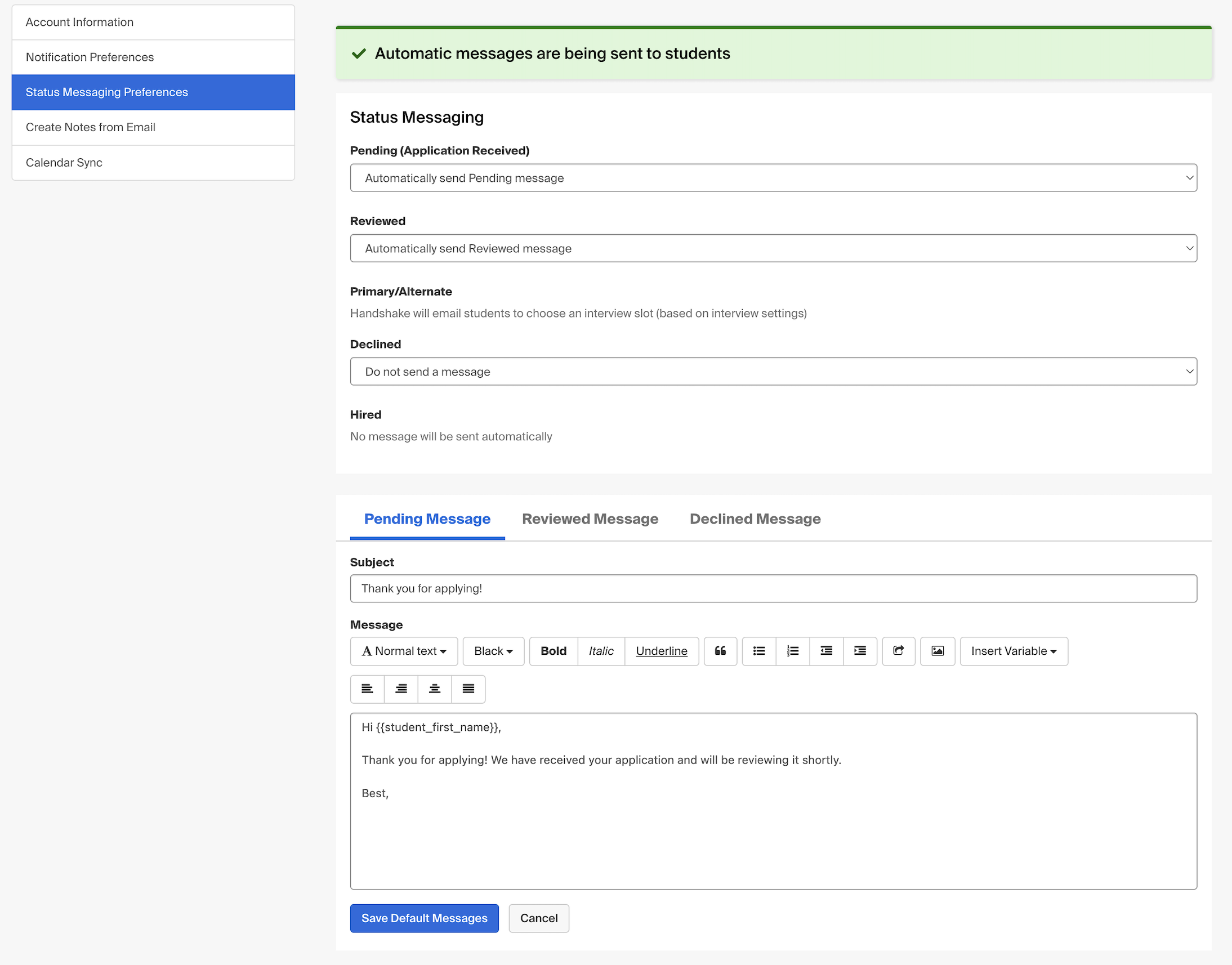 If you uncheck this option, you will remove this feature across all team members connected to your company profile, meaning the "Applicant Status Messaging" tab will disappear, and no messages will be sent to students in the future.
We recommend unchecking this feature if you already keep candidates updated through your Applicant Tracking System (ATS).
For information on setting up status messages, refer to Applicant Status Messaging Preferences.
Disable "Apply on Handshake" option for all jobs
With the default settings, when users create new jobs, they can choose whether to direct applications to Handshake, or to your Applicant Tracking System.
By disabling this option, all new jobs must be directed to your Applicant Tracking Systems. Moving forward, users who create new jobs will not be able to select Apply in Handshake. By hovering over the link why is this disabled?, a notice will appear that says "The owner of your Handshake enterprise has turned off this option for your company."

Disable Availability Calendars
While this is unchecked (default setting), team members will be able to set up personal Availability calendars. By disabling this feature, no new Availability calendars may be created moving forward. Read more about Availability Calendars for Virtual Info Chats.
Note: if there are existing Availability calendars created when this feature is disabled, those calendars will remain active after this setting is checked. Follow up with team members individually to request their calendar and any scheduled sessions be cancelled and deleted. Refer to Availability Calendars: Manage a Schedule.
Messaging Preferences
Allow candidates without Handshake profiles to reply to employee email addresses
To learn how employers are messaged, refer to Receiving Messages from Students in Handshake. Employers who wish to not be messaged by students should refer to the guidelines outlined in the article above.
For more information on this messaging process, refer to Messaging Candidates without Handshake Profiles.
Job Preferences
Checking this box disables the ability for Career Services teams to edit your job postings and create jobs on behalf of the employer. With this feature disabled, editing
is restricted to only allow the ability to add college and label requirements for students as applicable–for both employers and schools to reference as needed.
Applicant Tracking Systems
Allow users to change default "External Apply" URLs
Checking this box allows team members creating and managing job postings to change default "External Apply" URLs. For more information, check out How to Use Direct ATS.
Other Preferences
Allow Public Pages - SEO
Checking this box allows your Handshake company profile to be included in relevant search engine results, and people not signed in to Handshake may view a condensed version of your company profile.
Included in the view are:
Company name, logo, banner image, and About section
Location, type, size, industry
Reviews
Questions & Answers for your company
a list of Related Employers (other employers with the same industry selection)