When creating a job posting on Handshake, you can direct candidates to apply through your specific applicant tracking system, allowing for a seamless and efficient application process.
If you haven't created a job on Handshake yet, refer to How to Post a Job.
Direct candidates to your ATS
1. Click Jobs from the left navigation bar, then click the blue button Create Job.
2. In the Basics tab of the job form, select the option Apply through external system to the question "Where should students submit their application?
3. If you'd like to add an ATS/job code to match against your applicant tracking system, click the hyperlinked text +add an ATS/job code, then enter the code in the Applicant Tracking System Code field.
4. Enter the website or the ATS URL in the Website or Applicant Tracking System URL field.
Note: click the hyperlinked text +add instructions for external applications if you'd like to provide candidates with instructions.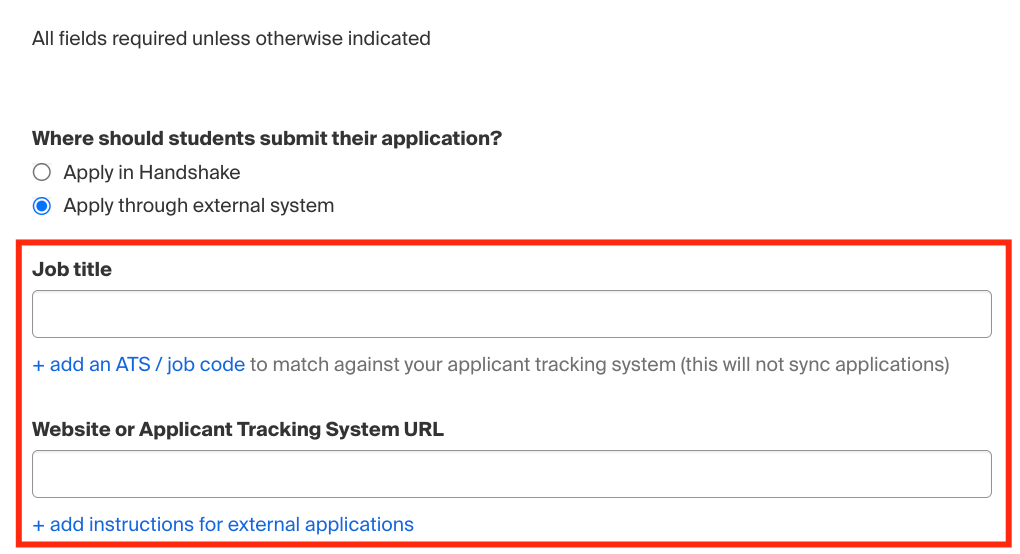 Required documents
In the Details tab of the job form, you can require students to submit additional documents to fully complete their application.
Applicants will first be prompted to upload their document(s) if required, and then directed to your external application.
You may receive applicants who upload their documents and click through to your external application, but do not fully complete the application.
Note: if they've submitted a required document, they will be listed as applicants in Handshake.
If you'd like students to be taken directly to your ATS without having to upload any documents, uncheck any documents in the Required documents section.