On Handshake, you can edit your company settings to provide accurate details about your company and reflect your brand effectively.
To begin, click on your name in the top-right corner of any page in Handshake, then select Company Settings from the dropdown.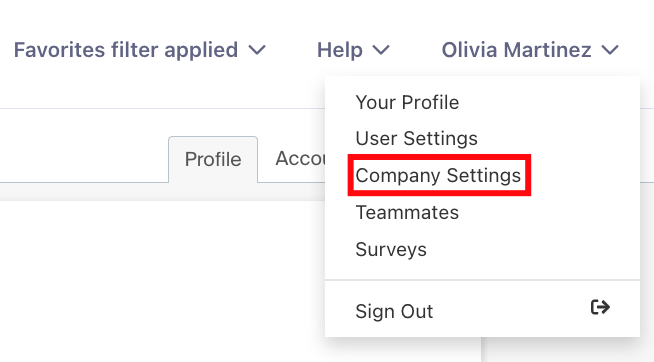 Alternatively, you can click Company Profile from the left navigation bar, then click Edit in the top-right corner of the page.
From here, you can navigate through the menu on the left to edit your company details as outlined below. Click on Update Employer or Save (as appropriate) at the bottom of each page to save your changes.  
Please note that any information you edit will also reflect across all users connected to your company profile. 
On the Details page, you can edit your company details.  
Listed below are details about your company that are required(*) and optional. 
Note
: for security purposes, to make changes to your company's
name
,
location
, or
EIN
, submit a ticket to our Support team 
here
.
Name* (request changes via Support ticket)
Industry*
Aliases
Website*
Public Email
Auto Approve Staff

This option will only appear if there is only one company profile tied to your email domain in Handshake. If there is more than one company profile, you will not have this option.

Employer Identification Number (EIN)  (request changes via Support ticket)
Duns number
Public Phone Number 
Private Phone Number 
Description*
Pitch
Featured Job (only available to Premium partners) 

See additional details below 

LinkedIn
Facebook
Twitter
Location*  (request changes via Support ticket)
Institution Size
Institution Type
Timezone
Logo and Banner

Pro-Tip: after uploading your logo and banner, wait 30 seconds before clicking Update Employer.
Featured Job: this will default to your most recently posted active job at a student's school if left blank. To highlight another job, click the downright arrow to select the desired job from the dropdown menu. 

When you click Attachments, this page will be empty if your company hasn't posted any attachments yet. 
To add a new attachment, click the tab New Attachment in the top-right corner of the page.

Enter the public name of the document and click Choose File to select the file from your computer, then click Create Attachment to save changes.

Once the attachment is created, the page will refresh with a message confirming that the attachment was successfully created and that the upload is processing. Refresh the page to check the status.

When the upload has completed, the attachment will be listed with the name, time created, and the creator's name. Click Edit or Download to the far right of the attachment to edit the name or document or download the file. 
Note: attachments uploaded by your company are visible to all students, employees, and career services users on Handshake. These attachments can only be edited and removed by the owner of the company profile. Institutions can also upload attachments to a company profile, but the attachments are only visible to the users associated with their institution. 
On this page, you can add or manage existing divisions within your company profile. Divisions can be attached to jobs, interview schedules, or fair registrations. 
For more information on adding divisions, refer to How to Add Divisions to Your Company. 

This page displays a list of contacts connected to your company in Handshake, regardless of user status.
Click Add Contact in the top-right corner of the page to create a new contact entry (for example, someone that should receive applicant packages but doesn't necessarily need a Handshake user account). 
Click Edit to the far right of a contact entry name to edit their details.
Note: if the individual has a Handshake account, these changes will not affect the details on their profile.

Labels provide a convenient way to help organize your student engagement workflows. Previously created labels will be listed on the page. 
To add a new label, click the button Create New Label, toward the top middle of the page. In the popup that loads, enter the desired label name, then click Create.
To edit an existing label, click the three hashmarks to the far right of the label name, then click Edit Label. You can update the name of the label or mark it as Archived.

This page allows you to review and manage teammates with accounts in Handshake, as well as use the Invite Link or Add Teammate Manually options to invite a teammate to setup an account. 
This section will display the roles available for your company profile and the permissions for each. 
Note: Premium partners can configure permissions for each role. Learn How to Configure Role Level Permissions.