Handshake is an excellent resource to ensure remote engagement between your career center, employers, and students.
*Update* Check out our new blog post Handshake COVID-19 Higher Ed Recruitment Trends, as well as our PDF version here!
We've put together a guide below to help you maximize the tools available to you, and we also have recordings of our maximizing remote engagement and video conference/meeting basics webinars and guides attached to this article. Click one of the topics to jump to a specific section in this article:
Follow Handshake best practices for boosting engagement online:
Remind students the vast majority of engagement with employers occurs online already, so it's smart to follow employers they are interested in to stay updated on any job or event activity.

Prompt students to fill out their profile to increase their chances of being found.

80% of students who fill out the following three areas of their profile receive a message from an employer

: location preferences, job role preferences, and job type preferences. Share this

blog post

with students to spread this message.
Encourage students to read Reviews and connect via Peer Messaging to supplement in-person alumni panels, career treks, and employer meetups they might be missing. Students can read over 100,000+ reviews by peers to learn more about what it's like to intern or work at specific companies and use Peer Messaging to conduct virtual or phone informational interviews with current students and alumni. Here's another blog post you can share with students about the benefits of these features.
Events
Host career events online: It's likely that your most pressing concern is around upcoming events. Employers are also shifting towards virtual events as they seek to build connections with students. To help facilitate, consider:
If you are hosting the event, use the new "virtual session" event type when creating it. This event type includes a URL field (instead of the standard location field) where you can include a clickable meeting link for students. If you need to update an existing event and are unable to switch the event type, update the building, room, or location field of the event to a permanent virtual meeting link. Please note: If this is the case, the link will need to be copied and pasted into the browser URL field by students.
If an event is employer-hosted, ask them to create a new virtual event (once a student has RSVP'ed for an event, it is locked, so it's best to start fresh) and include links to video conferencing in their description fields. This same advice on using links to video conferencing applies to all additional upcoming events.
Send students an email update to increase awareness of these changes and encourage participation with the template at the bottom of this page.
Update event location and description with a virtual meeting link.
Note: Only events configured as a "virtual session" will be clickable. All other links will need to be copied and pasted into the browser URL field.
For employer events, employers can edit and add the link. For career services led events, career services should add the link directly.

The event location will display beneath the event title and date for students, as seen below:

For school hosted events, check in students manually while reviewing the list of virtual attendees.

If employer hosted, have the employer set the event to virtual.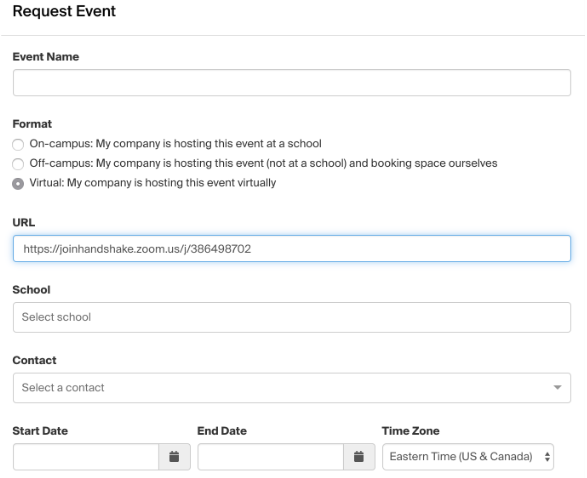 Employer can reference How to Request an Event for more information. If they'd like to followup with students after the event, employers can reference Accessing and Messaging Event RSVPs for more information.
Educate students on how to search for virtual events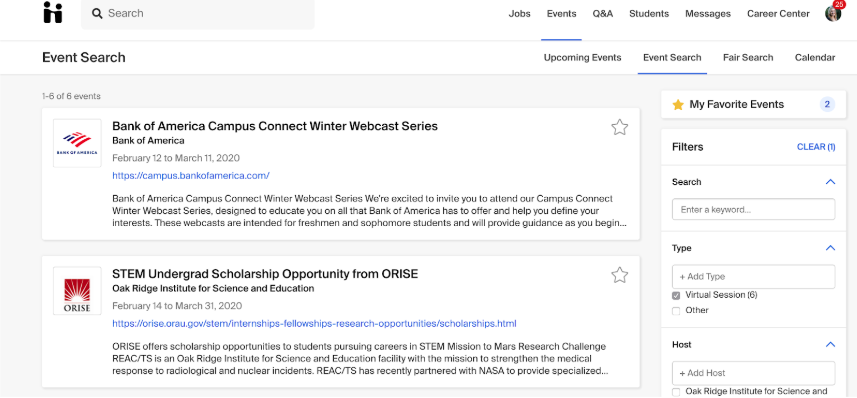 Use this link to share virtual event search with students.
Fairs
Handshake is releasing a virtual fairs feature in late-July. Read more on this new feature here!
If you've had to cancel a career fair: Consider how best to achieve similar outcomes through virtual engagement and information distribution.
Instead of hosting a virtual fair, shift to a series of individual virtual events. You could even encourage employers to host these events during the same time as the previous event, so students could click into each to simulate the fair experience.

Before you cancel your career fair registrations, send students the list of registered employers, so they can review and follow any that are relevant; once they follow an employer they'll be notified about any new events.
If you need to issue a refund, please refer to this help article and reach out to Support here for further assistance.
We recommend that you shift to an individual employer event, and encourage employers to schedule it at the same time as your previous fair.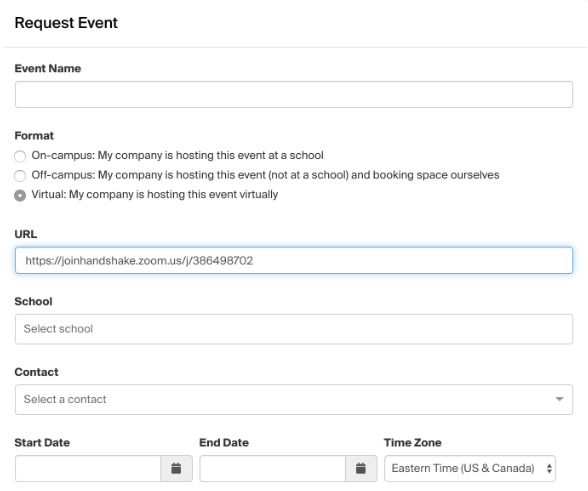 Bulk email registered employers to educate them about virtual event options. You can include this Help Center article, How to Request an Event, to help them create a virtual event.

Cancel the career fair registrations. We recommend to wait to cancel career fair registrations until students have had time to scan the registrant list.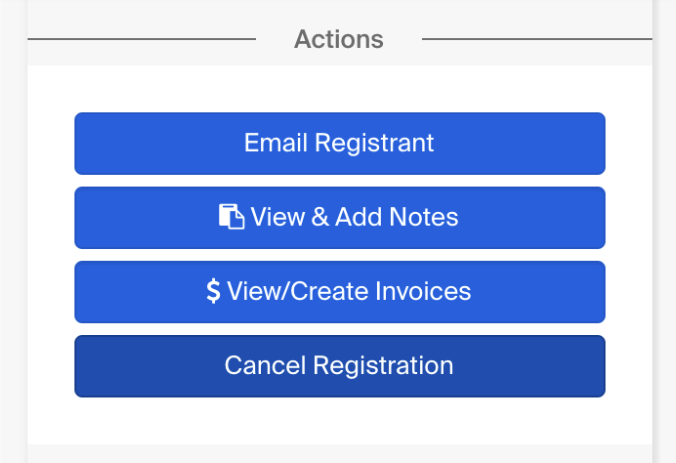 Let the Handshake Support team know if you would like assistance cancelling in bulk.
Refunds should be processed in your external payment system. In order to issue the refund, you will need to follow the applicable process per your payment provider/payment method (TouchNet, CASHNet or Stripe). Refer to Refund a Registration for more details.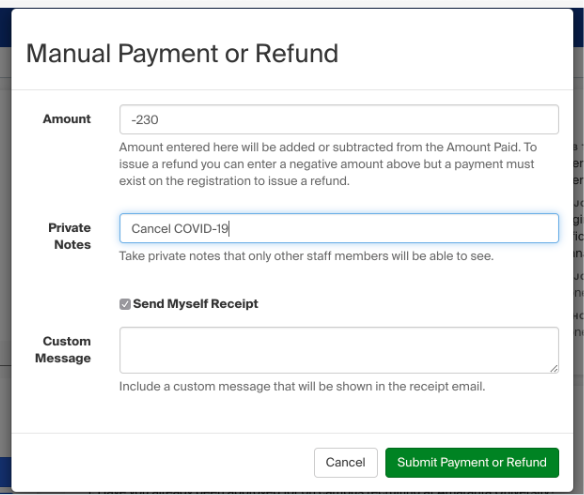 Bulk email students to inform them of virtual events.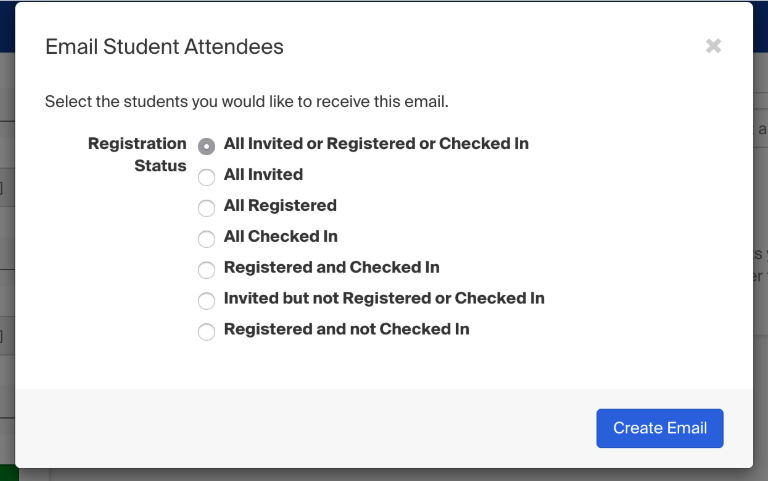 Recommend that students favorite employers they are interested in. Students will be notified when favorite employers post an event or a job.

Recommend that students check out jobs linked on fair registrations.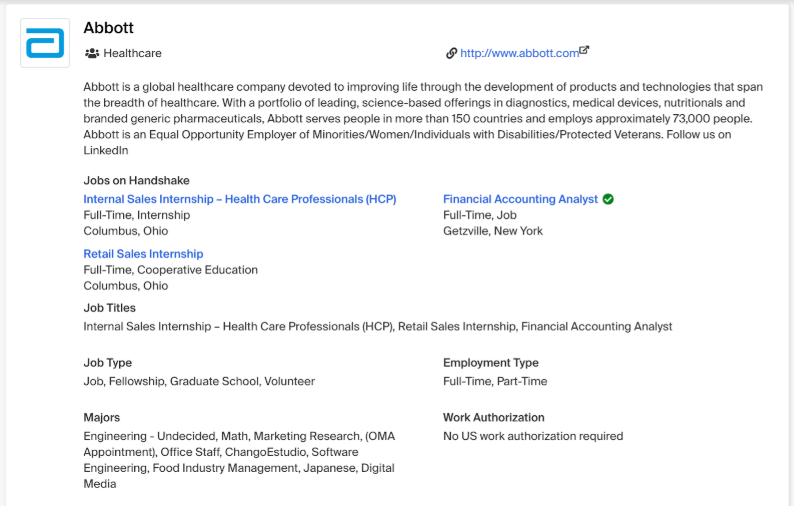 Appointments
Bring appointments online: It's likely you're also thinking about appointments and how to shift these online without losing student engagement. To this end, consider some of the following tips:
Create or update office locations of each staff member hosting appointments and career services staff accounts with a video meeting link. Links are now clickable in the appointment, as of 3/23/20!!

Create or update appointment mediums to add a video or phone call and update appointment blocks to only support virtual options.

Note: if

you update location and medium, you should not need to update any of your appointment types.

For more in-depth information on setting up virtual drop-in appointments, refer to Best Practices: Managing Virtual Drop-In Appointments.
Same as above, leverage this email template to encourage students to participate in virtual events.
Create or update office locations for each staff member hosting appointments.
Note: You can create a password in order to sign in to the Zoom room you use, and you can use Zoom's waiting room feature. Click here for more information, or you can reach out to Zoom. We do recommend testing this out first from the student view to confirm it's working as you'd like!

Update office location on career services staff accounts.
By selecting "Jade's Office," the virtual link will show up for the student once they choose their appointment.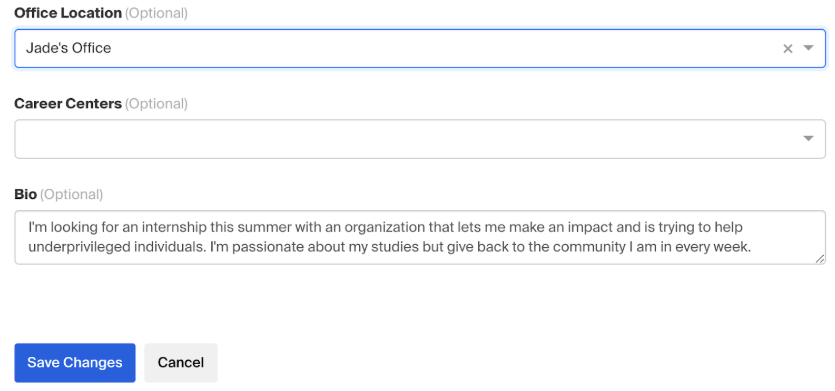 Note: Only the "Title" of the office location will appear in the appointment confirmation email. If you'd like the link to appear as well, consider adding the link to the office location title!
Create or update appointment mediums to add video or phone call.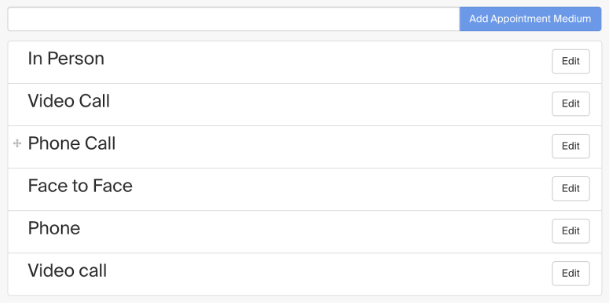 Update appointment blocks to only support virtual options.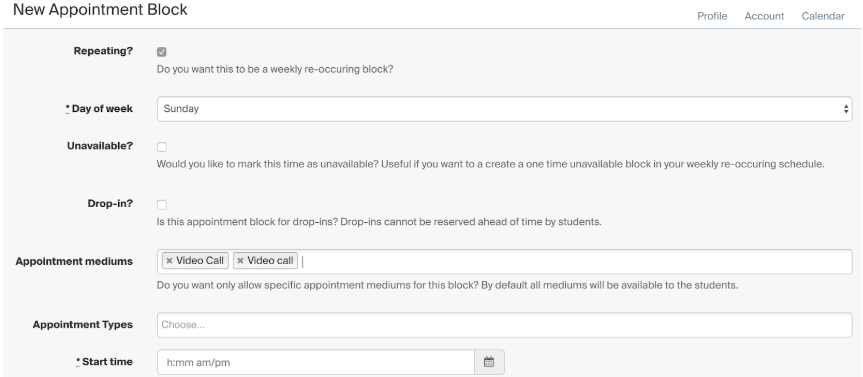 View updated appointments for students. Note the clickable link directly below the office location name!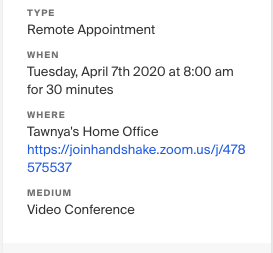 Add phone number collection to pre-appointment survey.

For additional information, refer to Best Practices: Offering In Person and Virtual Appointments!
Interviews
Update rooms with virtual locations to update all events using the same room.
Note: this needs to be a recurring meeting link in order to work consistently.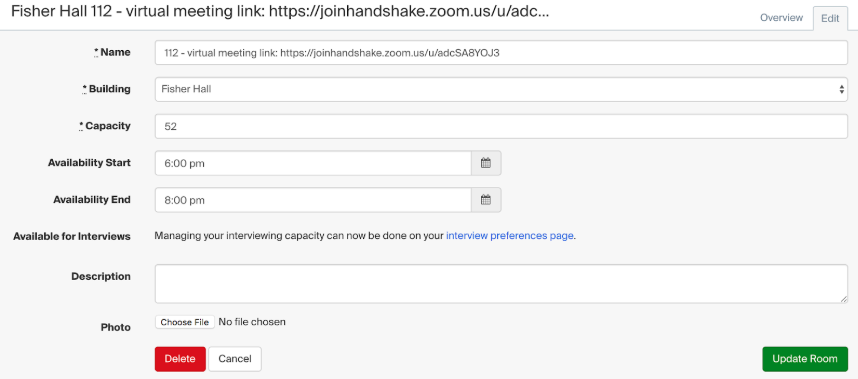 Once rooms have been updated, employers and students will see the clickable link: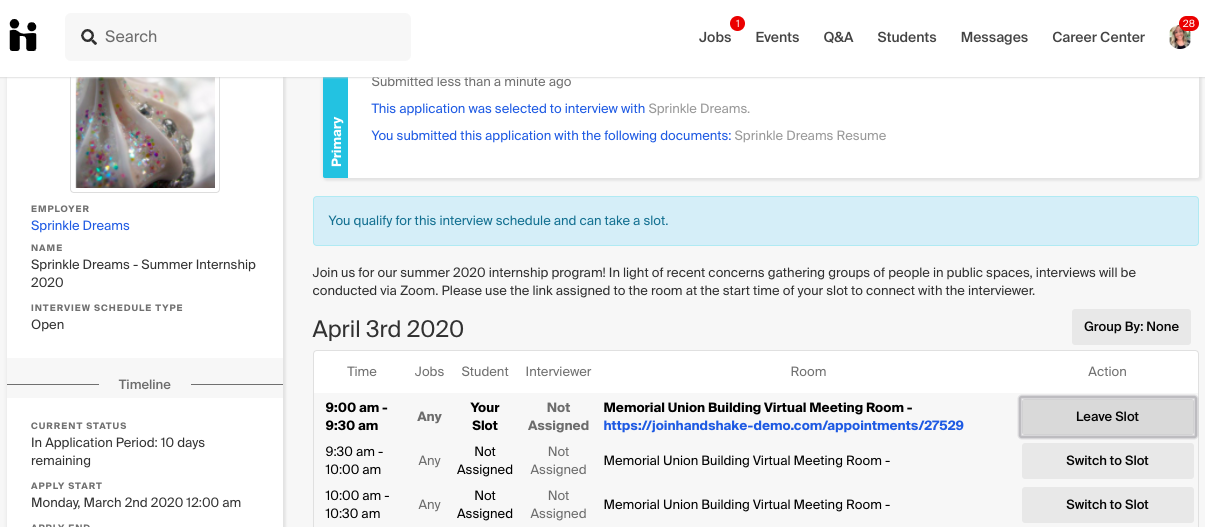 Employers can update the name of the interview schedule to indicate it's hosted virtually.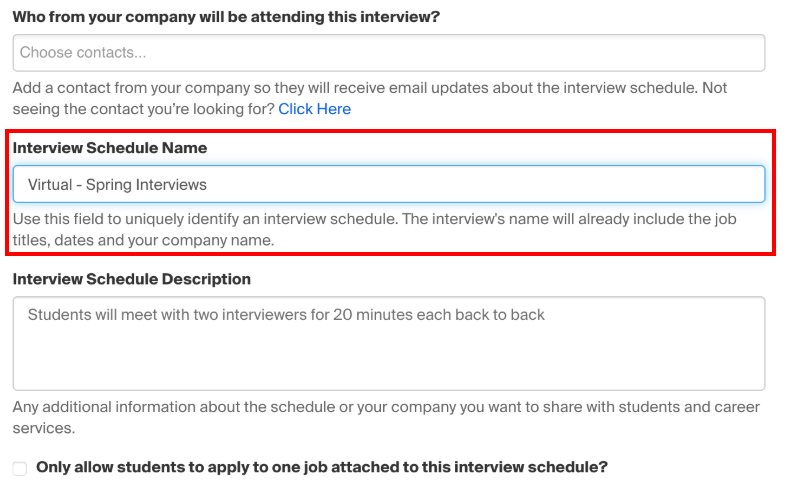 Next, update Interview Description with the virtual URL for students.
Note: Use a video interview platform or digital meeting software for virtual interviews.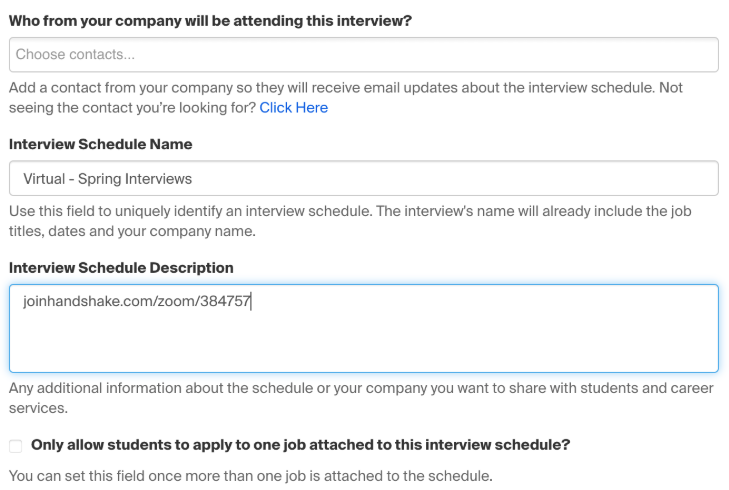 Finally, message all interview candidates directing them to check the Description for virtual URL.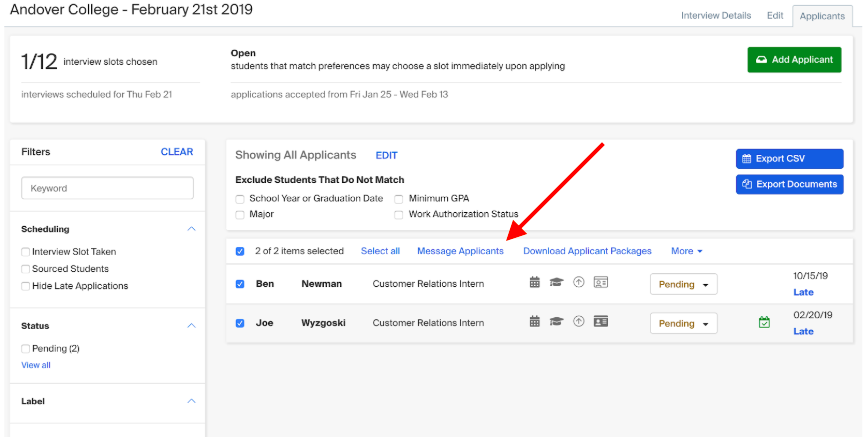 Jobs
There are two methods for helping students identify remote opportunities within Handshake: a keyword search, and using your school's labelling system to identify remote jobs.
Keyword search
The best way for students to search for remote opportunities is to use the keyword search box and type in the word "remote".

As a shortcut, here is the link for a "remote" keyword job search that will load results. Simply click the link, sign into Handshake, and you will be immediately directed to the search results.
This search will pull back results that include the word "remote" in the job title or description, as well as jobs that indicate remote workers are allowed.
Label search
To use labels, you'll want to create a label within your school settings. Select "Jobs" in the Used For dropdown, and set the type to "Public". Give it a recognizable name, at your discretion.
Note: Do not use a "Normal" type label - these are not viewable by students!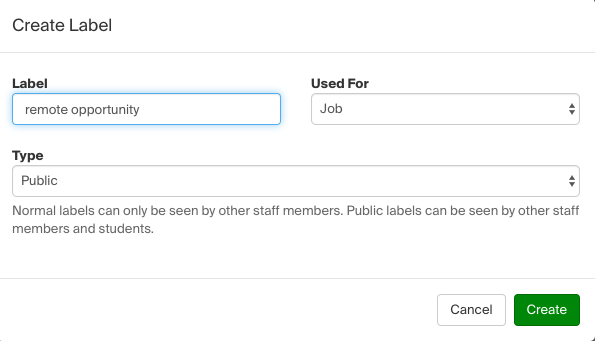 When reviewing job postings, you can use the filter Remote Allowed, under the filter category Other, to identify job postings that employers have marked as "allow remote workers". Apply the label to the applicable job posting(s). You'll want to ensure that students are aware of this label and how to search for it. (The Remote Allowed filter is only viewable to career services staff, hence the label!)
To filter by labels, students will need to navigate to the job search page, then click on Filters and scroll to the bottom of that section. In the field for "Labeled by Your School", they can click in the text box to see a list of all available labels, and click on the desired label name. Click "See Jobs" in the lower right of that section to see all jobs with that label.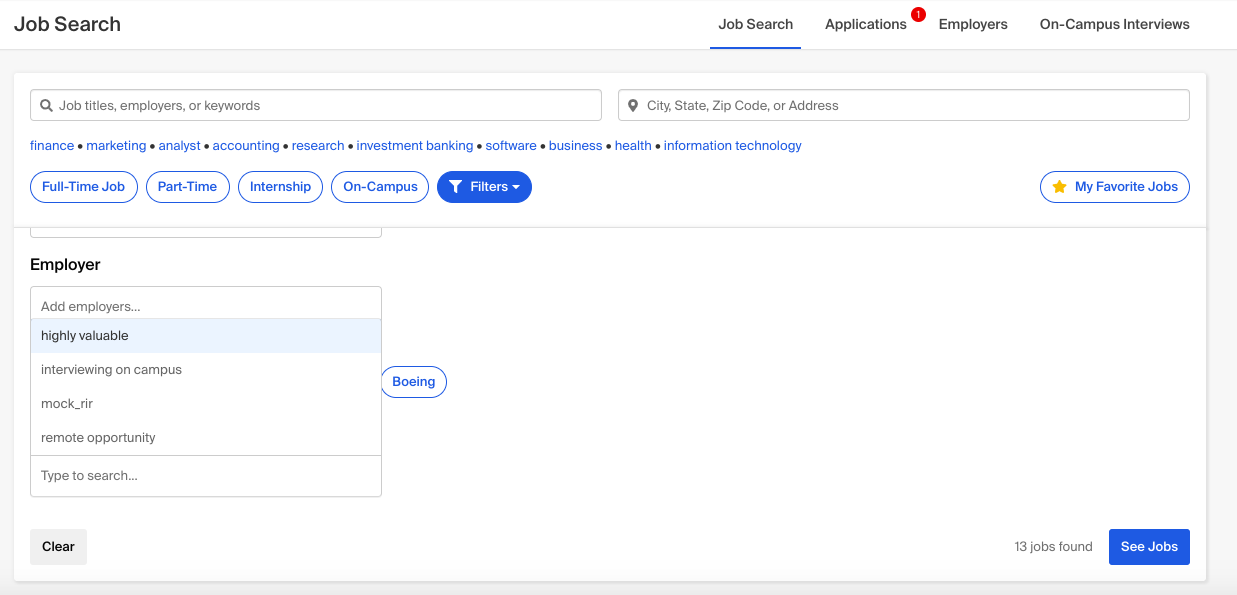 Additional questions? Reach out to Support here!
For tips on using virtual meeting platforms safely and efficiently, check out Virtual Meeting Best Practices & Resources.