This resource will allow you to better support your students engaging with Virtual Fairs.
The topics in this article are commonly seen issues - for overall requirements and general troubleshooting, please see our dedicated student article. 
Twilio is Handshake's video provider for Virtual Fairs and Virtual Events/Interviews* (Premium Employer Partners only). 
Please note: all users participating in Handshake Video sessions with audio and video must have: 
An internet connection – broadband wired or wireless (3G or 4G/LTE)

Speakers and a microphone – built-in or USB plug-in or wireless Bluetooth

A webcam or HD webcam - built-in or USB plug-in
Topics: 
Group Session Settings
All students should be able to access audio and video in Handshake hosted sessions.

However, in Group Sessions with 16 or more total participants, including the host(s), audio and video are automatically disabled to preserve session quality.

Students can still use chat freely in these sessions. 

If an employer or student is reporting no audio/video options for students in a group session, ask how many participants are present.

Employers can click the Raise Hand icon to enable this feature, and encourage Students to click the Raise Hand icon if they'd like to speak up.
If the Raise Hand icon isn't appearing for students in this scenario, this indicates the Employer hasn't enabled this feature.
Unable to signup for 1:1 sessions
When students register for the fair, they will be able to view and sign up for sessions with employers.
If they are not seeing available 1:1 sessions, it's likely the employer has set up 1:1 qualifications.
These qualifications are hard stops for students - if they do not meet the exact designations set by the employer, they will not be able to see related sessions. 
To troubleshoot this: you can check out the session details page - filter on the employer name and mark "Include Open/Busy 1:1s".
In the results displayed, look to the four columns on the right of the page to see if there are any qualifications selected (indicated by Yes). 
If you see any marked "Yes", you can followup with the employer directly to see what specific qualifications they've set. 
Refer to Virtual Fairs: Session Details for more information on navigating this page. 
Device Specific Issues
When supporting students, it's important to know which device they are using, as this impacts troubleshooting: 
Desktop web
If the student is using a computer, there are more variables at play that could be causing problems. Here are some common issues we've seen and how to resolve them.
Missing signed up sessions - timezone issues
If a student has indicated they signed up for sessions, but now those sessions are missing, this could be caused by one of two things: 
They have a duplicate account in Handshake.

Try searching in the Handshake global search (blue bar at the top of the page) for their name. Email addresses are unique to each account but, students will likely have the same first/last name. 

There's a timezone discrepancy.
Handshake does not have a manually adjustable timezone on accounts - we determine timezone based on the computer settings. 

Ask them what timezone they are located in presently, and if their computer's display time aligns with the actual time there. 

If not, have them navigate to their computer date and time and turn on the setting to automatically update time (if possible). If they do not have this option, they can manually update their time to the accurate time.

To change your timezone on: 
iOS app or Android app 
First and foremost, make sure their app is updated. If the app is updated and still experiencing trouble, the student can delete and reinstall the app, or they can access via desktop or mobile web.
Mobile web
While this is usable, we strongly recommend desktop web and native mobile apps for the best experience! 
On iOS devices, only Safari is supported for mobile web access. This is because Apple doesn't allow microphone/camera usage in other browsers, such as Chrome.

On Android, any browser should be able to launch sessions and allow microphone and camera access. 
If the student is using mobile web and experiencing trouble, encourage them to download the app for their device if possible, and if not, see if they can use a computer. 
Resume Downloads
In order for employers to download student resumes from the RSVP page, the student must have: 
Selected a profile privacy option of Community (recommended!) or Employers
A document marked as a Resume and uploaded successfully
The document marked as Featured on Profile
If your school uses the Document Feedback feature, no action is needed, as no documents are blocked based on status. If your school uses the legacy Document Review feature, the document must be Approved.
Windows 10 Troubleshooting
Note: While students may be using Windows 10 (and these steps are relevant for them if they are), we have found that these steps are more frequently needed for Employers.
Windows has its own privacy settings for microphone & camera that are independent of the browser. By default in most cases this is turned off.
There are two settings pages:
Settings > Privacy > Microphone

Settings > Privacy > Camera
Both pages have two toggles: 
Allow apps to use my microphone/camera (used for built-in Microsoft apps from their app store)

Allow desktop apps to use my microphone/camera (used for things like browsers and zoom)
The second toggle can only be enabled if the first is enabled, so users will need to turn both toggles on in both places for their browser to be able to access their mic and camera.


Email student attendees
If you'd like to communicate with students that have registered for the fair, click on Email Student Attendees, located in the Actions list on the fair overview page.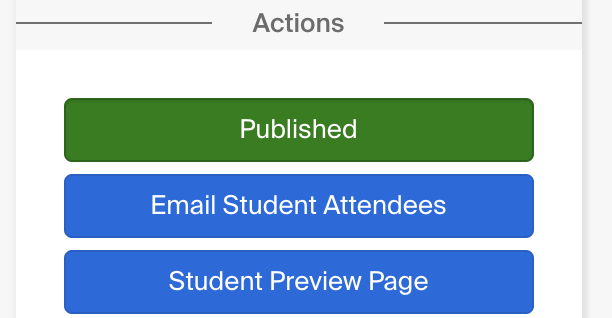 In the popup that appears, you may select from one of the following attendee subsets to email: 
All Invited or Registered or Checked In
All Invited
All Registered
All Checked In
Registered and Checked In
Invited but not Registered or Checked In
Registered and not Checked In
Registered and no sessions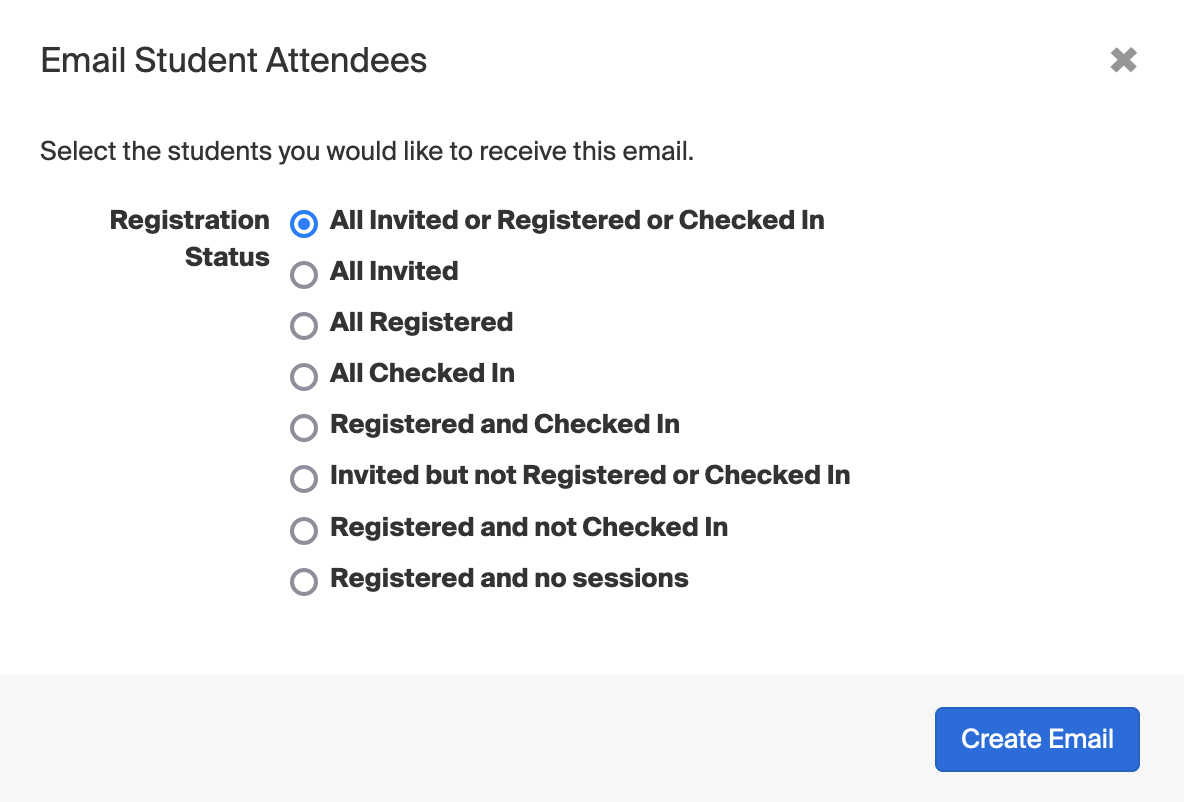 Once you've selected the desired audience, click Create Email to be redirected to Targeted Emails to compose and send the email.