Handshake is committed to bringing more and more functionality to our mobile iOS app for students - summer 2018 saw the release of functionality that allows students to access event and career fair information directly from their phones! In preparing to build these updates, we took time to work with students and schools and understand the most useful pieces of functionality we could prioritize. In the end, we learned that…
Students often decide to attend events on the day-of:

Many students decide to go to an event because they were informed by friends, rather than formally RSVPing ahead of time. Having a way to be notified of events day-of or the day before would be useful, as would browsing through a list of upcoming events.
Students need information onsite:

Many students expressed that, when attending a career fair, it would be helpful to do on-site browsing of the employers attending, and the jobs they are hiring for. They are also often stuck holding a paper print-out of the career fair map.
Armed with that information, we've released the following functionality…
Events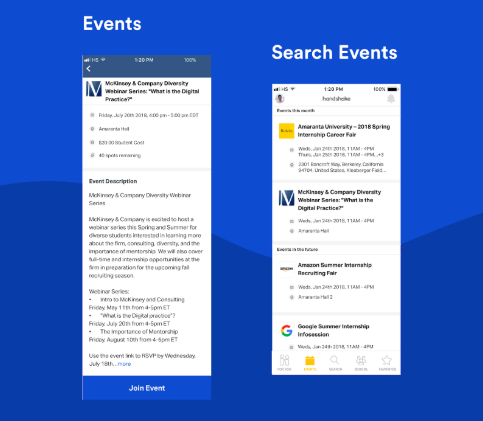 View events listed in chronological order

Click in to review event details - Description, Time, Location, Format, Career Center, Type

RSVP for events
Career Fairs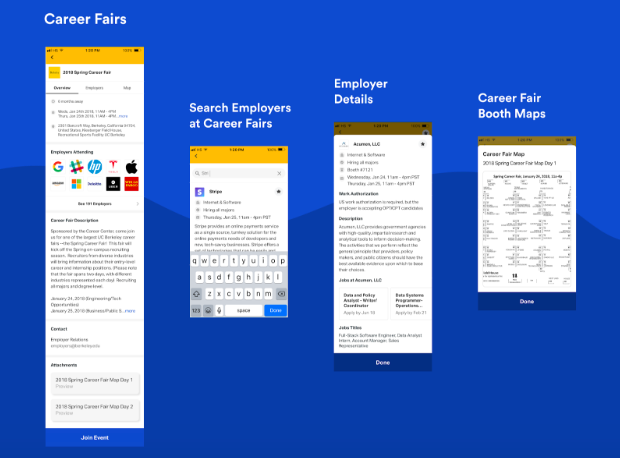 View career fairs alongside events in chronological order

Click in to review fair details - Description, Time, Employer Attendee Logos, Career Services Contact Info, School Attendees

RSVP for career fairs

Review list of employer attendees

Search and filter the list

Favorite employers

Review employer details + booth number

Review booth map

Review attached documents
We look forward to bringing even more functionality to these areas of the mobile app in the future!
Please see this article for more information on Handshake Mobile!