This article will assist you in monitoring your Handshake virtual fair's employer and student engagement. Knowing this information can help you ensure that employers are supported and you're marketing the fair to students as efficiently as possible!
1. Navigate to the desired fair in Handshake by clicking Fairs from the left menu column, then selecting the fair.
2. From the fair overview page, you'll be able to see the number of registrations from employers that are both Pending and Approved.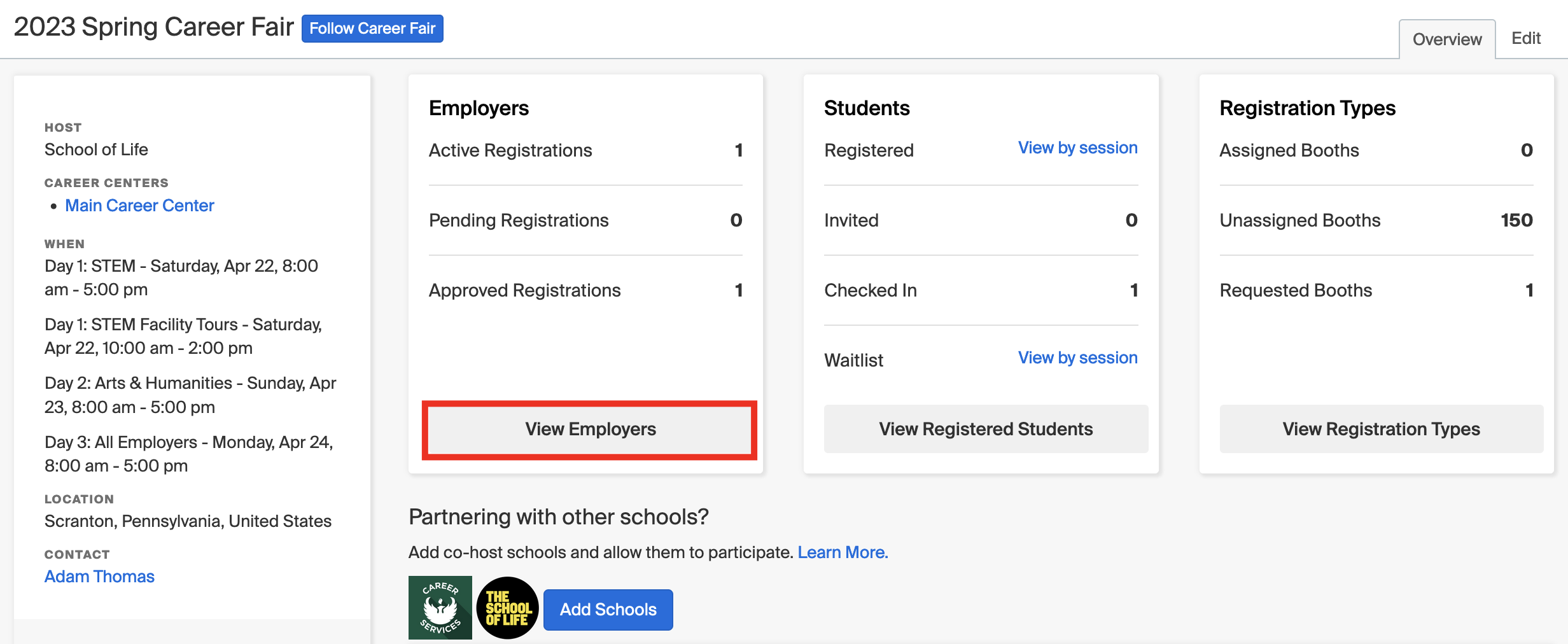 3. Click on View Employers to see a list of registrations and additional details for each.
4. In the list of employer registrations, there is quite a lot of information available.
An indicator appears next to the employer name if the employer's company profile isn't approved at your school:

Note: Schedules are only able to be created on Approved registrations - if a schedule hasn't been created on an Approved registration, you can reach out to the fair registrant to complete that step! Here's a resource with more details for employers: Creating a Schedule for Virtual Fairs
There are new columns on this page that highlight the following:
Schedule Representatives (the number of representatives added on the employer's schedule)

Note: the maximum number of representatives per employer is 100.

Group Sessions (the number of group sessions this employer has created)

Note: the only limits for group sessions are that they may not be concurrent for the same employer, and are limited to back-to-back for the duration of the fair. For a 6 hour fair, this would equal 12 group sessions per employer.

Group Registrations (the number of students that have signed up for this employer's group session)

Students may sign up for as many group sessions as they like, as long as the times do not overlap

1:1 Sessions Filled (the number of students that have signed up for this employer's 1:1 sessions)

To help support company divisions, students may sign up for a single 1:1 session per recruiter, but as many 1:1s across the company as desired (as long as their schedule allows).

Required Preferences (yes or no)

If yes, this indicates that the Schedule Owner has set qualifications on 1:1 sessions. Click the registration, then scroll partway down that page to review the selected requirements.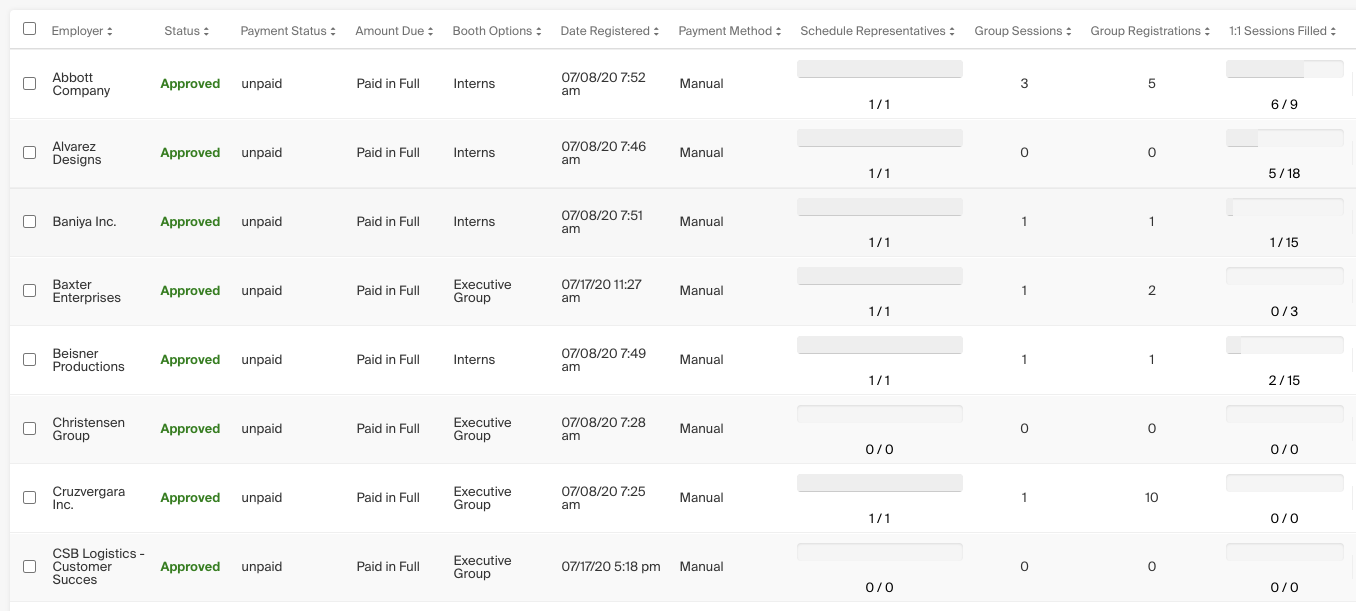 Employer Group Sessions Details
This section of the page details all group sessions this employer is hosting:
Time and timezone
Group Session name
Description
Count of Representatives attending
Count of students signed up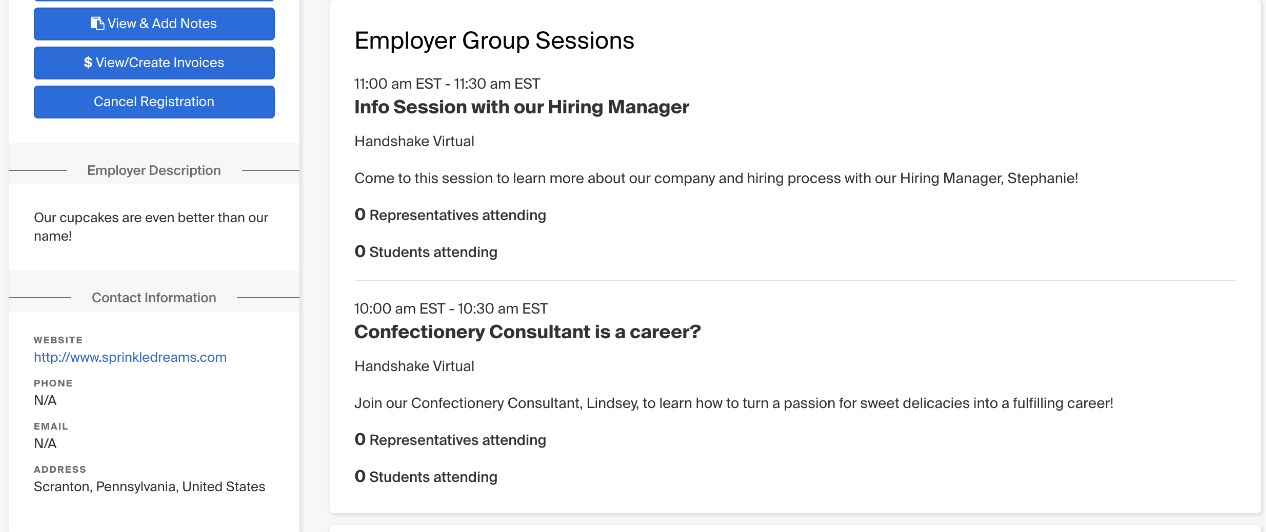 Individual Sessions Details
The employer's 1:1 sessions are listed table style with the Representative's name, number of sessions Booked, Open, and Canceled. Click show more (per row) to display the qualifications selected by the employer.
Note: Qualifications logic uses "OR" within each field, and "AND" across fields.

In the example below, the qualifications require students to meet the minimum GPA, be set to one of the selected School Years, have one of the Allowed Majors listed as their major, and meet the work authorization requirements.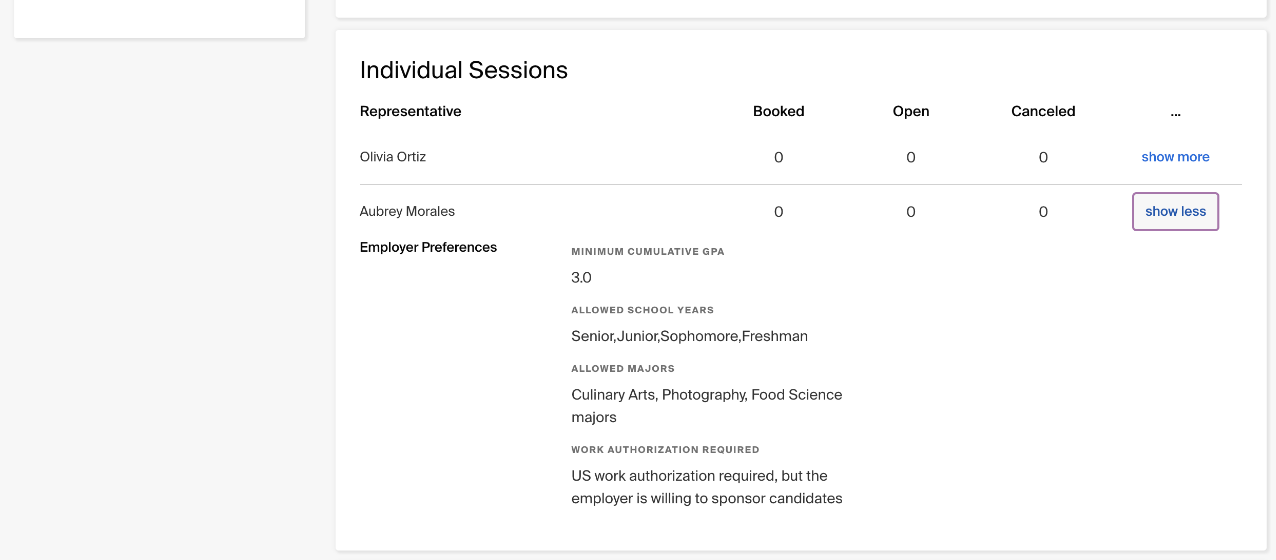 As an additional resource, check out the Session Details page to the fair for increased visibility into sessions - this includes external video links, host and student names, and more.