Messages in Handshake can help you network, establish relationships, and build your career! After activating your account, you can send and receive messages from employers, other students, alumni, and career service users. 
This article provides an overview of how to get the most out of messages in Handshake.  
Employers and students can only send messages to you if your profile isn't private. Learn more about Profile Privacy Options on Handshake. 
Messages are available on both the website and mobile app.
Types of messages you may receive in Handshake include:
Personal messages from peers and alumni.

Follow-up messages from employers about a fair, event, or job application.

Promotional messages from employers that are sent to a subset of students about a job or upcoming event/fair they are attending

.
To successfully check messages sent to your inbox, follow the steps below. 
Note: to ensure you don't miss out on an opportunity, bulk actions, such as marking all messages as read, aren't available. 
Website
Click Inbox on the left navigation menu to access your conversations with employers and peers. 
Conversations are listed in order of the most recent message received. Click on the conversation to display the message. 
At the top of the message thread, the following sender information is displayed: 
Employer - name, job title, and company. 
Student/Alumni - name, major, degree, school, and school year. 
When accessing messages via desktop web, you have the option to filter conversations by:
Click the three dots, located to the right of your Inbox in the upper-left corner of the message list, then choose the desired filter you'd like to display.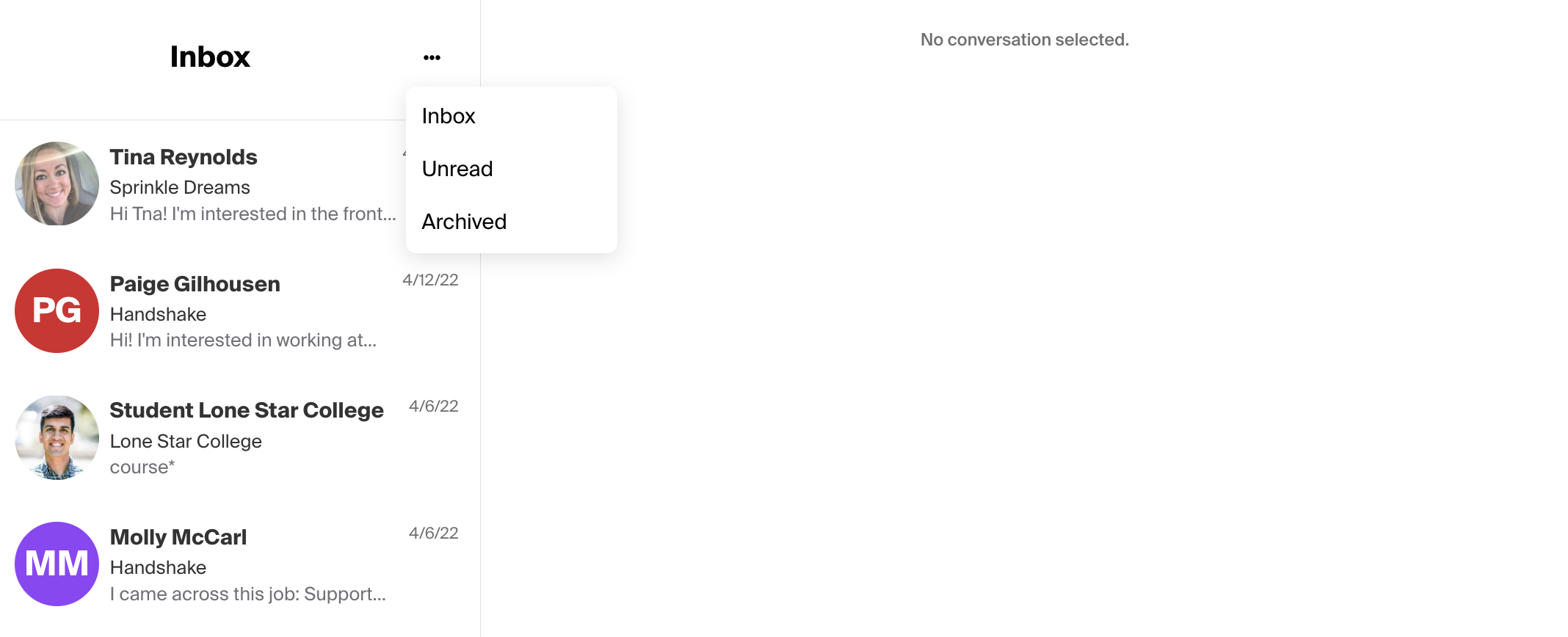 Mobile app
Tap Inbox in the lower-right corner of your device screen, to the left of Account, to access your messages. 
Conversations are listed in order of the most recent message received, and you can use the search bar to do a keyword search for a sender's name or a keyword in a message received.
Tap on the conversation to display the message thread. At the top of the message thread is information about the sender: 
Employer messages display the sender's name, job title, and company. 
Alumni and student messages display the sender's name and school.
To respond or continue the conversation, start typing your message in the available text box, then click or tap Send to the right of the text box.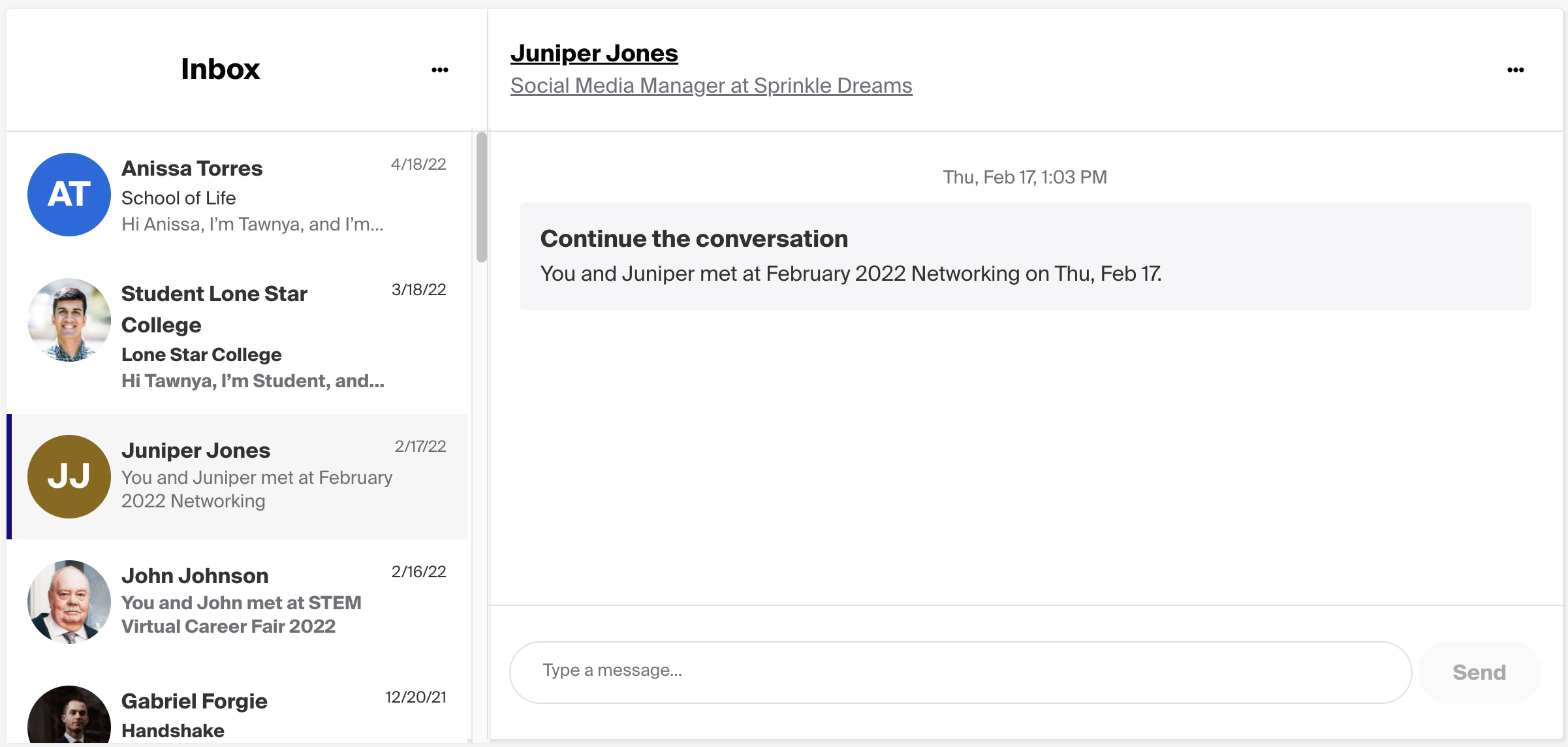 To learn more about responding to employer messages, check out Responding to an Employer Message on Handshake.
If you've received a campaign message from an employer, and you'd like to respond that you're not interested in the opportunity, refer to "Not Interested" in Employer Campaign Messages for more details.
Trust and Safety of Messages 
Handshake's top priority is keeping students safe on the platform. All messages sent through the platform automatically go through Handshake's text analyzers to prevent most inappropriate content from being sent.
When messaging in Handshake, you have the option to report or flag message threads. Our Trust and Safety team will review all reported and flagged messages. This allows our team to research the flag and followup as needed. 
We strongly encourage keeping conversations in Handshake and using our messaging feature — if messages are exchanged outside Handshake, our guidelines can no longer be enforced and our team won't be able to help keep you safe. 
Additional Resources