The Handshake Open Network is setup for all UK University students - even those attending institutions that haven't partnered directly with Handshake at this time. Students at these institutions can sign-up for Handshake, which gives them access to employer profiles and some of our job search and community features available to students at our partnered institutions.
We currently have a set of employers who can message Open students based on their past interest.
Premium partners are automatically approved to the Handshake Open Network, which allows them to post jobs and events to non-partner institutions and search for and message those students.
Core employers, including Plus, can submit a ticket to our Support team to request access here.
Features available only to Premium partners are indicated by an asterisk(*). For more information, please check out this resource.
Jobs
Employers that have access to the Open Network can post jobs to students from both partnered and non-partner institutions. The job form in Handshake provides an option to "Include students in the Handshake Open Network" when they choose to post their job to all partner institutions they're connected with.
If you choose to post to the Open Network, the job will be posted to all students within the Open Network. Specific non-partner institutions can't be selected. For additional details, refer to How to Post a Job.

Search and Message
Employers can search for and message students within the Open Network. Check out A Guide to Talent List .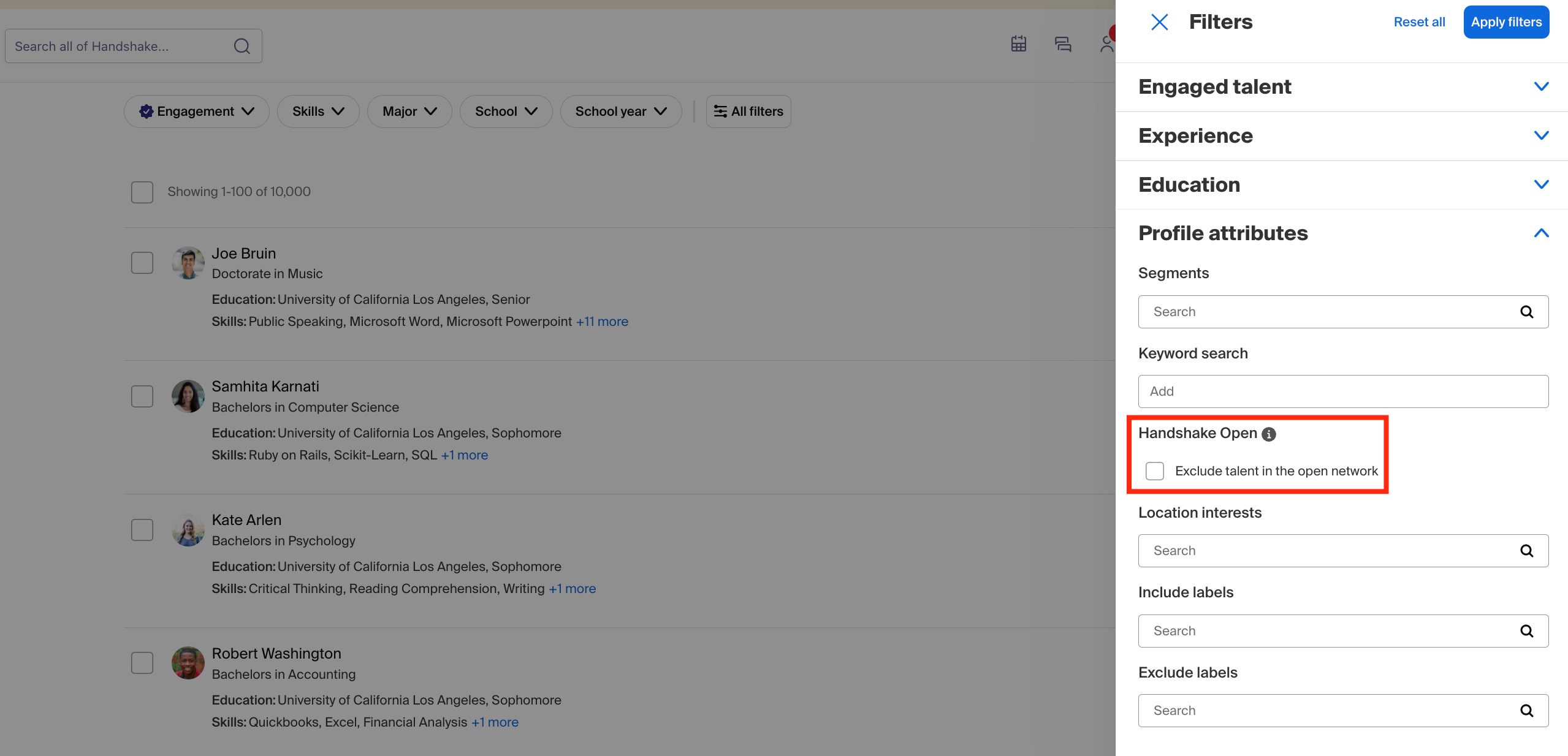 Events*
Employers can invite students in the Handshake Open Network to attend a virtual or off-campus event by sharing the event's public link with them. Refer to How to Request an Event.
The copied link can be shared with students affiliated with institutions that have approved your employer on Handshake, as well as students who do not have a Handshake account.
Handshake prompts students with an account to sign in and register. Students without a Handshake profile can register as a guest, then sign up for a session.

Segments & Campaigns*
With access to the Open Network, you can also include Open Students in your Segments to create a campaign to promote your brand, a job or event. Learn How to Build a Segment.