Use the best practices below to ensure you are prepared for the fair and have a smooth day-of experience!
For up-to-date information on which editing features are live and which are coming soon, please refer to Virtual Fairs Release Notes, and look for the Employer section toward the bottom!
Topics:
Ensure Team Has Active Accounts
Ideally at least 2-3 weeks before the fair, you'll want to make sure all of the staff from your company participating in virtual fair sessions have active Handshake accounts, are connected to the correct company, and have claimed assigned schedules.
Only the company Owner can invite staff to join the company directly. If you need to locate the Owner of your company account, use Who is the Owner of my Company's Profile?.
Your teammate(s) will have to have an active Handshake account in order to claim their schedule and host a virtual session. If you're the Owner of the account, you can send them an Invite link via the steps in How to Invite Staff Members to Join Handshake.

If you do not see your colleagues under your Teammates page, they either did not create Handshake accounts yet, have not been approved at your company, or may be connected at the wrong company. You can use the article above to invite your colleagues to create accounts and join your company.

Here's

an article

on how Owners and Admins can approve staff at a company, and here's

an article

on how staff can leave and join another company.

You can also share this resource to help your colleague(s) set up an account.

Once they have registered for their account and gotten connected to the company profile, you'll see them as an option to add to your virtual fair sessions.
Ensure Your Device and Browser Are Setup
Preparing for day-of, make sure you and your team meet the right requirements to use audio and video smoothly.
Tip: Use our session test tool and test with another team member in advance of the fair to grant permissions needed by your computer/browser and test audio, video, and screen sharing! This provides ample time to resolve any issues that may come up. You can use the Handshake Video Test guide!
This resource contains a testing link from Twilio, our video provider, as well as several tips for the best experience possible

Handshake Video Requirements & Troubleshooting (Employers).
If you find that your device, browser, or connection don't work, try using a personal computer instead.
How to Launch and Host Sessions
Please see Hosting Virtual Fair Sessions for steps on how to launch your session
On the day of the fair, you'll be able to

launch sessions up to 60 minutes early to test your audio and video connection.

Students are able to join up to five minutes early to test their connection, so please know that if you are in a session early, students could appear early as well.

For group sessions, we will automatically disable audio/video for participants when 15 or more people have joined - this is to preserve your audio, video, and screen-sharing quality.

If you accidentally leave the session, you will be able to rejoin until the scheduled end time.

Sessions will automatically close 20 minutes after the scheduled end time to allow for ongoing conversation.

We will show a one minute warning before the scheduled end time for the session.
Take Note of Participants to Followup With
During your group sessions, keep track of participants that you want to followup with later. While preparing for the fair, it's a good idea to get familiar with ways you can keep track of participants you want to further engage with.
Tip: make sure you have active job postings (with an expiration date after the fair) linked to your fair registration –– this highlights opportunities for students participating in the fair! Learn more here.
Use Handshake Labels to manage participants of interest - create your labels prior to the fair, then on the day-of, simply pull up the student's profile in Handshake and add the label. You can use these labels as filters on the Search Students page later!
View and add notes to a student profile - to the right of Education section on the student profile

Please note that this screenshot is taken from our US site and there may be some differences from the UK platform.
What Can Be Changed During the Day of the Fair
Please be extra thorough and careful to setup your schedule, sessions, and team as you can't make many changes during the day of!
You CAN mark yourself as busy on sessions or cancel sessions during the fair. If a session is cancelled by an employer or student the other party will receive an email notification.
You CAN manage and edit your group sessions during the fair and coming soon you'll be able to manage team and edit preferences on 1:1 sessions during the fair.
How to Troubleshoot
Handshake uses Twilio Programmable Video, which is built using WebRTC. All multimedia traffic is routed through Twilio media servers for Virtual Fairs.
Please use our Troubleshooting Guide for detailed requirements and how to resolve issues.
How to Get Help
To report a technical issue from or during a session, click on the 3 dots from the session screen and select Report a Problem. Our Support team will suggest some troubleshooting tips and you can reply back if further assistance is needed.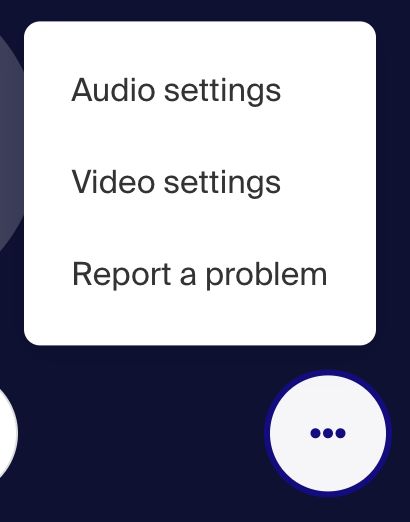 Alternatively, you can also use the Help dropdown in app to contact us or visit our Help Centre: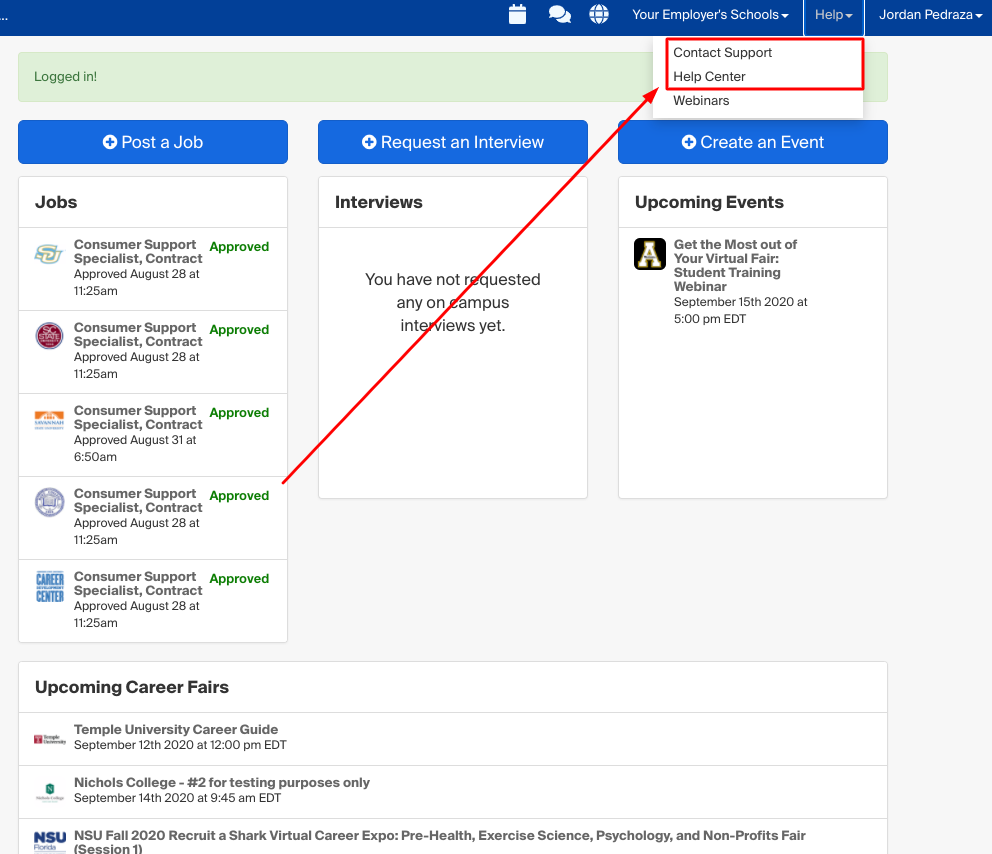 Please note that this screenshot is taken from our US site and there may be some differences from the UK platform.