Ready to create an account with Handshake? Review the tips below, then follow the steps in this article to get started!
Best Practices:
To get started
1. Visit https://app.joinhandshake.com/employer_registrations/new and enter in your email address and desired password, then click Sign Up.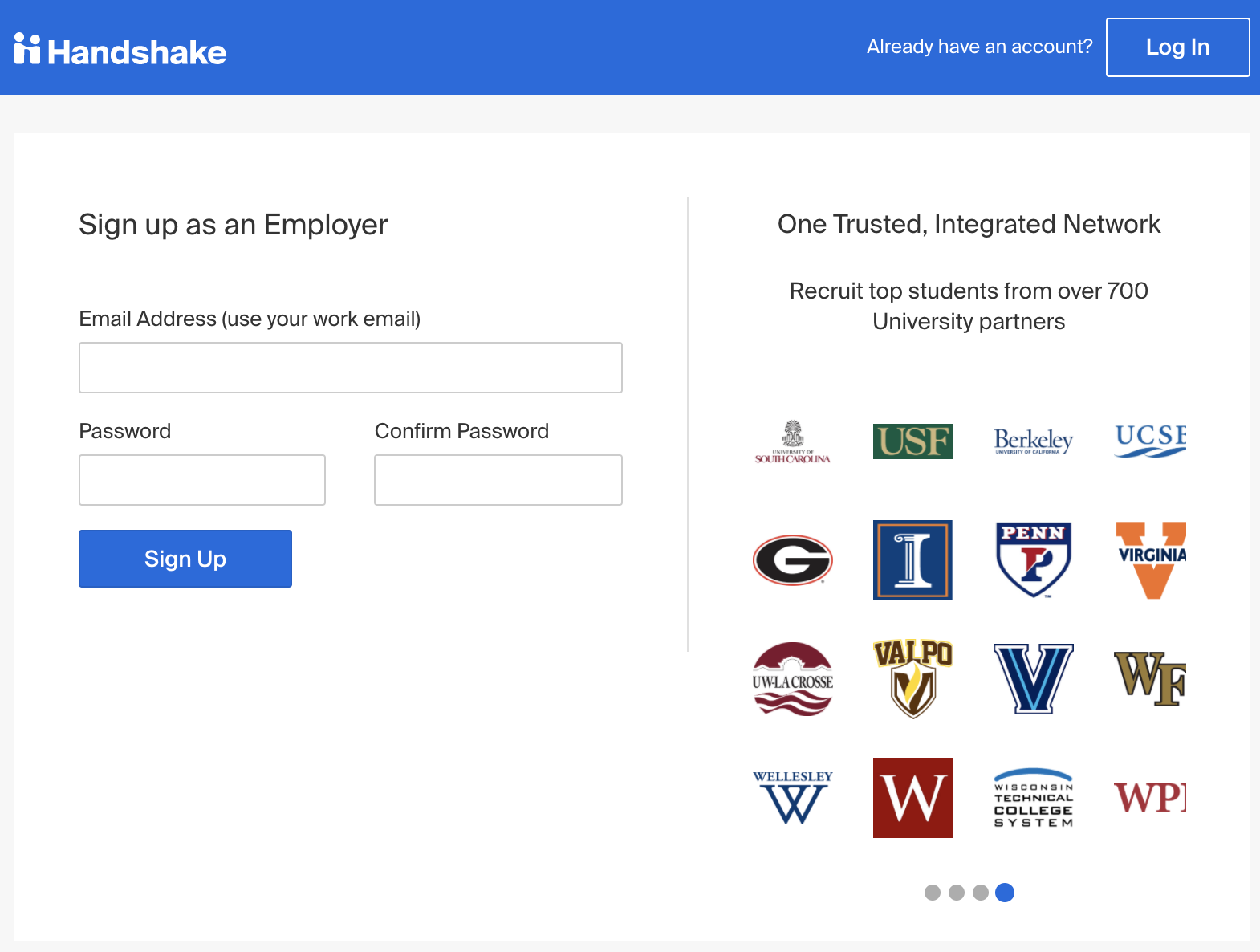 2. Enter the following information, then click on Next: Employer Guidelines.
Note: none of this information will be public to students unless you determine to make your profile public.
First Name
Last Name
Phone Number: this is a free text field, format as desired
Job Title: This is your personal job title, and not the job that you are recruiting for
Types of students you're interested in recruiting on Handshake

There is not a way to add to this list, and the selections you make here do not hinder your ability to recruit students in any way, it's simply used for data purposes.

Alma Mater & Graduation Year: If your Alma Mater is partnered with Handshake, this will create a contact entry for you at your Alma Mater, listed as an Alumni contact.
Note: Do not select which schools you're interested in recruiting from here.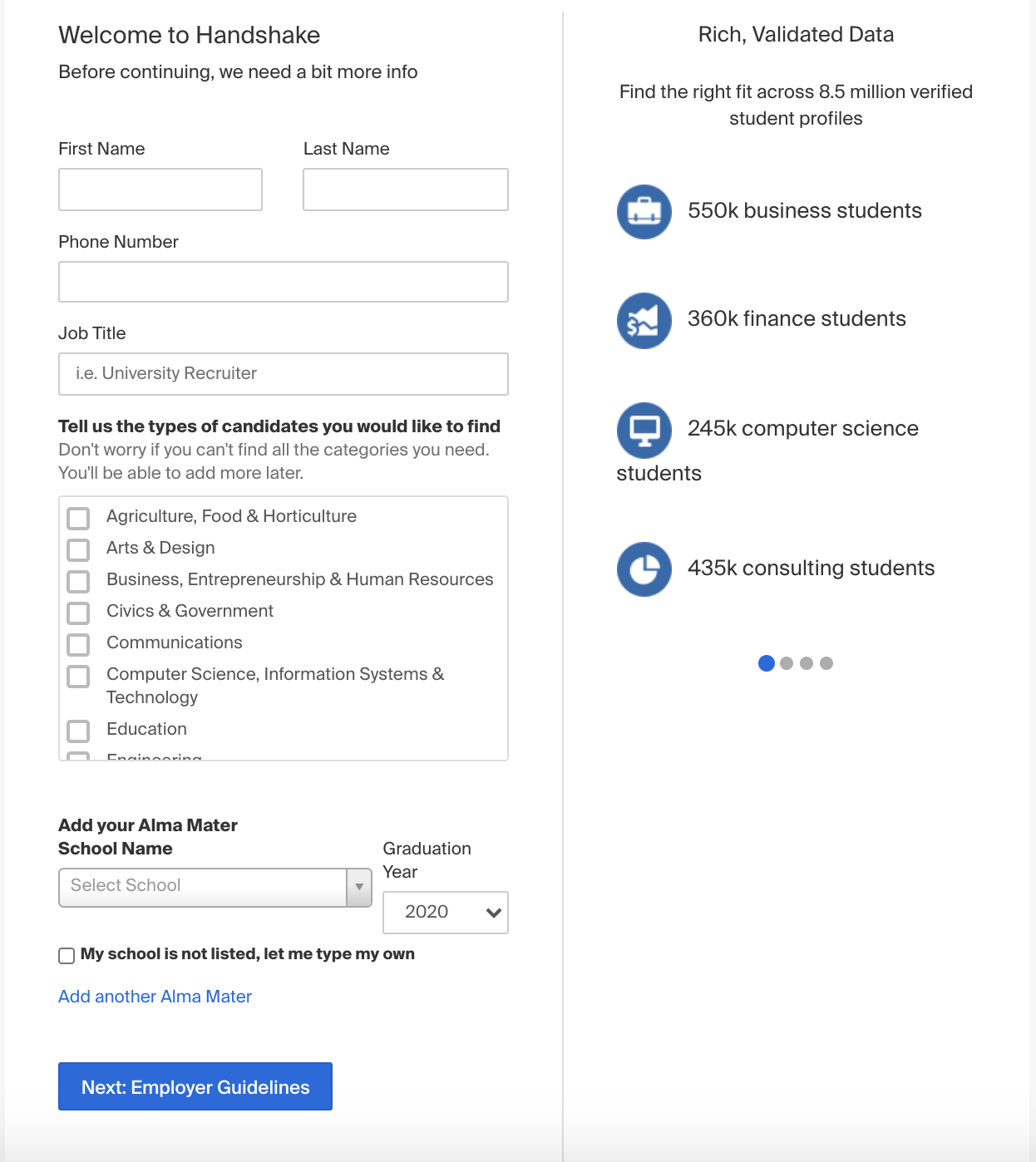 3. A popup will load with the Employer Guidelines, Terms of Service, and Privacy Policy.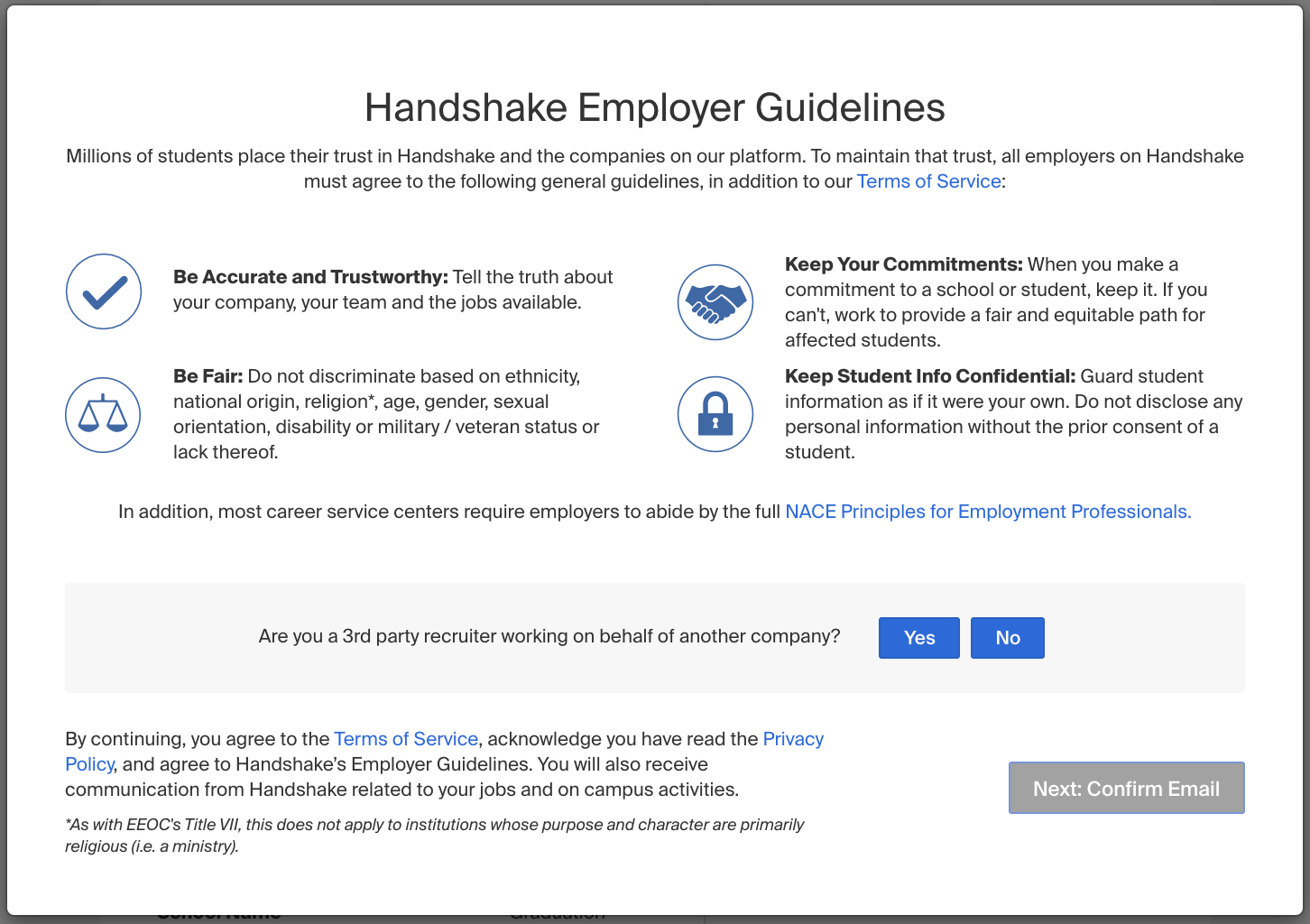 Click on either Yes or No after the question "Are you a 3rd party recruiter working on behalf of another company?", then, click Next: Confirm Email.
If you are a third party recruiter select answer Yes, then review and check the box to agree to Handshake's third party recruiter policy to move forward.
If you are not a third party recruiter, select No.
4. The next page contains instructions on how to verify your account via the email address you provided. The email should arrive within 10 minutes and will contain a link enabling you to confirm your account. You must click this link before you can proceed with the registration process.
Note: If you don't receive a confirmation email, please see our Confirmation Email Troubleshooting Guide.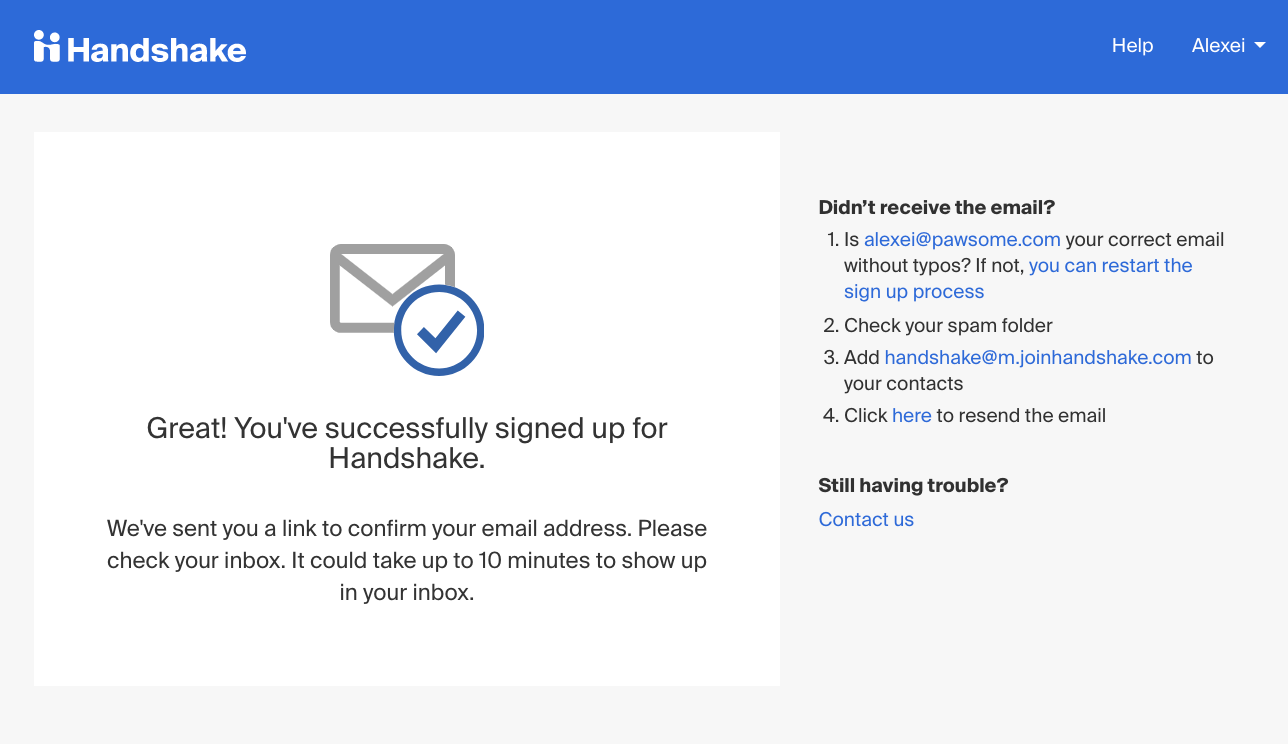 5. When the email arrives, click the Confirm Email button to verify your account.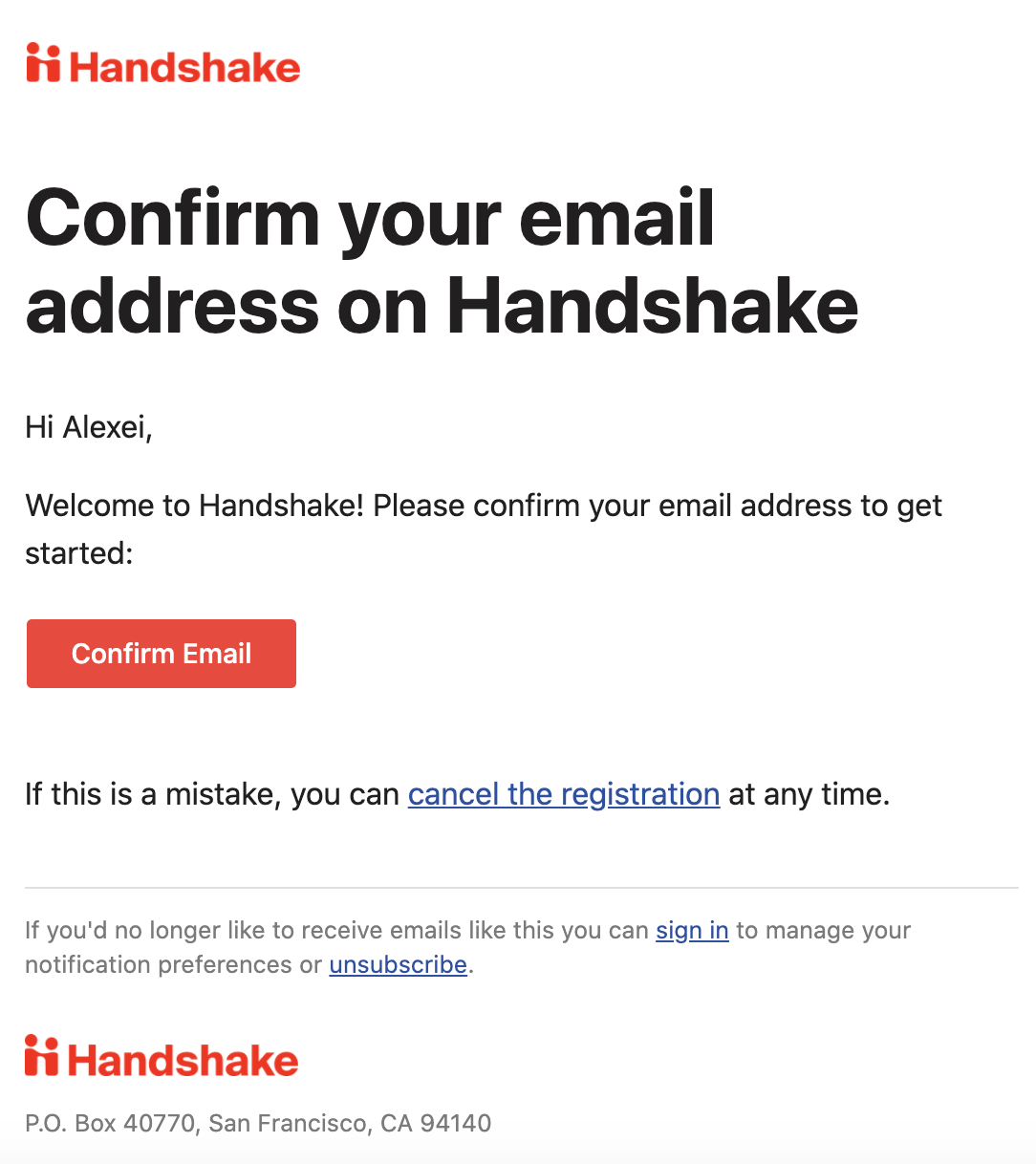 6. When you click Confirm Email in your confirmation email, you will be brought back to Handshake. At this point, you'll need to either connect with an existing company profile or create a new company profile if yours doesn't exist in our system. The determination is based on the email you signed up with.
If your company already exists in our system, the screen will display a list of company profiles associated with your email domain. If there is more than one, review the details for each profile. Click Request to connect with that company profile and then select Next: Connect to Schools.

If you cannot find the correct company profile to connect with, click on contact us, under the "Not your company?" heading on the right. This will allow you to submit a ticket to our Support Team for further assistance.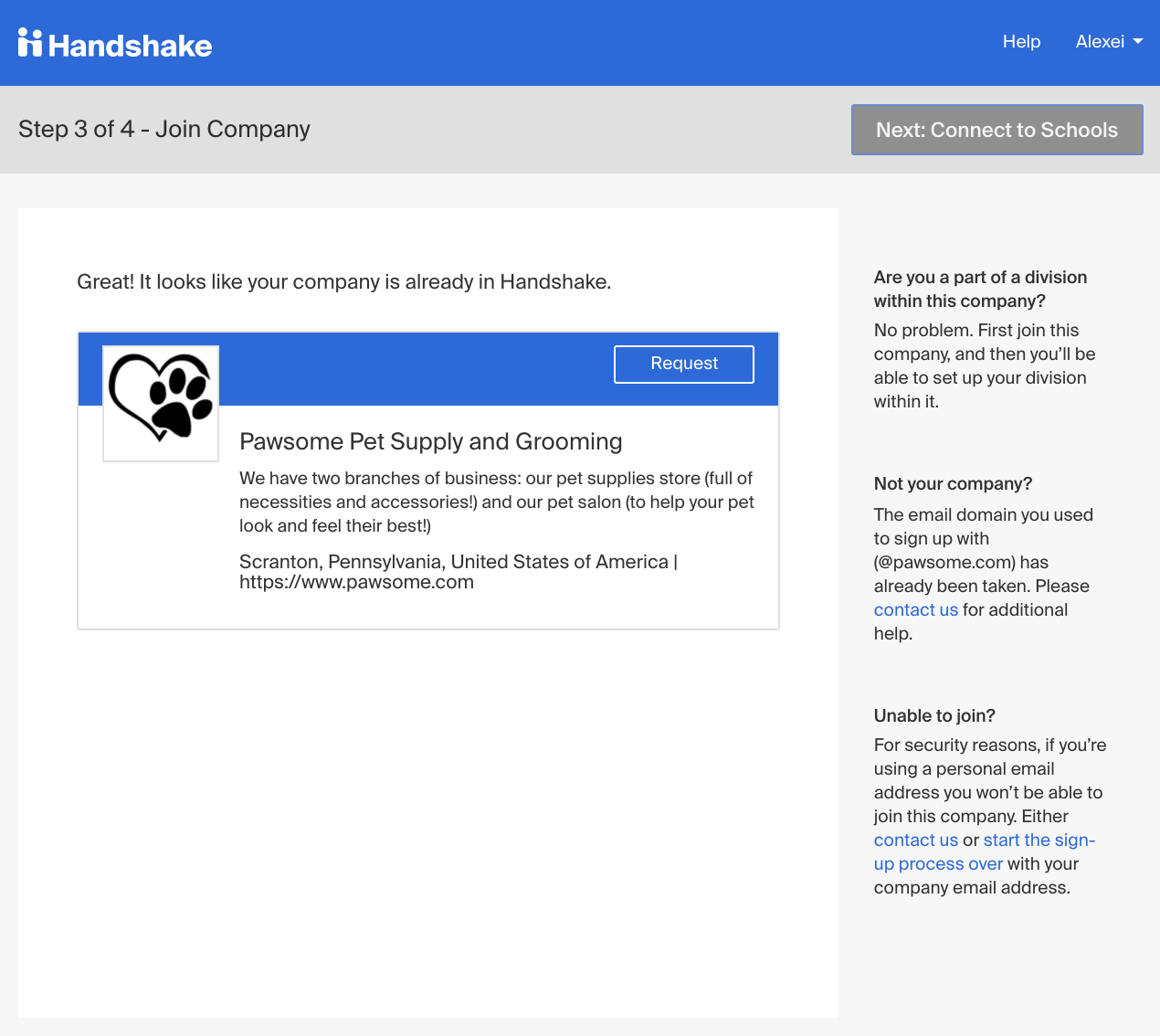 If no company pre-populates, you can use the search bar to find your company. If your company does not exist, you can click the Create New Company button on the right.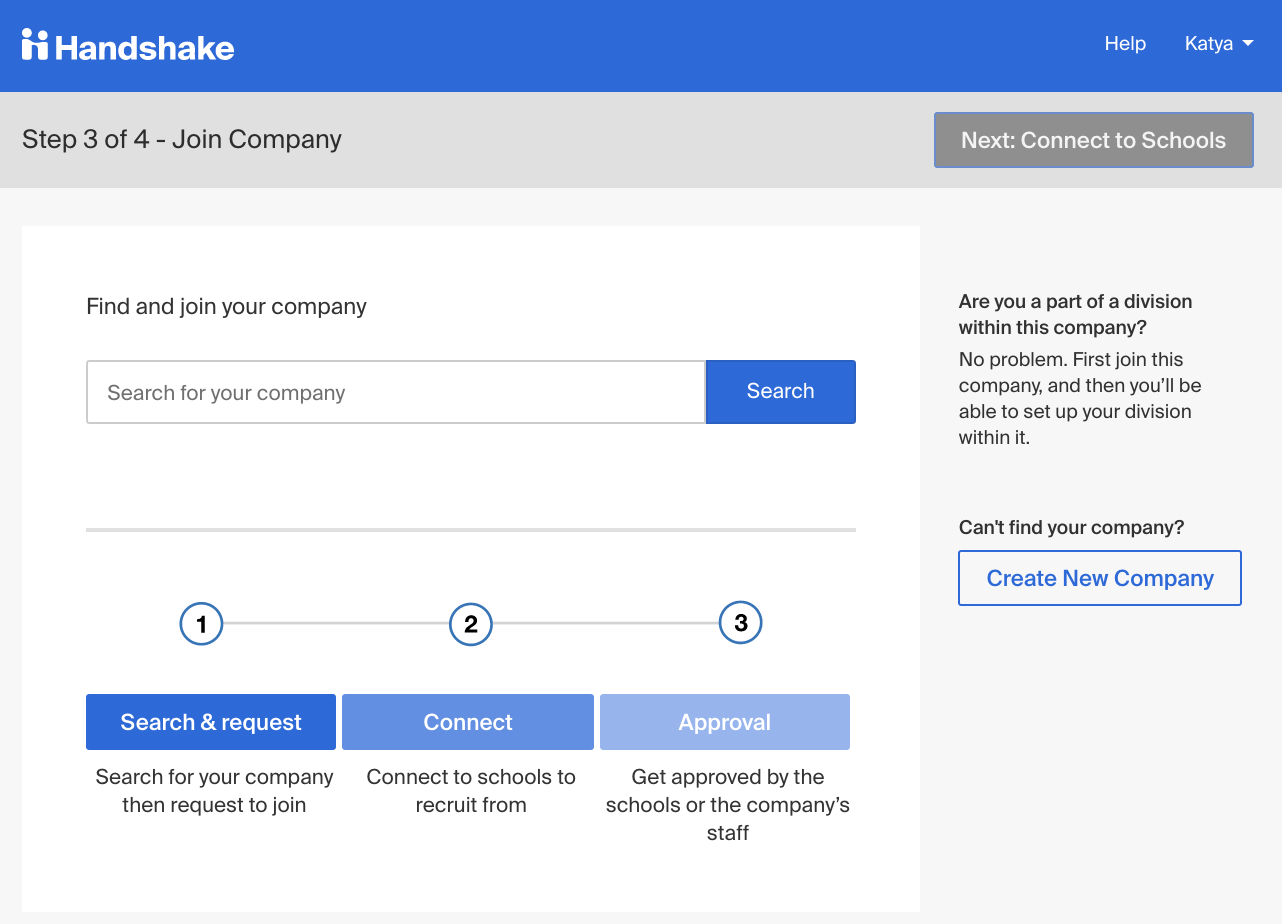 7. Once you've requested to connect with or created a new company profile, you will be prompted to choose schools to connect to. We recommend only 10-15 to start, and you can always request more schools later –– for steps on how to do this, refer to School Network Management.
Use the filters on the right side of the screen to narrow down schools by rank, region and location, or search for specific school names in the search bar at the top of the list.
To request to connect with individual schools, click the + button to the right of the school. Then click Next: Finish.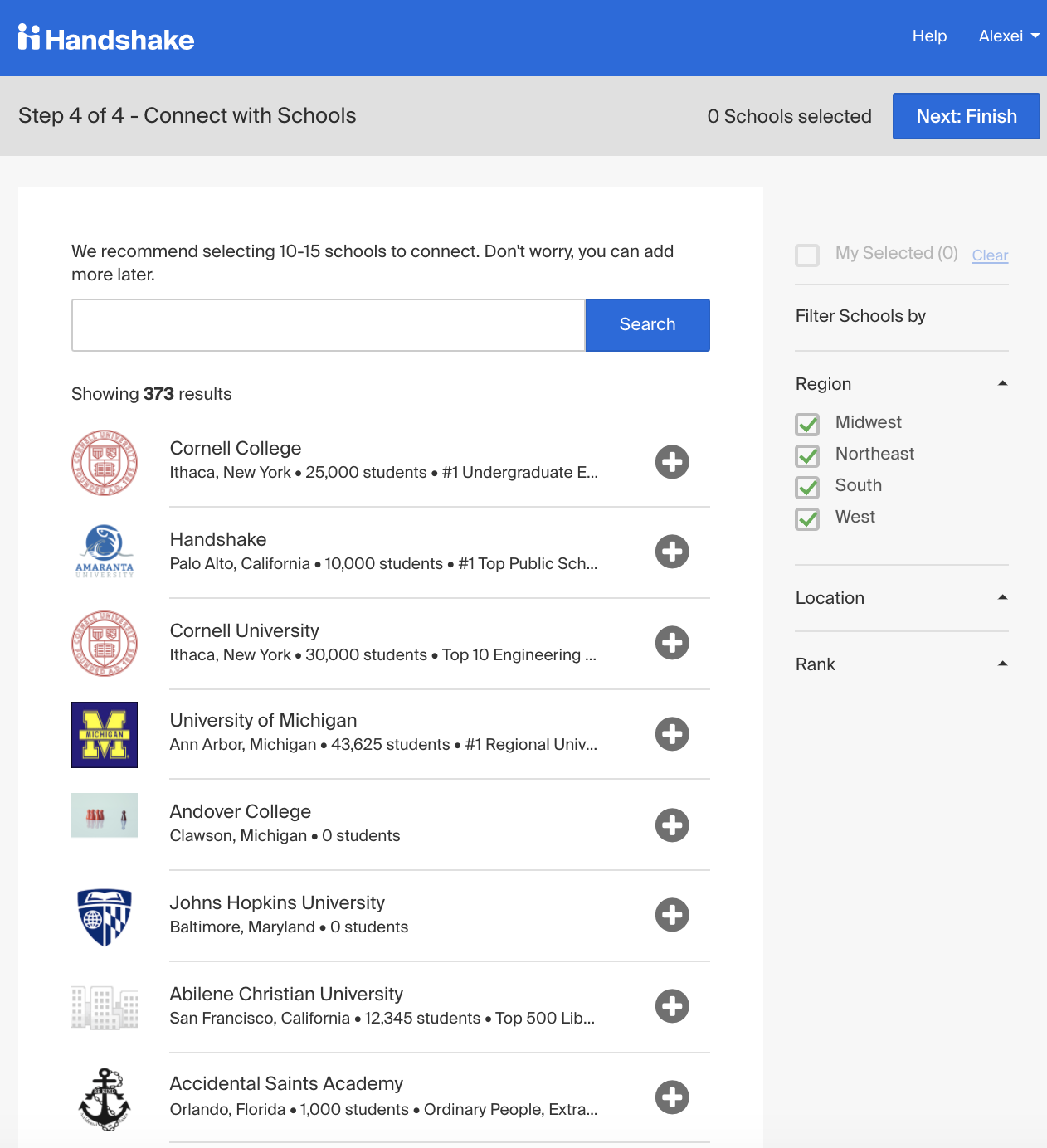 8. The next page is determined by the company profile connection process. If you:
Requested to connect with existing company and:

Your company has not configured automatic approval, your request will be sent to the company profile Owner for review. For more information, please refer to Pending Approval to Join Company.
Your company allows new teammates to be automatically approved based on matching email domain, you'll be taken to your Handshake homepage and prompted to set up Applicant Status Messaging.

Created a new company profile: you'll be taken to your Handshake homepage and prompted to set up Applicant Status Messaging.
Additional Resources