As an employee of a company on Handshake, you can use User Settings to customize your Handshake experiences to best suit your individual needs.
Unlike Company Settings (which changes the Handshake platform for everyone on your team), User Settings only impact you as an individual user. This article will help you navigate through the process of setting or updating your personalized user settings.
Understanding user settings
There are four sections of User Settings:
Account information: Basic information about you that populates your profile on Handshake and allows you to set up real-time calendar exporting (so your Handshake events automatically get added to your primary calendar).
Notification preferences: Your preferences of when and how you receive activity notifications through Handshake.
Status Messaging Preferences: Your preferences to set up if you'd like to send applicants automated messages
Create Notes from Email: Capture important dialog exchanges by importing emails into a notes page on Handshake.


Accessing your user settings
From any page in Handshake, click on your name in the upper-right corner of the screen, then click User Settings.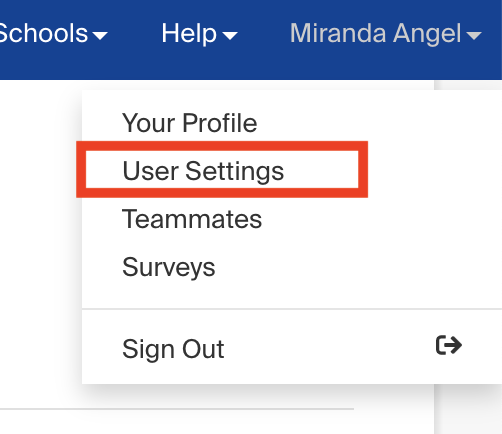 Alternatively, you can click My Profile on the left hand navigation column, then click the Account tab in the upper-right corner of the page.

Updating your user settings
Account Information
This page provides you with the opportunity to change information that populates your profile.
After you've made the necessary changes, click Update User in the lower-right corner of the page to save the updates.
Notification Preferences
Select options to change which notifications you'd like to receive and how.
Status Messaging Preferences
This is where you can set your preferences if you'd like to send applicants automated messages. Refer to Applicant Status Messaging Preferences for more information.
Once you've updated the preferences, make sure you click Save Default Messages to save changes.
Create Notes from Email
Import important student email exchanges into the notes page on Handshake to help you remember your interactions with students and to share information with other individuals. You're also able to edit Contact notes.
To learn more about how to edit your company settings, refer to How to Edit Your Company Settings.