Document Feedback is a feature that helps career services users provide feedback to students on their documents so they can confidentially apply for jobs.
The goal of this feature is to help career services users efficiently manage pending queues to provide students with relevant feedback, without blocking applications.
With this feature you can:
Prioritize pending documents with advanced filters

Segment students that qualify for feedback with customizable default preferences

Indicate preferences that mirror job qualifications

Choose to provide feedback for particular types of documents
How do I turn on Document Feedback?
Navigate to your school settings.

Select

Document Feedback Preferences

from the list on the left.

Select

Enabled

to turn on document feedback for a group of students.

Select which documents you want to offer feedback on: Resumes, Cover Letters, Transcripts, or Other Documents.

Select which students should receive document feedback.
Note: if you leave all options unselected, Document Feedback will be applied to all students.
Here's an example of customizing Document Feedback for a subset of students: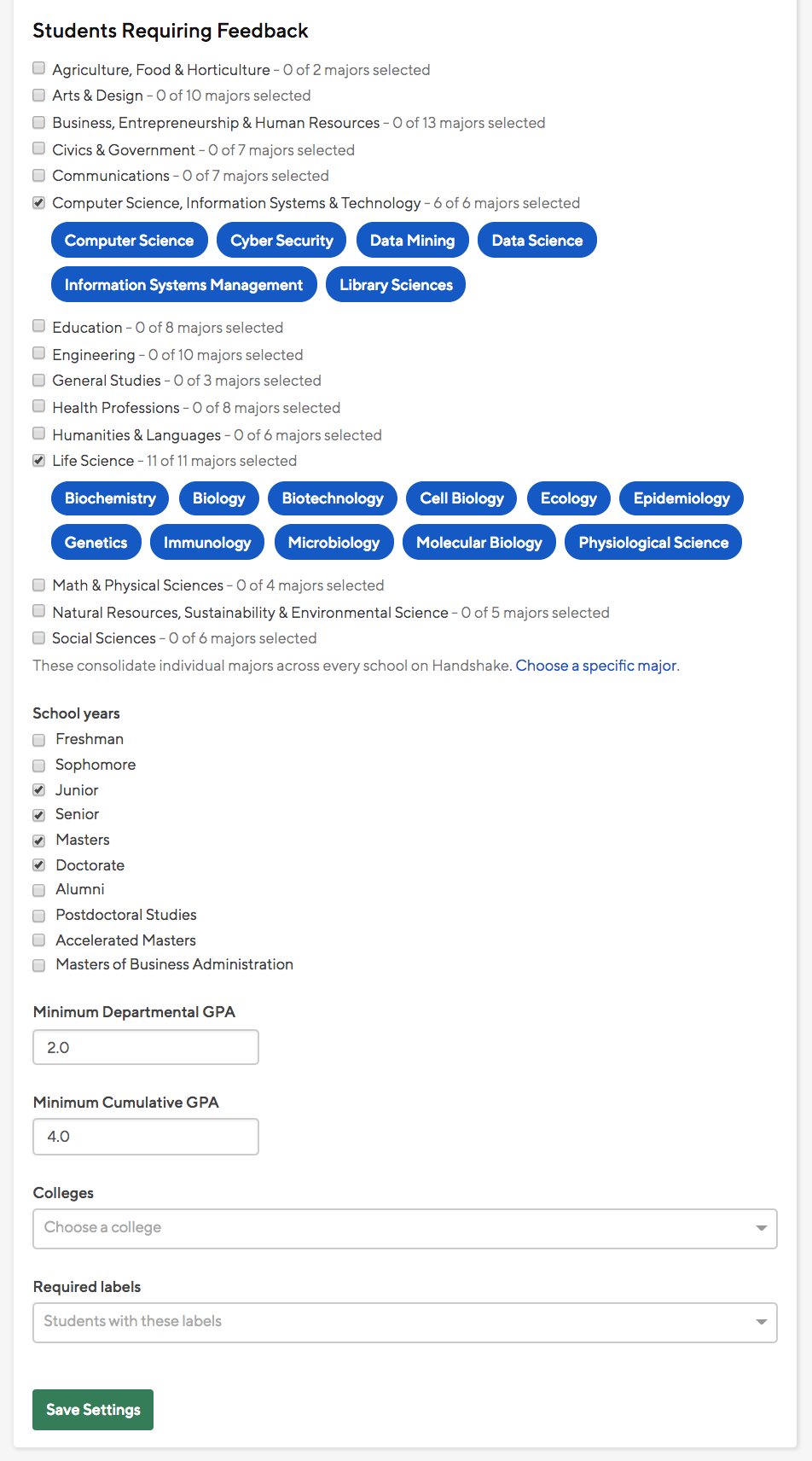 6. Click Save Settings.
How do I provide feedback on these documents?
Navigate to the

Manage Students

page.

There are two options you can select to provide feedback for student documents:

Click the

Document Feedback

tab to cycle through all students waiting on Document Feedback

Note: this will not support any filtering that you have set on the Manage Students page.

Click the

Review Document With These Filters

button to cycle through students waiting on Document Feedback that fit the current filters set on your Manage Students page.

Add your suggested changes in the comments box located below the document.

Click

Suggest Changes.
In order for students to receive a notification, you will need to comment on the document with specific feedback.
How can I reset my Document Review Status?
Navigate to the Manage Students page.

Select the students you would like to remove this status from by checking the box to the left of their name.

Click the More dropdown, above the students list.
Click Reset Document Review Status.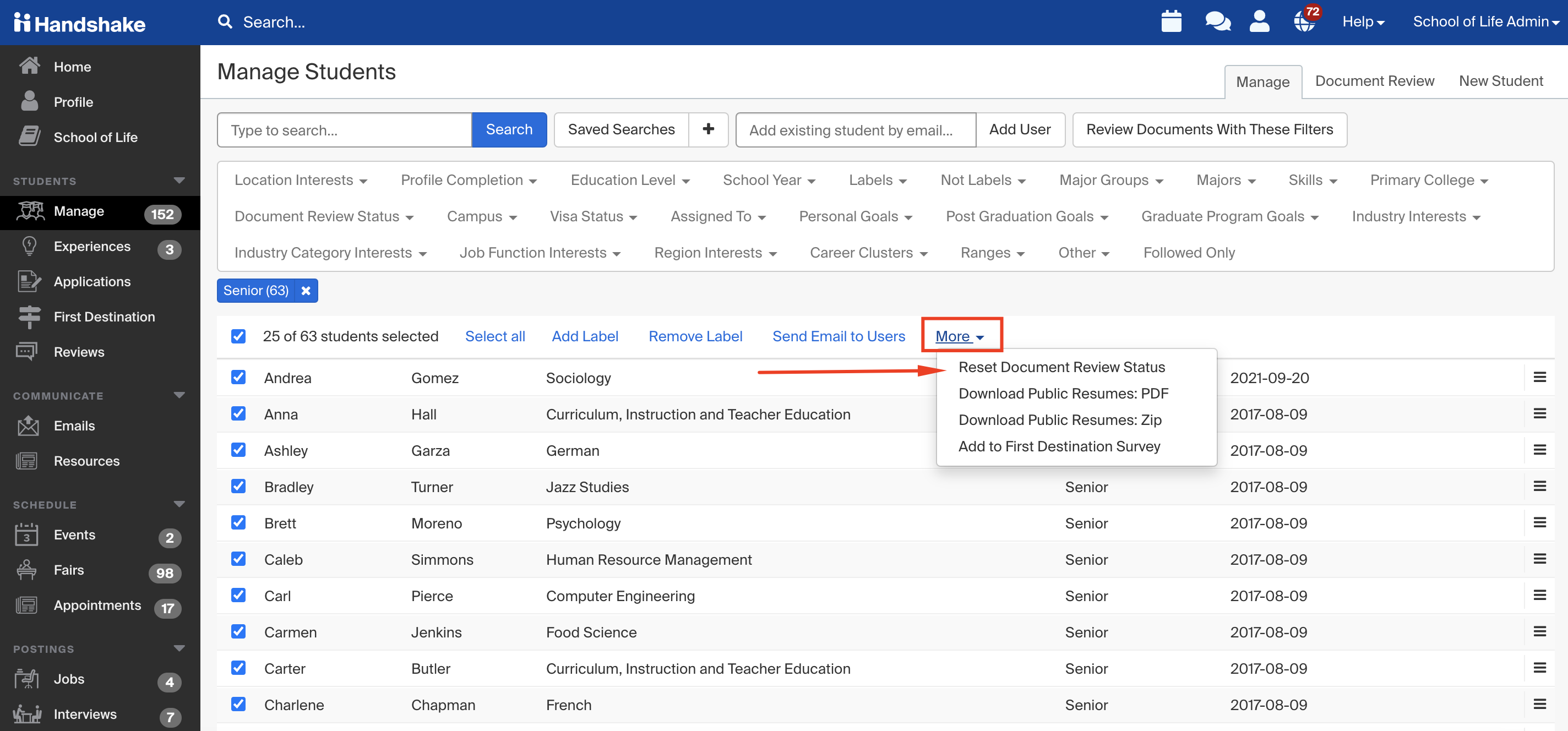 FAQs
What happens to an application that has a pending document at the time the job apply ends?


The application will remain submitted and will not be automatically withdrawn.

What will students see when I update the status of one of their documents?

Students notifications for document feedback are driven by the student's notification preferences. Students will receive an in-app notification when the status of one of their documents is updated, and an in-app and email notification when someone comments on one of their documents. For more info, refer to

Default Notification Preferences (Students).

How do students submit a resume or cover letter for feedback?

When students upload a document it will be in your Document Feedback queue. If you're not seeing the document, double-check that the student meets the preferences that you set for Document Feedback.

How can we have students submit for a single resume or cover letter critique?

With Document Feedback, it will add

all

new documents to the Document Feedback queue. If you choose not to use Document Feedback, students can always comment on a document asking for feedback, or you can provide an Appointment Type for Document Feedback that students can request. For more information, check out Best Practices: Non-Required Document Review Workflow

What are the student statuses for document feedback?

Pending
Changes Suggested (indicates the document has suggested changes)
Reviewed (indicates the document is Approved)

What are the possible Career Center statuses?

Pending
Suggest Change
Complete Review
Complete Review For All and Future (marks all documents as Reviewed for the student and sets the student to an Exempt status)
*Exempt (this status appears in Analytics when a student has been previously marked as Complete Review for All and Future)

How do I report on documents that are reviewed, pending, etc.?

You can use an Analytics report as a starting point! This will show you a count of documents per document status.