Handshake provides 380+ Job Role groups, identified by our team using resources such as Career Interests, user research, majors, and data coverage of job details. Assigning relevant job roles on postings is one of the most reliable ways to make sure the right students see their jobs.
A student's preferred job role is one of the strongest predictors of whether or not they'll apply to a particular job. Students using Handshake select which role groups they're interested in, and relevant job postings are highlighted for students.
By automatically designating the most appropriate role(s) for your jobs, we can (a) help students find the jobs that best match their interests and (b) make sure the right students see your jobs.
Job Role automated tagging
Handshake will automatically add up to three Job Roles to each newly created posting. To ensure the most accurate tagging, the tagging process is based on the posting title and description.
After saving the new posting, on the posting page, click the Details tab to confirm the tagging is in-process for the job. This can take about one-two minutes to complete, so if you remain on this page, the tagged roles will appear shortly.

Once the job roles have been added, click Edit to add or remove roles to the posting. To save your changes, click Save in the lower-right corner of the pop-up.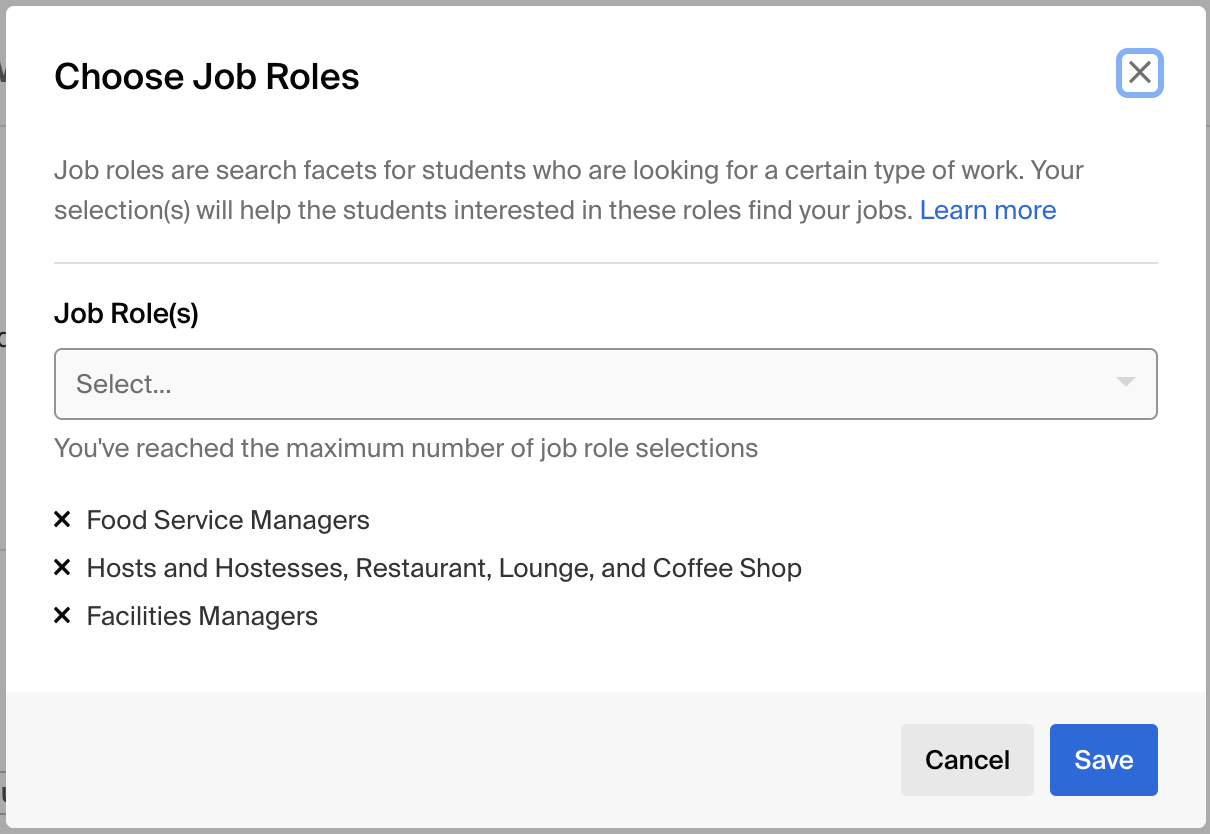 Note: If a job could not be tagged, we'll send an email notification with tips on how to write a good job title and description.
Job Role Group details
You can download the attachment from the bottom of this article for a complete list of the 380+ job role group names in the first tab and each group name mapped to over 8,600 job roles in the second tab.
The job roles taxonomy is based on the Bureau of Labor Statistics' (BLS's) Standard Occupation Classification (SOC). Almost all of our job role groups map to one or a few of the SOC's occupations. We made some additions and replacements to the SOC's taxonomy, for example adding the "Product Managers" role group, to better suit our college student user base.
On-Campus Employment Best Practices
We've received feedback regarding how these roles align with On-Campus opportunities, so we put together some examples that may help your On-Campus Employers better identify some common positions:
For Office assistant, data entry, or any other clerical type positions: General and Miscellaneous Office Clerks and Administrative Support Workers
For "Fundraising & Event Management" related positions: Fundraisers

or Meeting, Convention, and Event Planners
For any research related roles: University Student Researchers
For other positions not included, please consider downloading the attachment on this article to see the full job roles group list and mapping of job roles. If you have any remaining questions after that, you're welcome to reach out to our Support Team to get suggestions for the On-Campus position being posted.