When it comes to the job search, many students have an idea of what they don't want or feelings around what they want, but no vocabulary to clearly define what it is they're looking for. Since most job products (ours included) require this vocabulary to be in place to search and find a job, this results in a gap between what a student knows during an initial job search and the wealth of information and opportunities we have on Handshake.
As we guide students towards finding the right role for them, we can close this gap by helping build up this vocabulary. We'll begin by building job role pages.
Our team identified over 350 Job Role groups, using resources such as Career Interests, user research, majors, and data coverage of job details.
The job roles taxonomy is based on the Bureau of Labor Statistics' (BLS's) Standard Occupation Classification (SOC). Almost all of our job role groups map to one or a few of the SOC's occupations. We made some additions and replacements to the SOC's taxonomy, for example adding the "Product Managers" role group, to better suit our college student user base.
A student's preferred job role is one of the strongest predictors of whether or not they'll apply to a particular job. Students tell us which of the 350 role groups they're interested in, and employers identify their jobs with any of those.
By asking you, the employer, to designate the most appropriate role(s) for your jobs, we can (a) help students find the jobs that best match their interests and (b) make sure the right students see your jobs.
Assigning good job roles is one of the most reliable ways to make sure the right students see their jobs. As such, this field is required on all job postings moving forward.
You can locate Job Role on the Details tab of your job posting: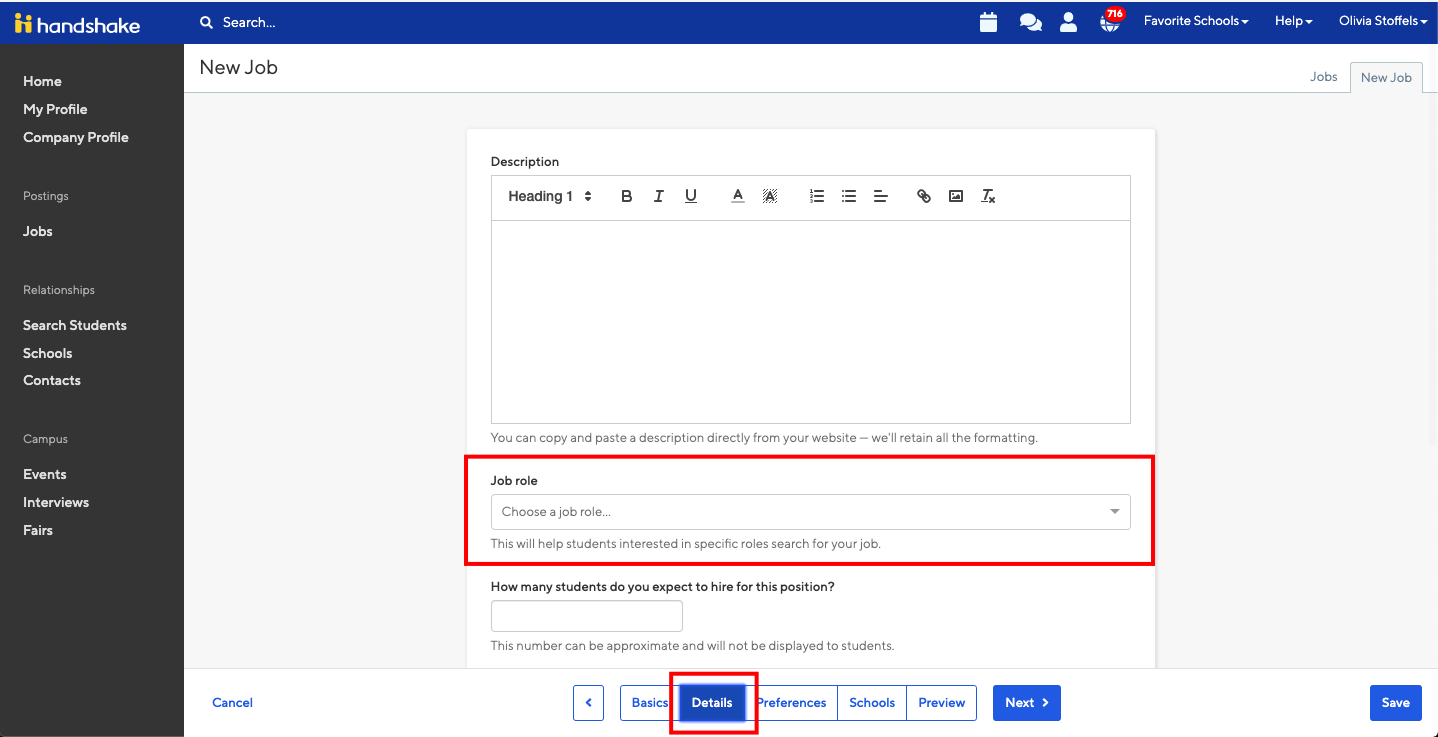 When selecting a Job Role Group, all options will display (in alphabetical order) while scrolling.
You can also download the attachment from the bottom of this article to see a complete list of the 350+ role group names in the first tab and each group name mapped to over 8,300 job roles in the second tab.
On-Campus Employment Best Practices
We've received feedback regarding how these roles align with On-Campus opportunities, so we took some time to put together some examples that may help your On-Campus Employers better identify some common positions:
For "Office Assistant" or "Clerical" type positions:

General and Miscellaneous Secretaries and Administrative Assistants
For "Administration and Fundraising & Event Management" related positions:

Fundraisers and Fundraising Managers,

Meeting, Convention, and Event Planners, and

General and Miscellaneous Secretaries and Administrative Assistants
For "data entry" related positions:

Data Entry Keyers
For any r

esearch related roles:

University Student Researchers
For other positions not included, please consider downloading the attachment on this article to see the full job roles group list and mapping of job roles. If you have any remaining questions after that, you're welcome to reach out to our Support Team to get suggestions for the On-Campus position being posted.