This guide provides industry best practices, as well as how other institutions leverage the tools available for successful response rates and FDS management.
Consider the set-up that will provide the outcome you need
Before creating a new survey, consider which setup you'd like to proceed with that will help you accomplish your institution's goals.
You can use out-of-the-box

preset industry-formatted survey questions (based on NACE/MBA CSEA).

You can customize the survey tool to fit the needs of your institution.

Add in additional custom questions to the preset industry standard questions.

You can build out skip logic to direct your students to specific subsets of questions that you want to collect information on.

Skip based on outcome, major or college
Ready to Create a New First Destination Survey?
Ready to launch? Test your survey first!
Once you've set up a new FDS, check out our resource here: First Destination Survey (FDS) Testing Guide for full instructions on testing the FDS, as well as demo-ing the FDS with other campus stakeholders!
How to increase response answers
Using Handshake for FDS allows you to capitalize on students' built-in familiarity with the platform (for those who have been engaging with it over time).
Launch FDS kiosks at any on campus event to collect responses easily and on the spot.

Utilize on-campus events/kiosk/pre-graduation events.

Princeton requires their students to complete FDS to get their caps and gowns, resulting in a 98% response rate!

Send reminder emails and off-cycle emails
Handshake has invite and reminder emails set up and ready to use out of the box.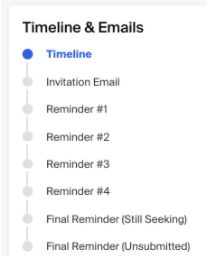 You can use as is or turn off the Handshake email content completely to create a fully customizable experience for your institution.

If you'd like to use Handshake default content, here are some examples of what that looks like: First Destination Student Email Previews
You can also choose to turn off invite and reminder emails altogether and market these as you choose.

On top of allowing the automation of emails to send, you can send off cycle emails to your students through our targeted email feature!
Leverage connections across campus by providing the logged out link to other stakeholders (marketing materials, websites, give to faculty) to incentivize students to take the survey.
Students will need to have an existing account in Handshake that's associated with the FDS to take the survey, but they don't have to have an activated or "claimed" account.
Note: the logged out link won't be displayed until recipients have been added to the FDS.


Take advantage of the Handshake Incentive (or offer your own).

Enter knowledge answers directly into survey
The FDS tool offers a one-page form to submit responses on behalf of students (located at the bottom of the submission form). You can read more about this process in Enter a FDS Response for a Student (Knowledge Response).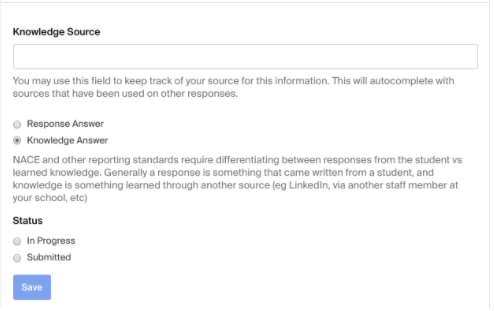 Keep your data timely and up to date
NACE suggests collecting data for 6 months after graduation; before closing the survey — you can stop at 5 months and use the 1 month to review/clean up data.
Tip: download the non-industry formatted report - CSV file to review.
Download Standard NACE Undergrad or MBA CSEA Report Data From Your FDS
Bulk Download All FDS Responses (Not NACE formatted)
Reporting on "In Progress" FDS Responses

Following up with students who reported "still seeking"
Utilize student advising teams, executive director emails and hot jobs newsletters to keep them engaged and increase response when the time comes.