Once your company's fair registration has been approved, you can create the initial schedule for your company in Handshake. The schedule may consist of only group sessions, 1:1 sessions, or a combination of both –– whatever works best for your company's goals in connecting with students. 
Note: only the Schedule Owner will be able to create the initial schedule for your company. If this should be someone else, refer to Managing Schedules for Virtual Fairs.
When your company's fair registration has been approved, the Schedule Owner will receive an email notification to add a schedule. If the email is not received, navigate to the fair in Handshake. If your registration has been approved, you will be prompted to add your sessions on the Schedule tab. 
To add the schedule, click on the red button Add Schedule in the email, or on the Schedule tab from the fair overview page. 
Click on Add sessions to be taken to the Create Schedule workflow, broken down into four tabs:
Review

Add team members
In the first tab, select the team members from your company that will represent your company at the fair. Use the search field to search for a specific teammate and narrow down the displayed list. 
Click the checkbox to the left of each team member name to add them to either Group or 1:1 Sessions.
Note: there is a limit of 100 team members per virtual fair registration.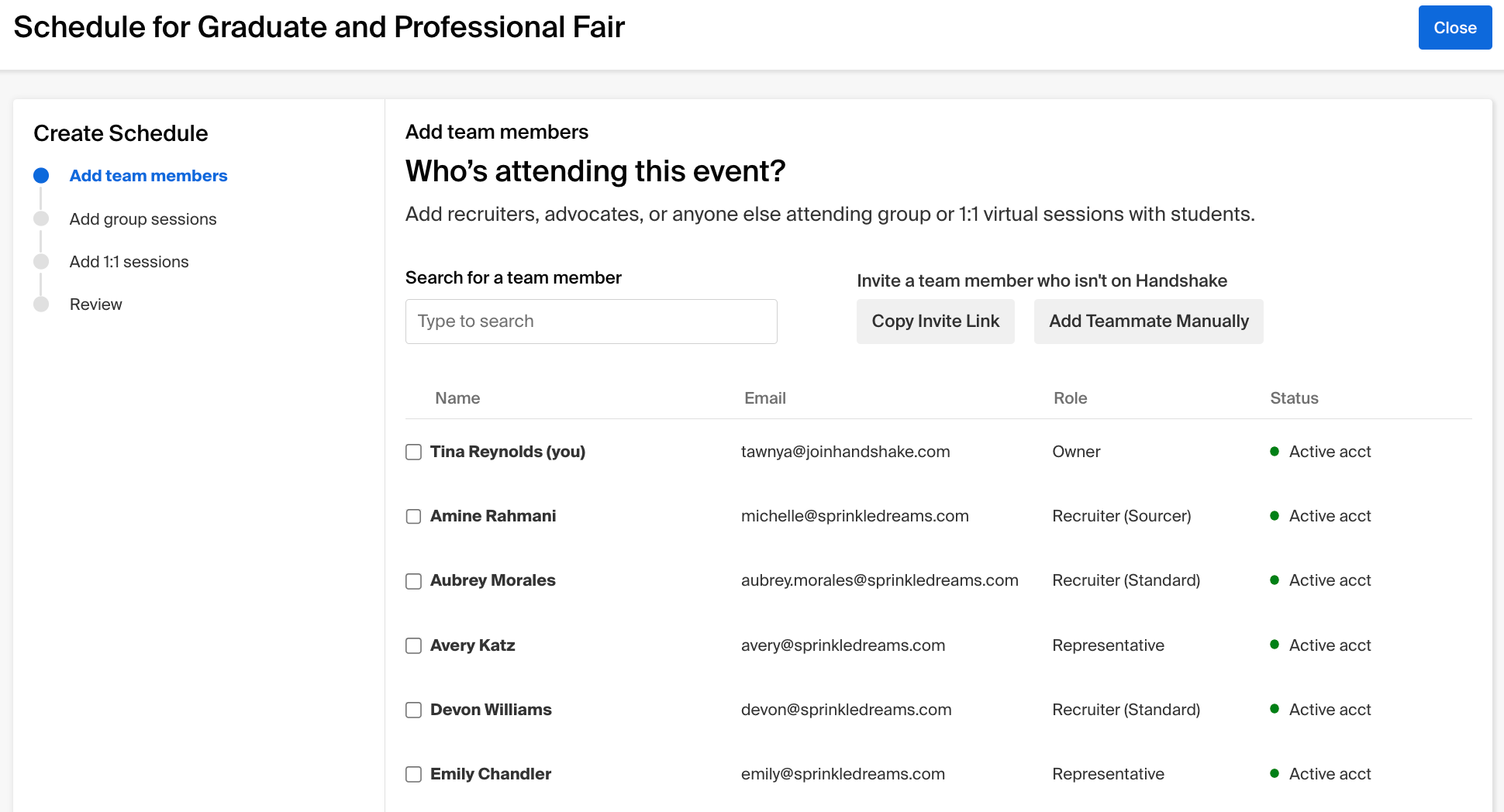 All team members participating must have an active Handshake account to launch a Handshake video session. Create an Employer User Account, Join a Company, and Connect with Schools.
Team member listed without a role and a status of "Unclaimed Account" had an account created on their behalf but have not yet claimed their account, i.e., confirm their account and set a password.  
Teammates that don't appear on the list likely do not have a Handshake account yet, or aren't connected to your company. 
Recruiters can manually add teammates or invite their colleagues to join their employer on Handshake if the New Teammate Access setting "Allow Recruiters to create new teammates (Owners & Admins will always be able to)" is enabled by the Owner. For additional details, refer to Company Settings: Global Settings.
If enabled, Recruiters will have two options to invite a teammate that is not yet on Handshake. 
Add Teammate Manually: click this button to create an account for your colleague. Your colleague will receive an email with a prompt to confirm their account and set their password. Once they've claimed the account, you'll be able to add them to Group or 1:1 sessions.
Copy Invite Link: click this button to copy a link to share with your colleague. This allows them to create their own account and connect directly to your company profile upon account confirmation.

After teammates are added as participants, click the blue button Add Team in the lower-right corner of the page.
Add group sessions 
Group sessions are 30 minutes long each, and each registered employer can set up as many group sessions as they like within the time constraints of the fair, whether Handshake Video or an external provider is used. Employers aren't able to set qualifications for group sessions.
If you choose to use Handshake Video, please note that there is a limit of 50 attendees at a time (including employer team members). Any limitations for external providers are determined by the provider you choose to use. 
Is your organization planning to have group sessions with students? (select Yes/No)
Are you using Handshake Video or another video tool? (select one)

Handshake video session 
External video platform

Note

: if you'd like to use an external video provider for 1:1 sessions, you'll be able to update sessions individually once the schedule has been created. 

When you select Handshake Video, you'll be able to enter the session details, including the name, description, the number of team members that will host the event, and the time of the session. 
Premium partners will have an option to record the session (yes/no):
Best Practice: if multiple branches of your company plan to attend, consider adding your Division/Department name to your Group Session title! Please note you can also add group sessions at a later time, so you can coordinate times with other departments as needed, then add to the schedule.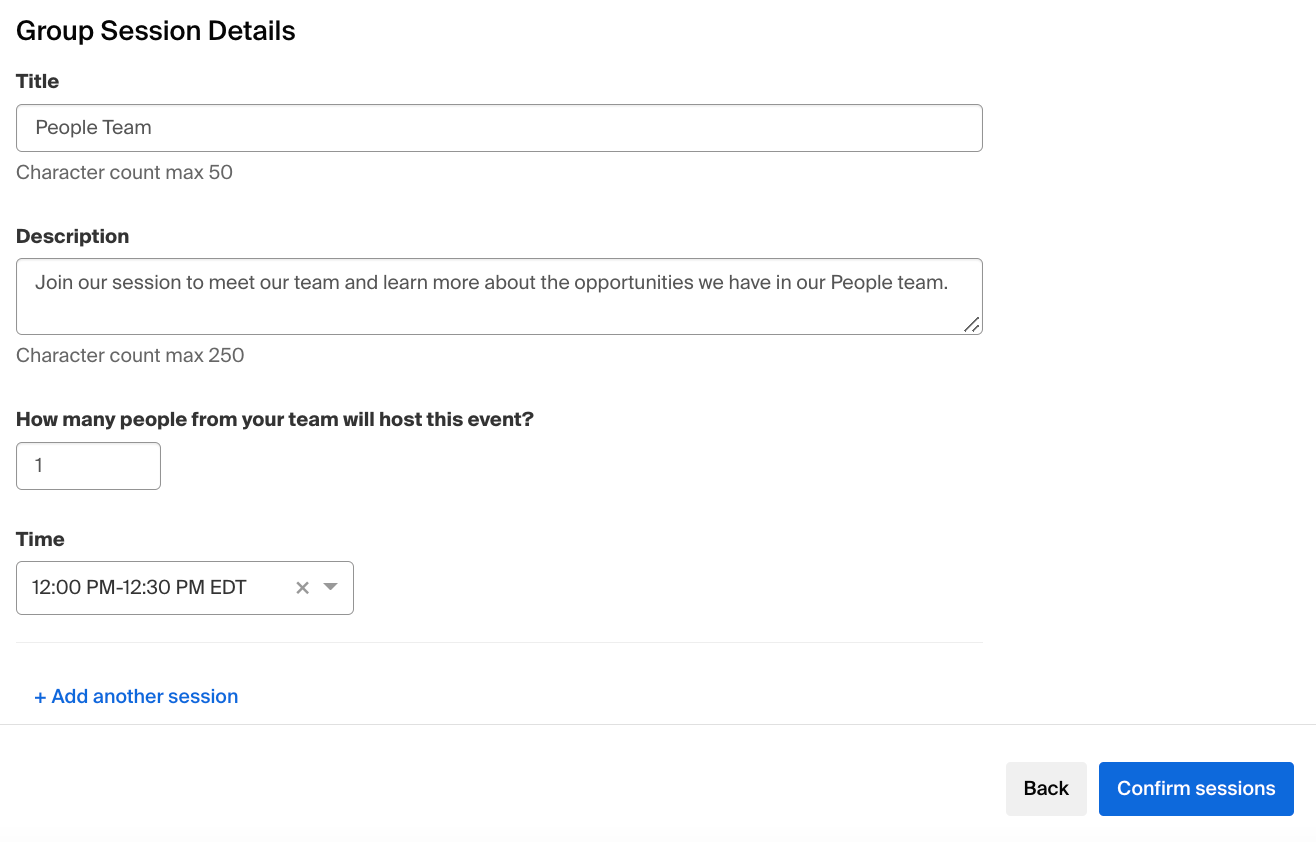 3. If you'd like to add another session, click on the blue text +Add Another Session, then repeat the steps to enter the new session details. 
4. When you have completed adding the desired sessions, click the blue button Confirm Sessions to proceed.
5. Select which team members are leading the group session(s). Multiple team members may host group sessions.
You may only add up to the specified count per group session. If you attempt to add more team members than are designated per session, you will not be able to proceed.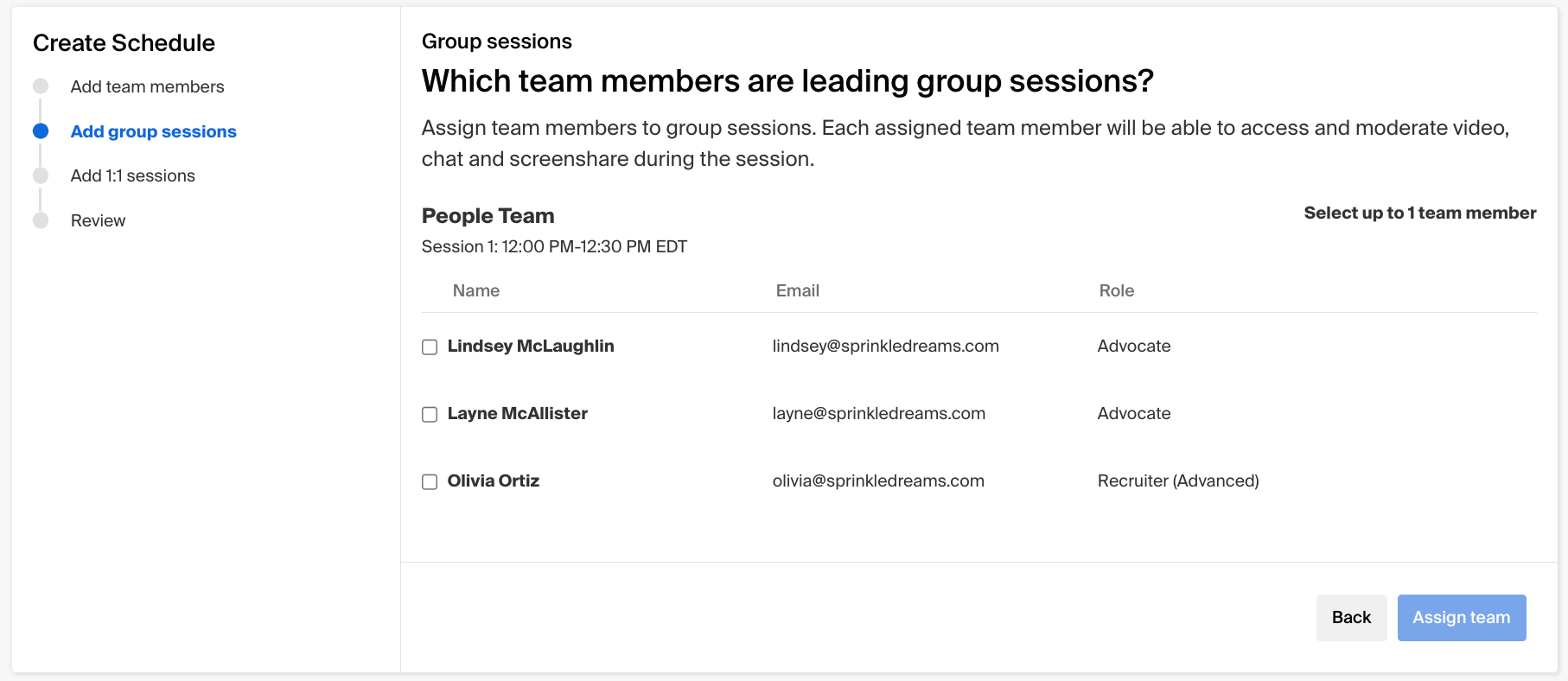 6. Click the blue button Assign Team in the lower right corner of the page to proceed. 
Add 1:1 sessions
In the next section, you may configure 1:1 sessions for teammates attending the fair. 1:1 sessions allow your team members to meet with individual, qualified students for 10 minute video conversations.
Note: all 1:1 sessions are 10 minutes long and cannot be changed. 
1. Click Add 1:1 Sessions for the desired team member.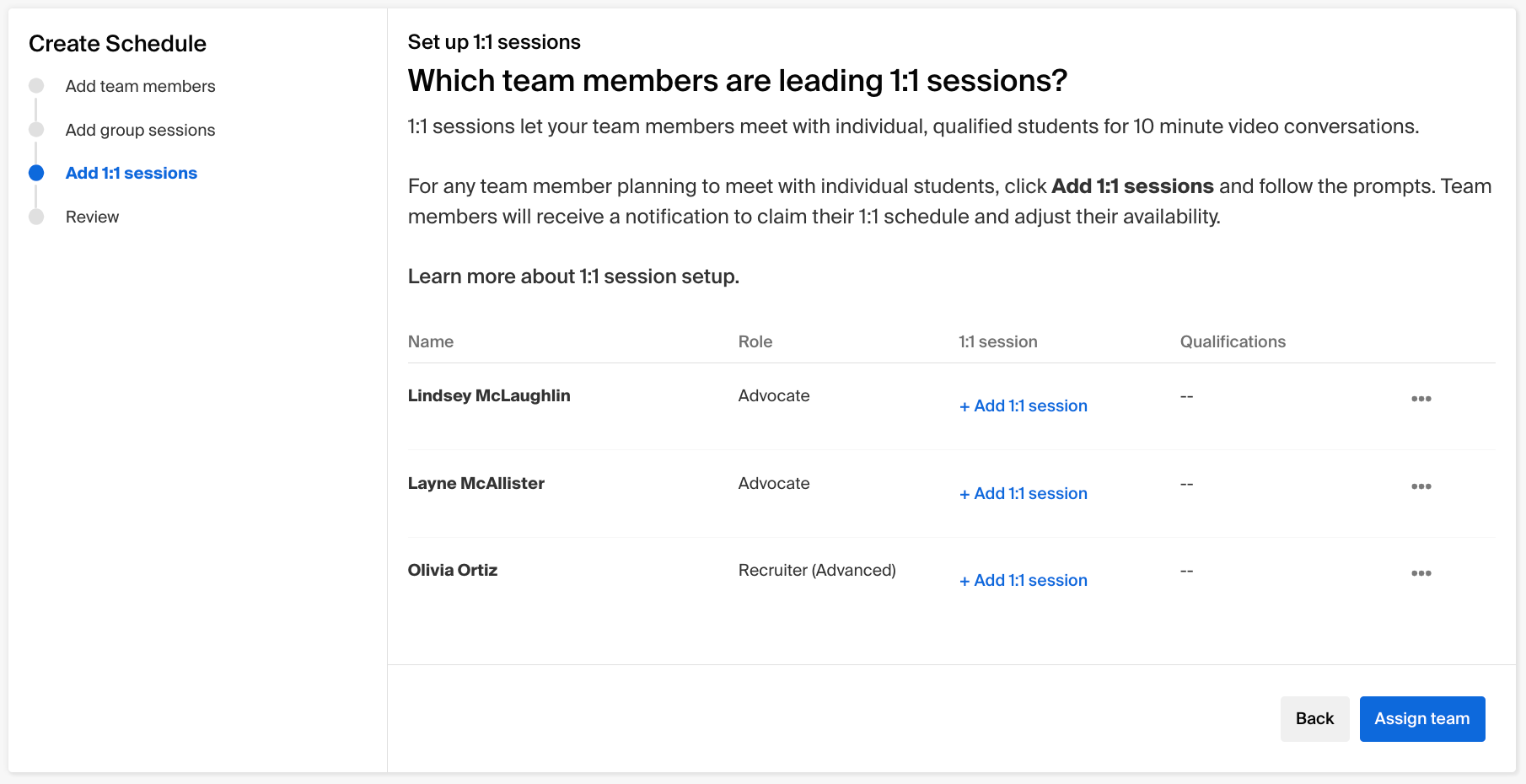 Best Practice: if teammates from multiple divisions will be hosting 1:1 sessions, we recommend having your teammate add their division name to their title via their Employer Account User Settings. This will help students identify who they are meeting with, especially if they've signed up for multiple 1:1 sessions.
2. If you'd like to set up qualifications to meet with all or a subset of candidates that match specific role requirements, select Yes to Add requirements to sessions, then click the blue button Add Requirements.

Employers can set requirements per team member if they are hoping to engage with two (or more) different groups of students (for example, if students are meeting with hiring managers for different jobs). 
Qualifications can be changed up until the start time of the fair, but once the fair has begun, the only option will be to clear all qualifications.
You will be able to qualify students based on GPA, work authorization, Handshake major group, and graduation date. 
Our product research has shown that 1:1 virtual meetings are far more effective when they are more focused, which is more likely when preferences are shared in advance.
That said, we also strongly believe in the power of technology to democratize opportunity, so group sessions can be used to network and hold open dialog between students and your company. We will continuously monitor this feature for concerns regarding limitations to any student groups.
 To help walk you through each step of the hiring for diversity process, check out our Diversity & Inclusion guide.
Note: by selecting these qualifications, you are limiting student signup to only students that meet these qualifications. Students that do not meet the selected criteria will be unable to signup for 1:1 sessions.
Because of this, we have an automated feature that will pause your 1:1 session qualifications 48 hours prior to the fair to help fill any empty sessions you may still have.
If you'd like to opt out of this feature, select No, keep my qualifications in place the whole time.

If you opt in to this feature, you'll receive a reminder email 72 hours before the fair start time, which will give you an option to opt out at that point if you'd like. The email will read: 
From: Handshake <handshake@notifications.joinhandshake.com 
Subject: "Qualifications for your 1:1 schedule will pause in 24 hours." 
Body: "To help fill your empty sessions, qualifications on your upcoming schedule for (name of fair) will pause in 24 hours. If you'd prefer to keep qualifications active, you can opt out here-click red button Opt out of pausing qualifications.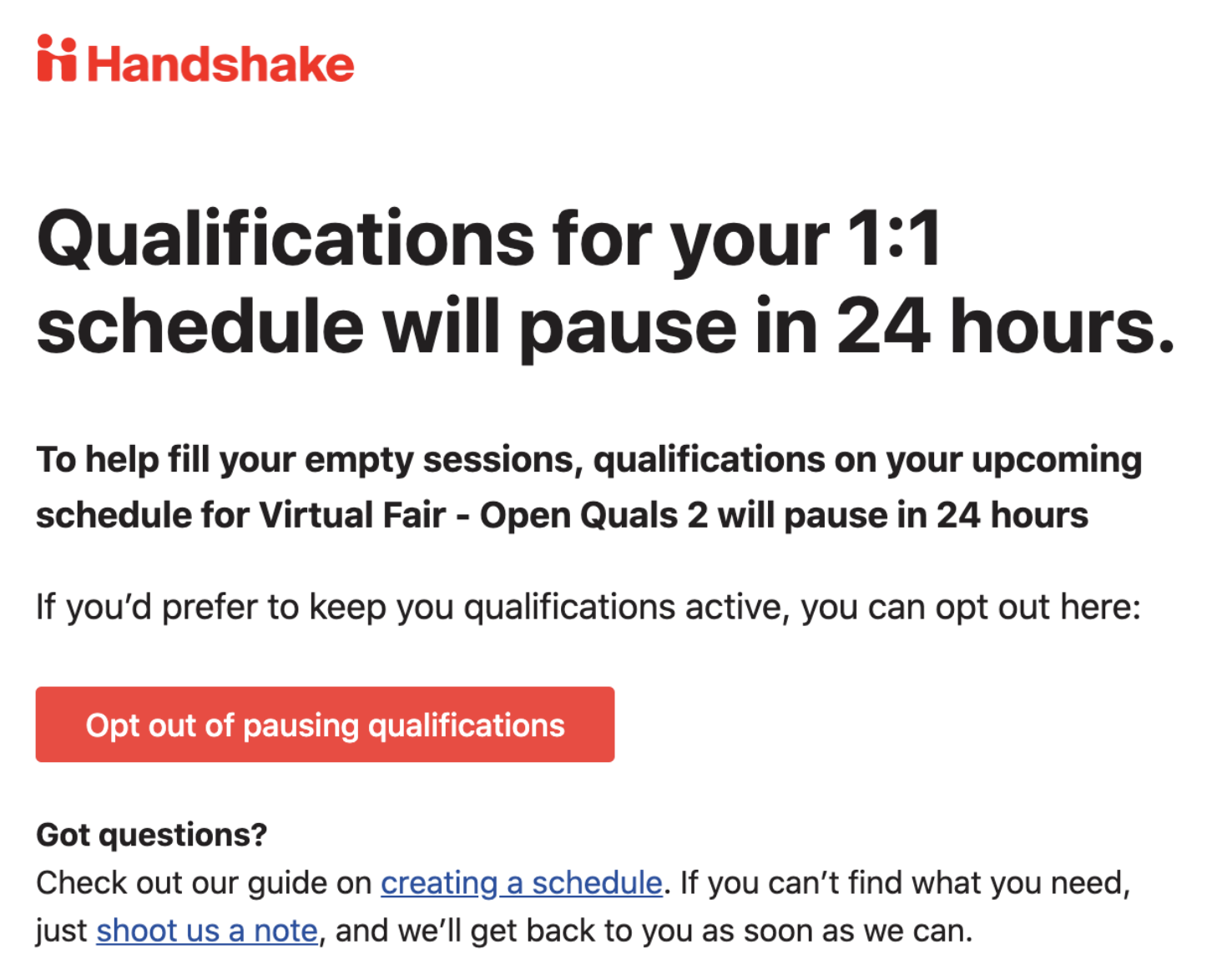 3. When you've finished selecting qualifications, click the blue button Add and schedule sessions. 
This will take you back to the 1:1 sessions page, where you may add additional 1:1 sessions for other team members. Repeat the steps above per desired team member.
4. When you've added all 1:1 sessions, click the blue button Assign Team to proceed to review.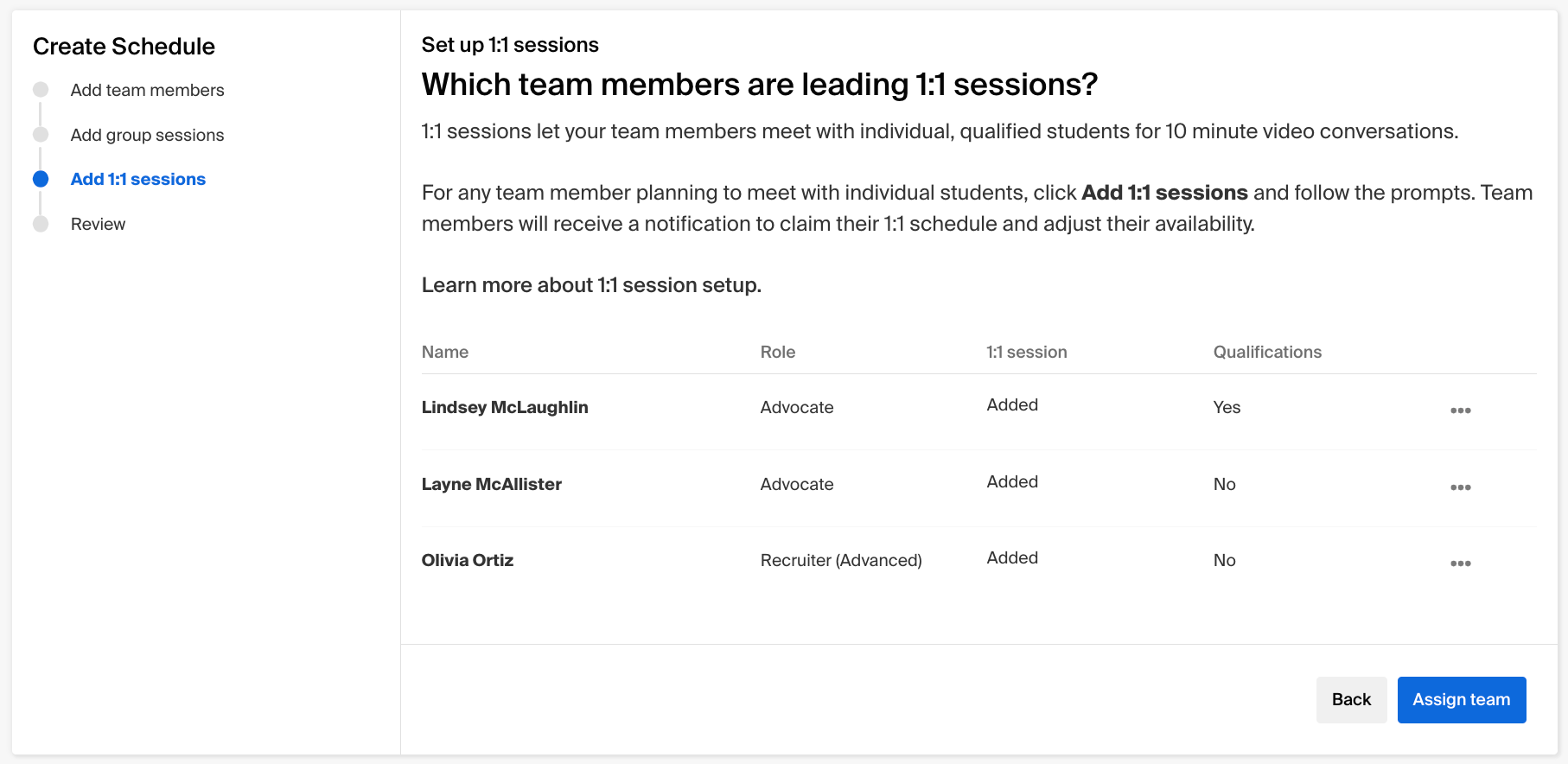 5. Review the group and 1:1 sessions created to confirm session(s) details. Click the blue button Confirm schedule and invite team to generate the email for team members to claim their schedules.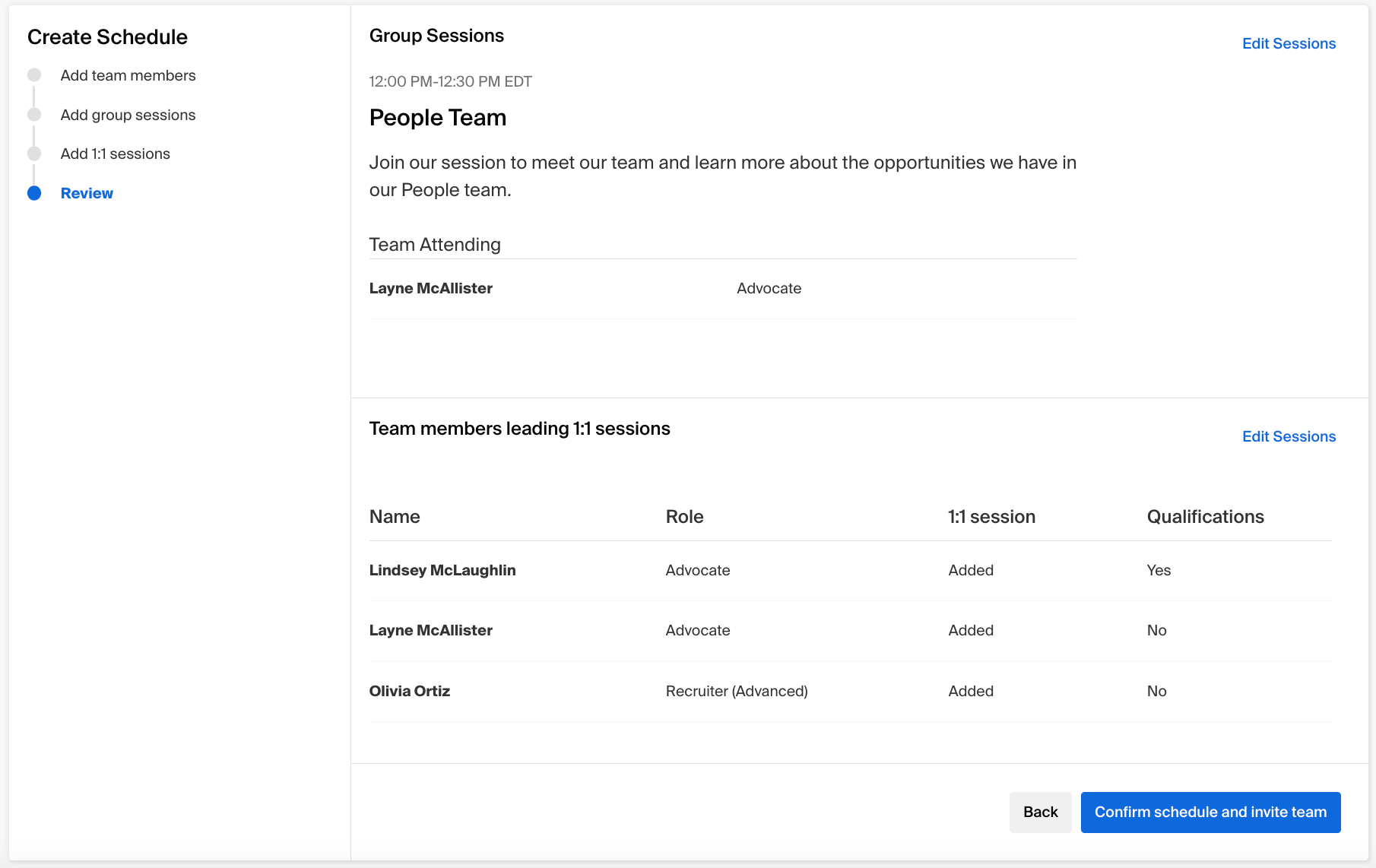 Note: Career Services can't view/edit required preferences for employers or remove certain preferences from schedules.
Once the initial schedule has been created, any team member, regardless of role, will be able to add new group sessions and 1:1 schedules, as well as take other actions described in Managing Schedules for Virtual Fairs.