Note: Only the Schedule Owner will be able to set the schedule for your company. If this should be someone else, check out this process to get a new Schedule Owner designated.
Check out our video on how to set your schedule!
Once your fair registration has been approved, you'll receive a notification of approval with a link to set your schedule, as the example shows below.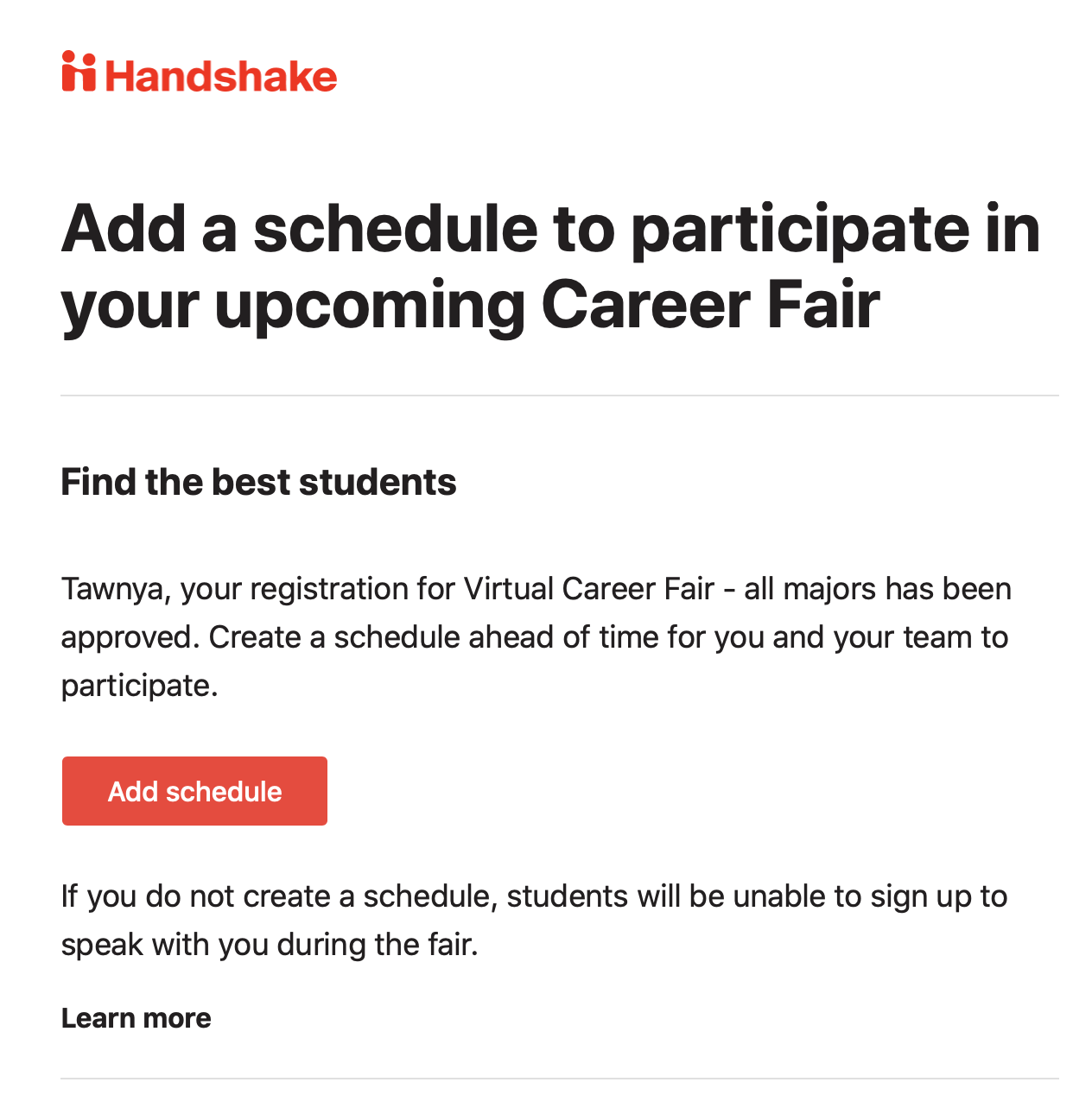 When you click the link in the email, or if you click on the Schedule tab from the fair overview page, you'll see the gray button Add Sessions.

1. Click on Add Sessions to be taken to the Create Schedule page. You'll need to click the checkbox next to each team member name that will be representing your company at the fair. There is a limit of 100 team members per virtual fair registration!
Teammates attending will have to have Handshake accounts because we need them to login to launch a Handshake video session.
If you're not seeing the teammate listed, you can either:

Click on Add Teammate Manually to create a shell account for your colleague - this will allow you to set up their schedule for the fair, and your colleague will receive an email with a prompt to set their password.


You can also select the right role for your colleague in this step - see Employer Roles & Admin Tools for more details on Recruiter / Representative access.

OR click Copy Invite Link and share the signup link with your colleague. This allows them to create their own account and request approval at the company.
Note: Missing these options during schedule creation? While these are available on all company profiles in Handshake, individual Owners or Admins may choose to restrict this access. Followup with your company Owner for more information!

To find your company Owner, click your name in the upper-right corner of Handshake, then click Teammates from the dropdown menu and identify the teammate with the role of Owner from the list!

Click the blue button Add Team in the lower-right corner of the page to proceed.
Group Sessions
Group sessions are 30 minutes long each, and each registration will be able to set up as many group sessions as they like, within the time constraints of the fair, whether Handshake Video or an external provider is used. Employers are not able to set qualifications for group sessions.
If you choose to use Handshake Video, please note that there is a limit of 50 attendees max at a time (including employer team members). Any limitations for external providers are determined by the provider you choose to use.
1. Is your team holding any group sessions?
Select if your organization is holding group sessions (yes/no).

Select if you are using Handshake Video or another video tool for group sessions.

Note: if you'd like to use an external video provider for 1:1 sessions, you'll be able to update sessions individually once the schedule has been created.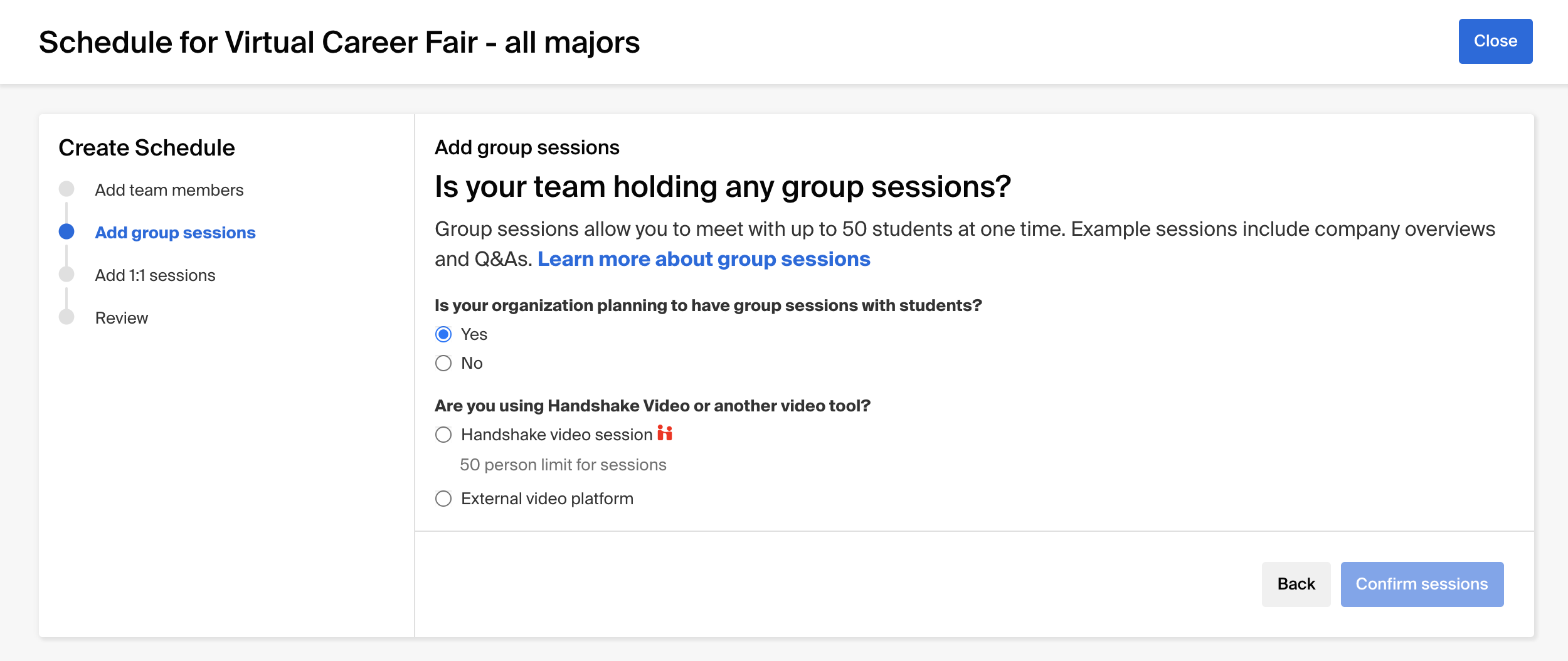 2. When you select Handshake Video, you'll be able to fill in session details, including the name, description, how many team members will host the event, and a dropdown of time slots during the fair.
Premium partners will see an option to record the session (yes/no):

Learn more about our Premium offering here!
Note: If multiple branches of your company will be attending, consider adding your Division/Department name to your Group Session title! Please note you can also add group sessions later on, so you can coordinate times with other departments as needed, then add to the schedule later.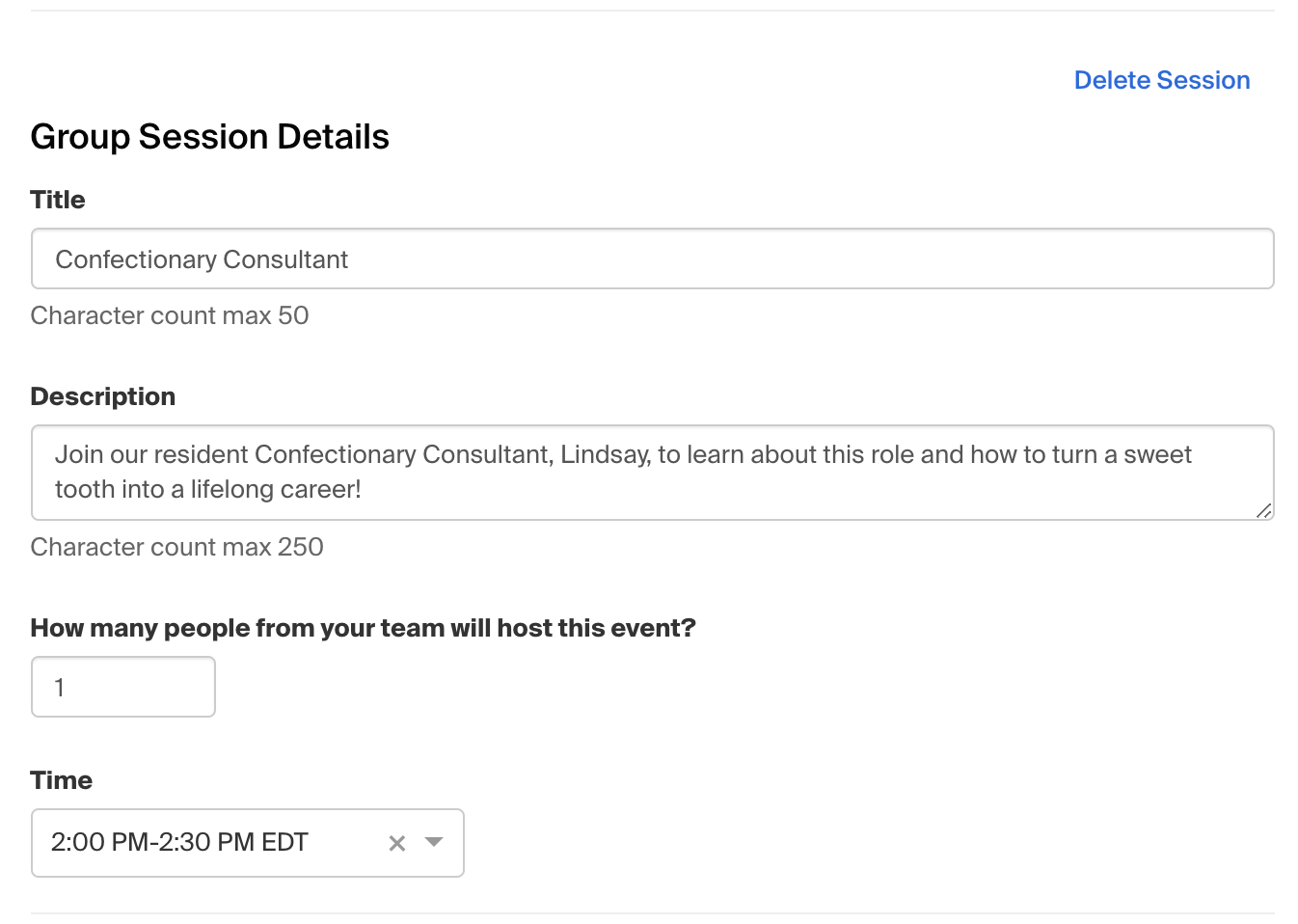 3. If you'd like to add another session, click on the blue text +Add Another Session, then repeat filling in the new session details.
Best Practice: Keep in mind any breaks/lunches that you or your team would like to take!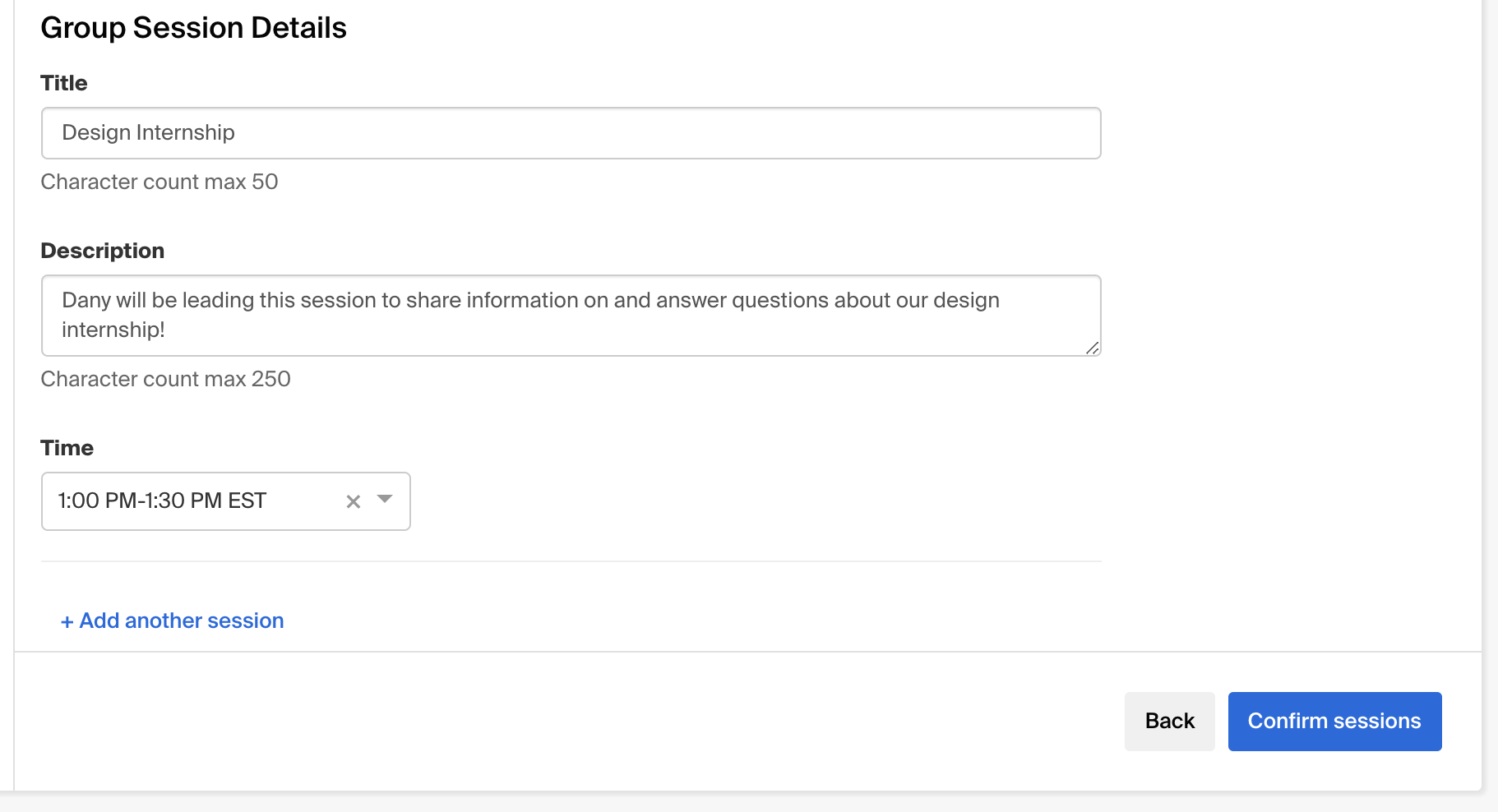 4. When you have completed adding the desired sessions, click the blue button Confirm Sessions to proceed.
5. Select which team members will be leading the previously setup session(s). Multiple team members may host group sessions!
You may only add up to the specified count per group session. If you attempt to add more team members than are designated per session, you will not be able to proceed.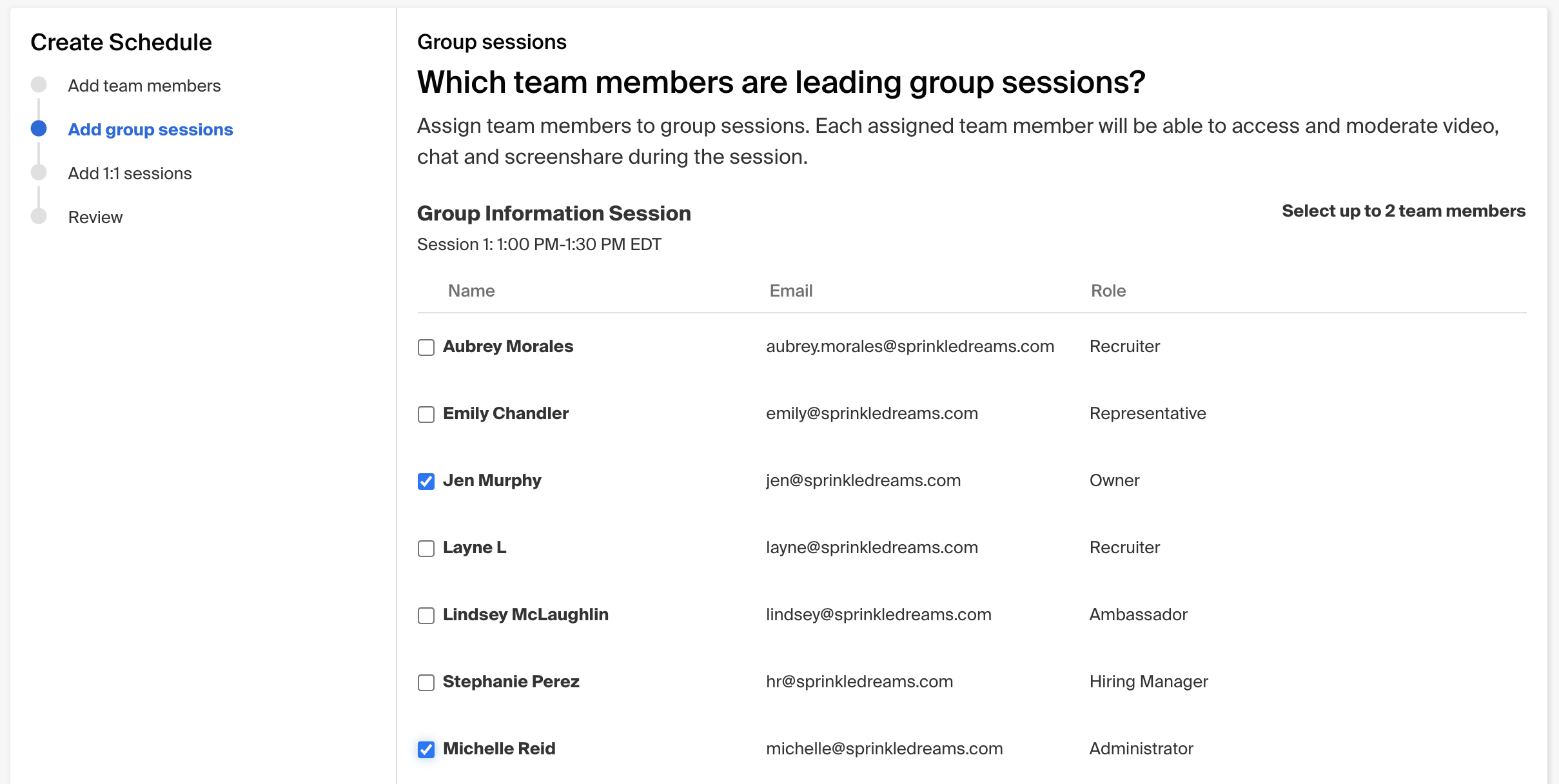 6. Click the blue button Assign Team to proceed.

1:1 Sessions
The next step will allow you to configure 1:1 sessions for representatives attending the fair. 1:1 sessions let your team members meet with individual, qualified students for 10 minute video conversations. All 1:1 sessions are 10 minutes long and cannot be changed.
1. Click Add 1:1 Sessions for the desired team member.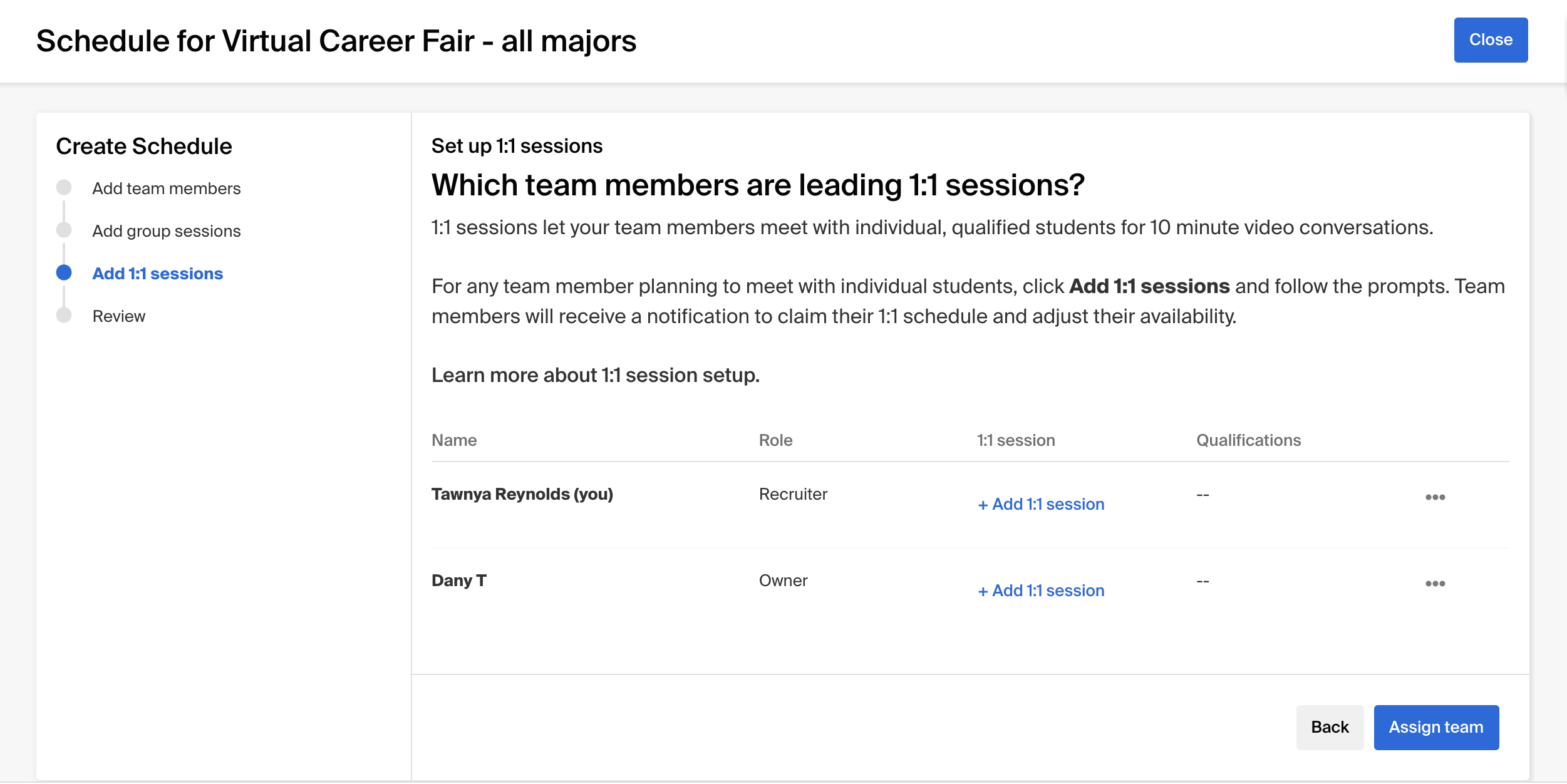 Best Practice: if teammates from multiple divisions will be hosting 1:1 sessions, we recommend having your teammate add their division name to their title via User Settings - this will display in the signup screen for students and help them know who they are meeting with!
2. If you'd like to set up qualifications to more efficiently use virtual interaction time in the 1:1 sessions, select Yes to Add requirements to sessions, then click the blue button Add Requirements.
Employers can set requirements per team member if they are hoping to engage with two (or more) different groups of students (for example, if students are meeting with hiring managers for different jobs).
Qualifications can be changed up until the start time of the fair, but once the fair has begun, the only option will be to clear all qualifications.
You will be able to qualify students based on GPA, work authorization, Handshake major group, and graduation date.
Our product research has shown that 1:1 virtual meetings are far more effective when they are more focused, which is more likely when preferences are shared in advance.
That said, we also strongly believe in the power of technology to democratize opportunity, so group options are also available for general networking and conversation. We will also be monitoring this feature for concerns regarding limitations to any student groups.
Check out our Diversity & Inclusion guide to help walk you through each step of the hiring for diversity process!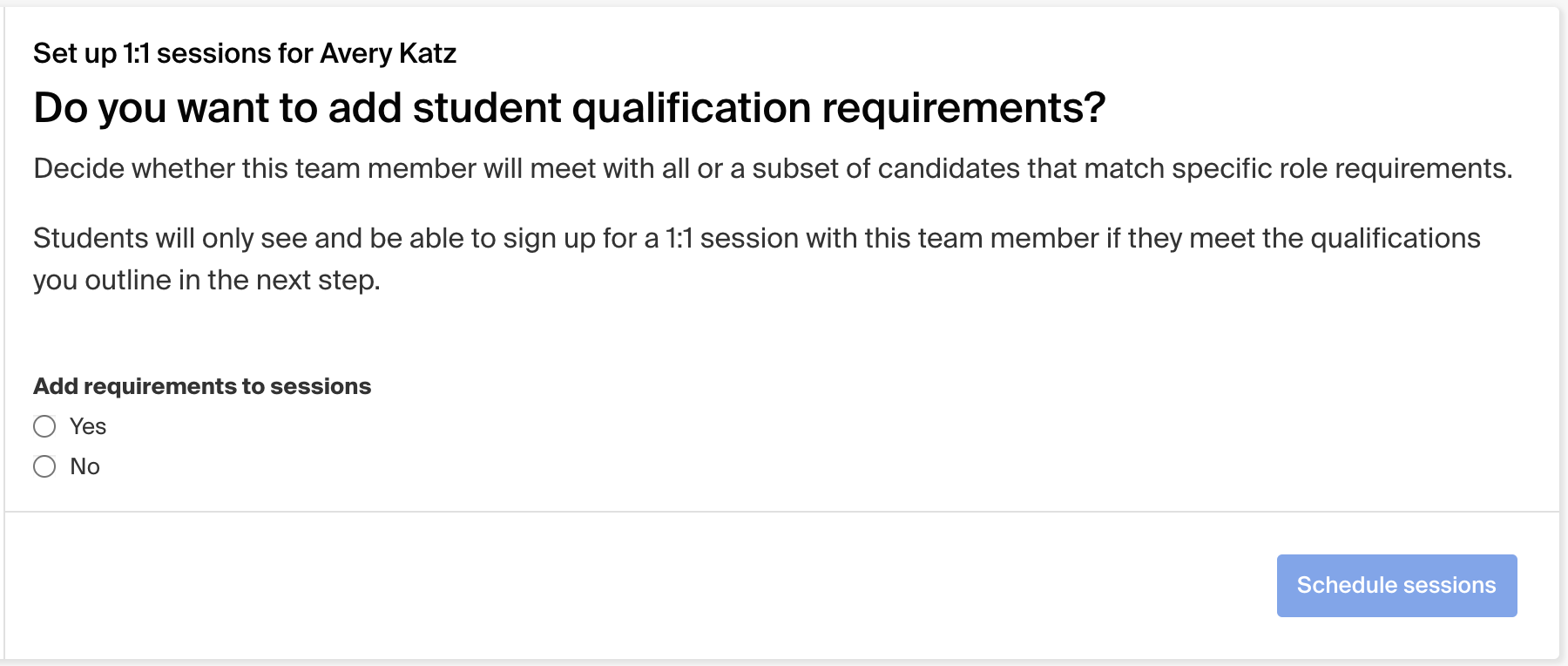 Note: By selecting these qualifications, you are limiting student signup to only students that meet these qualifications. Students that do not meet the selected criteria will be unable to signup for 1:1 sessions.
Because of this, we have an automated feature that will pause your 1:1 session qualifications 48 hours prior to the fair, to help fill any empty sessions you may still have. If you'd like to opt out of this feature, click No on that option, at the bottom of the 1:1 qualifications page.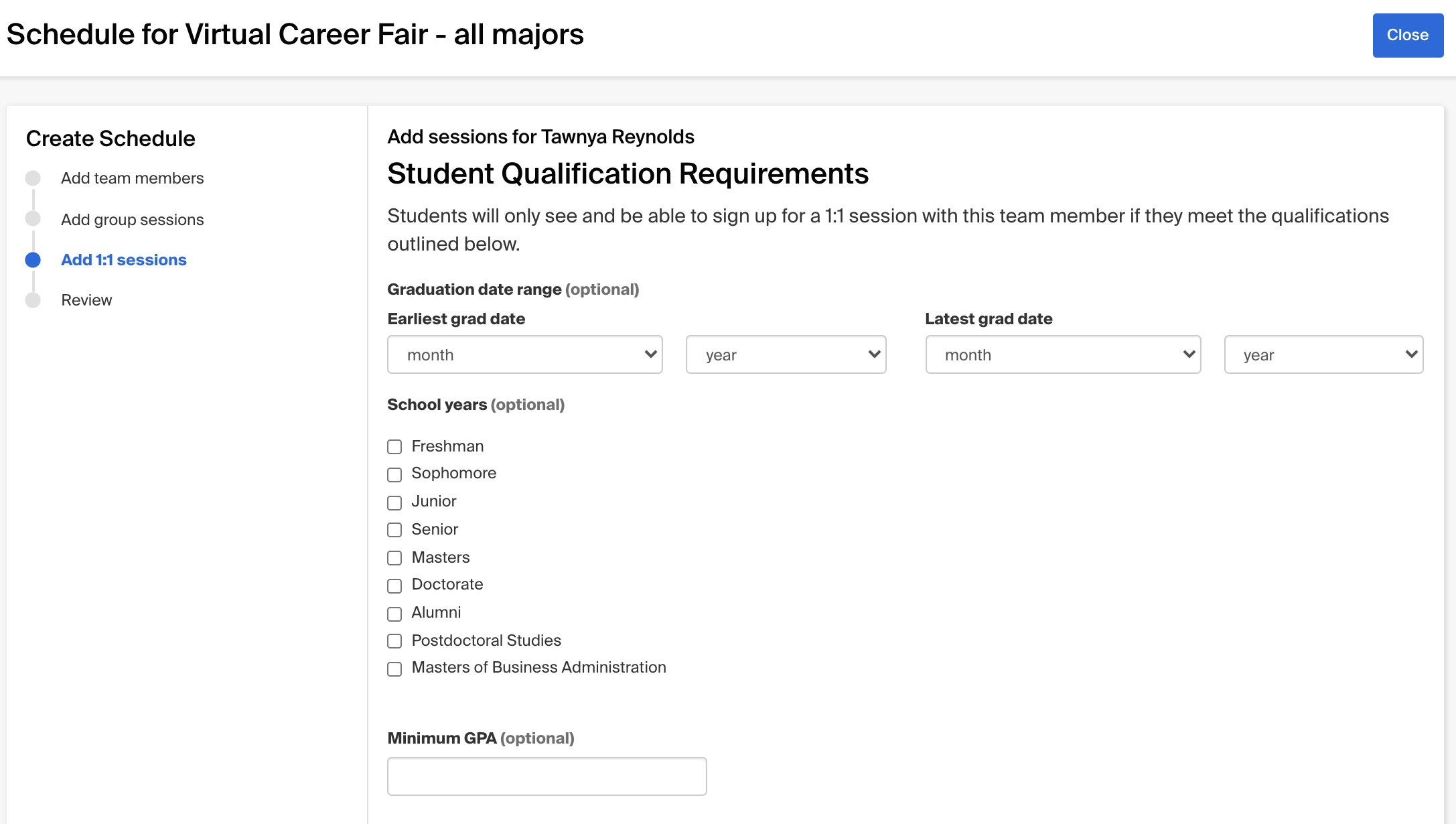 If you opt in to this feature, you'll receive a reminder email 72 hours before the fair start, which will give you an option to opt out at that point if you'd like.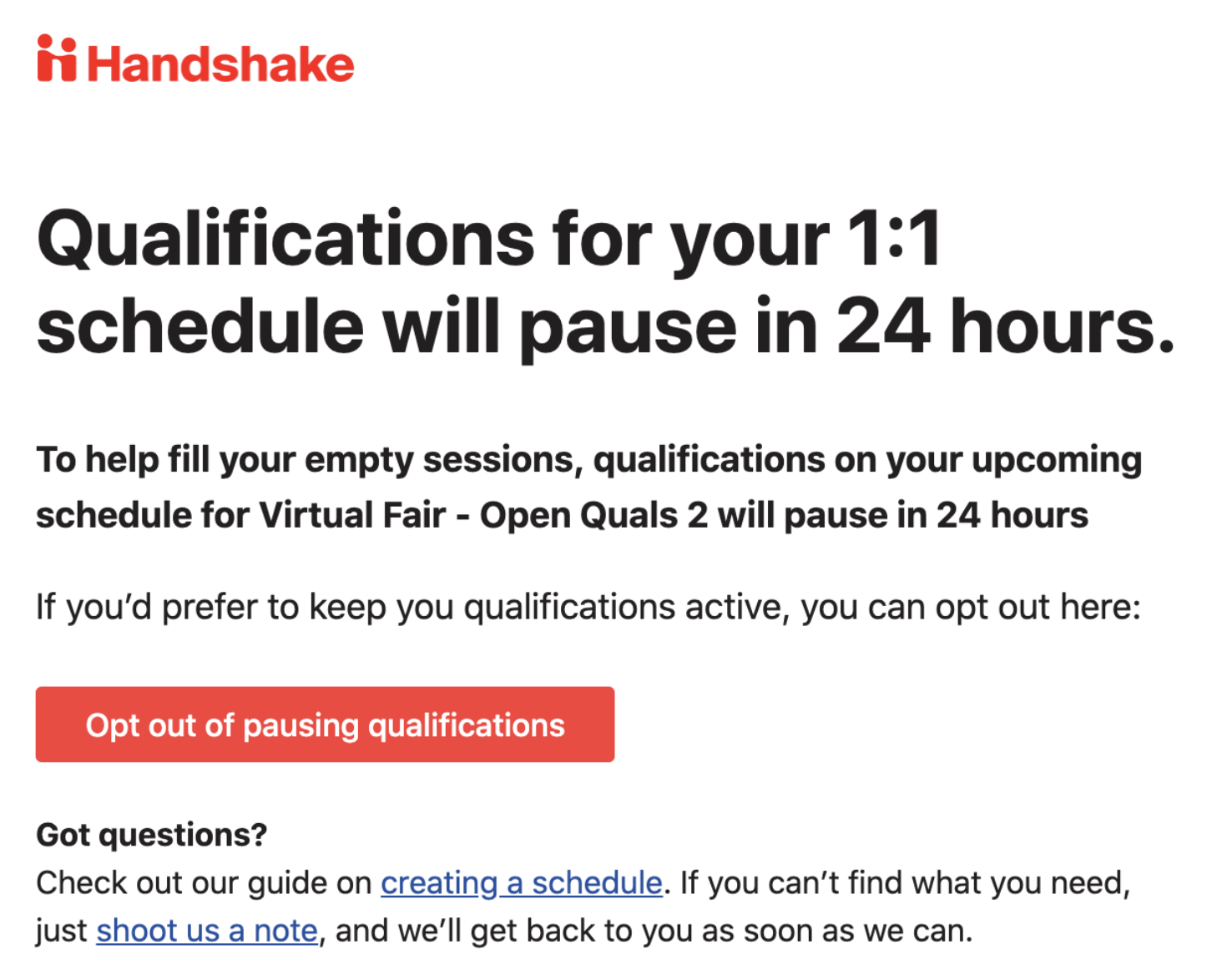 3. When you've finished selecting qualifications, click the blue button Add and schedule sessions.
This will take you back to the 1:1 session page, where you may add additional 1:1 sessions for other team members. Repeat the steps above per desired team member.
4. When you've added all 1:1 sessions, click the blue button Assign Team to proceed to review.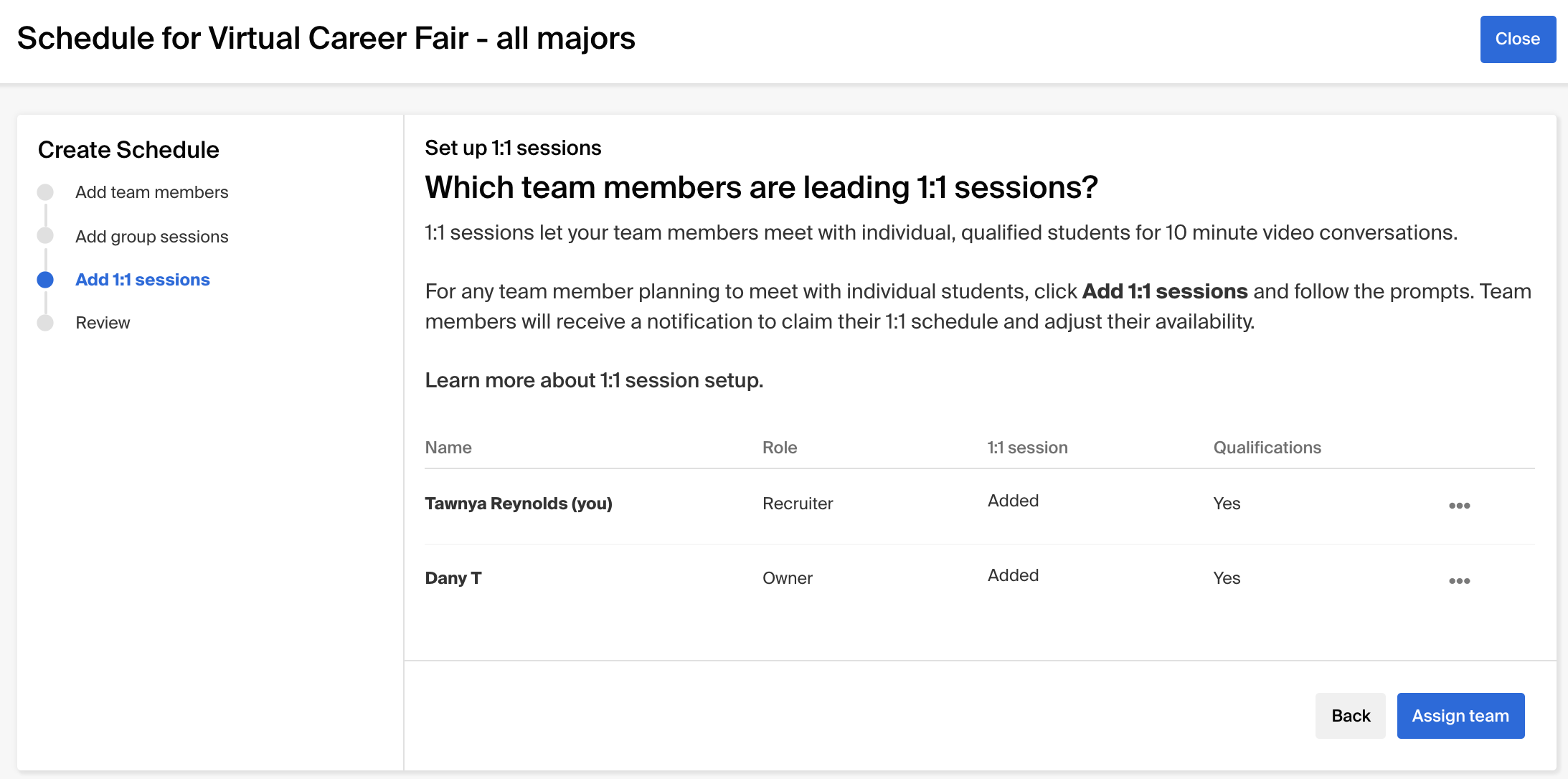 5. Review the group and 1:1 sessions created to confirm accuracy. Click the blue button Confirm schedule and invite team to generate the email for team members to claim their schedules.

Note: Career Services can't view/edit required preferences for employers or remove certain preferences from schedules.
FAQs
I am missing the fair registration approval email. How will I be able to set my schedule?
Click into the fair you registered for; if your registration has been approved, you will see a prompt to add your schedule:
Click the blue Add schedule button to begin setting the schedule.
Additional Resources
Claiming & Participating in a Schedule