To engage students throughout the year, Handshake partners with schools to send timely and relevant email messages to undergraduate and community college students who have never logged into Handshake—we call these students "unactivated". Schools that participate can take advantage of Handshake's fine-tuned email designs to supplement their own efforts to engage students. Historically, these emails—which we call activation campaigns—have performed up to 4x higher than industry benchmarks and have led hundreds of thousands of students to start using Handshake.
Having run these campaigns since 2019, Handshake has had time to iterate on our email content based on what resonates most with students. Moving forward, we'll update our activation campaigns roughly three times a year—ahead of the fall, ahead of the spring, and ahead of the summer—to ensure that the emails are always fresh and engaging.
Participation
To manage your opt-in preferences for activation campaigns, navigate to the feature preferences tab in your School Settings to indicate whether your institution would like to participate. You can opt in or out of these emails at any time.
When you opt in, your unactivated students will be included in campaigns moving forward. If you opt out, we'll remove your unactivated students from future campaigns.
Note: Only individuals who have the "Manage Feature Preferences" permission can opt into these campaigns. To learn more about this permission level, please refer to Designate "Handshake Point of Contact" and "Manage Feature Preferences" Permissions.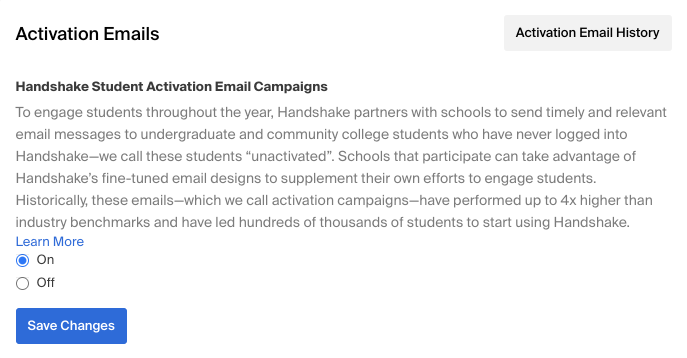 Timing
Once you opt into activation campaigns, your unactivated students are added to the campaign on a rolling basis. Once a student logs into Handshake, they are taken out of the campaign.
As mentioned above, activation campaigns are refreshed roughly three times a year. Campaigns typically consist of 4-5 weekly emails. When we launch a new activation campaign, all unactivated students are included, receiving all 4-5 weekly emails unless they log into Handshake. If an unactivated student receives all of the campaign emails and doesn't log into Handshake, we won't email them again until the next iteration of the campaign launches the next season (fall, spring, summer).
If you add new unactivated students to Handshake after a campaign has launched, they'll start receiving the activation campaign emails the following week.
Audience & Content
Activation campaigns target undergraduate students—freshmen, sophomores, juniors, seniors—and community college students who have not yet logged into Handshake. The content of these campaigns will vary depending on what's resonating most with students. Some examples of content we've featured in past campaigns include:
Curated job recommendations

Curated lists of employers to follow

Tips on navigating your job search

"Hacks" for getting the most out of Handshake
The email "from" field will be populated using the Default from name field for your school, which can be found on the Targeted Email tab in School Settings. If the field is blank the emails will list Handshake as the sender. Read more about this tab in School Settings: Targeted Email Configuration.
Check out some examples of past campaigns below: