On Handshake, you can close a job that is no longer active and for which you are no longer recruiting. 
Employers can access closed job postings, and review past applicants as needed. Refer to Navigating the Posting Page.
Note: the comments and activity associated with closed job postings will be available for 30 days. If this information is needed after that time, contact the relevant institution directly. 
If the job posting doesn't have any applicants and the information is unlikely to be useful in the future, you can choose to delete the posting instead. Learn how to Delete a Job Posting.
Close job posting
1. Click Jobs from the left navigation bar, then select the job you want to close. 
Note: when a job closes, it closes across all institutions where the job was posted. 
2. On the job posting page, click the ellipsis icon in the top-right corner, then select Close job.

3. In the pop-up modal, click the blue button Close job to confirm that you want to close the job at all institutions. To keep the job open, click the white button Keep job open. 
Note: if the job is attached to any interview schedules, then you'll need to close the job manually at those institutions by editing the interview dates.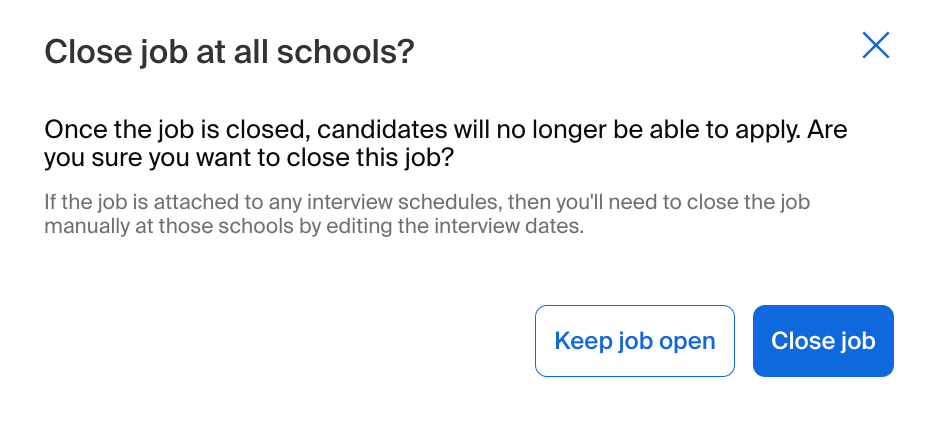 4. Once closed, the job overview page displays the message "This job is expired. No students can apply to this job currently. It has expired at all institutions it was posted to"
To view your applicants, click the blue button View applicants. 
To renew this job, click the white button Edit close date. 
The job posting will be listed on the Expired tab of the Jobs page.