Handshake does not recommend posting jobs on behalf of Employers as the login and posting experience from the Employer perspective is typically very intuitive. This helps with the following:
Ensures Employers (or the main contacts) are owning the process (typically it is one or two main recruiters)

Maintains consistency with the Employer's brand and processes across the network

Prevents fraudulent connections or duplicate/incorrect postings

Alleviates your "busy work" workload
Reframe the Conversation
Even if this is a service you have traditionally provided to Employers in your prior system, we recommend using the switch to Handshake as an opportunity to reframe the conversation. Remind Employers that you made the switch to Handshake because it is easy for them to use. And since it is also easy for students to use, you are expecting to see a 2-3x increase in student engagement!
There are a few threads in our Handshake Community that highlight the pros and cons - check these out to understand how university partners from across the country handle this conversation.
If Necessary - Post on an Employer's Behalf
One-off situations can certainly arise, so if necessary, you can still post on behalf of an Employer.  If so, you'll most likely just want to set up the employer POC that you are working with as a contact connected to that company profile in Handshake so that you can connect them to the posting so they receive updates about applications.
Here is a quick overview how to add those folks as contacts:
Navigate to the Contacts page: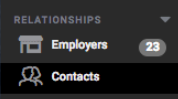 Choose New Contact tab on the top of the page:

Fill out the details: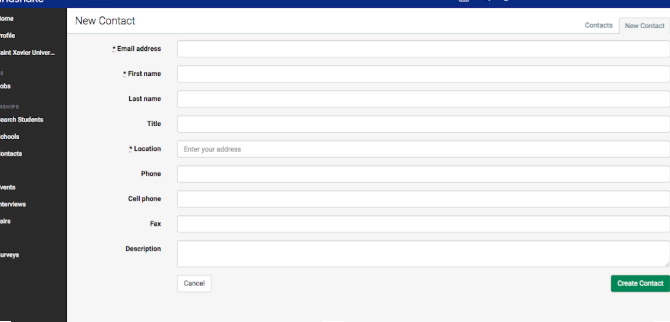 If the company account exists, be sure to choose that option. This way, you can ensure both the contact and the jobs created are associated with the company profile.
(Don't forget: this employer account has to exist in Handshake and be approved by your school!)

From there, make sure you are in your Career Services account and navigate to the Jobs page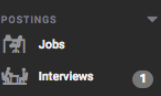 And choose the New Job tab

From this page, you will see the basic job details. Keep in mind you will need to associate the it with the company profile.

Then, from the Preferences tab of the job posting you can select the relevant contacts who will receive updates. You can choose from the list, or also create the contact entry from this page: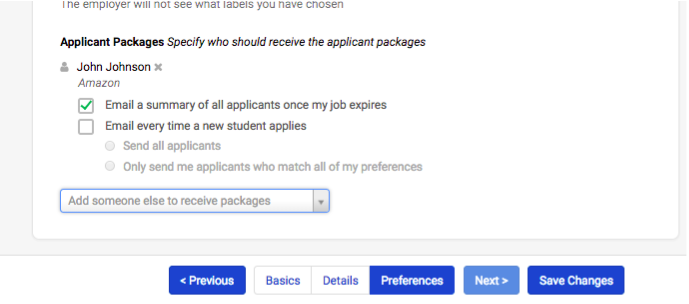 This process will ensure that the individual does not have to manage the posting in Handshake, but can receive any notifications about applicant packages (as they come in, or as the job expires).