This article will help you become familiar with the Jobs page. If you'd like to post a job to a school, then please view the article How to Post a Job.
When you click on Jobs from the left menu in Handshake, the Jobs overview page will appear.

You can click directly on a job title to view the posting overview page, which is where you can manage targeted schools, view and add comments, and manage the job details. 
On this page, you'll have the following possible options to filter and view job related data: 
See data for
In the top right, to the left of the Help menu, you'll see either Favorite Schools or Your Employer's Schools. Click on the text to change the selected schools. This setting will impact which schools you're able to add to your job posting, or view existing posted jobs/applicants for. 
Favorite Schools will only show you job postings that have been posted to schools added to your favorites. 
Your Employer's Schools will show you job postings for all schools that have approved your connection.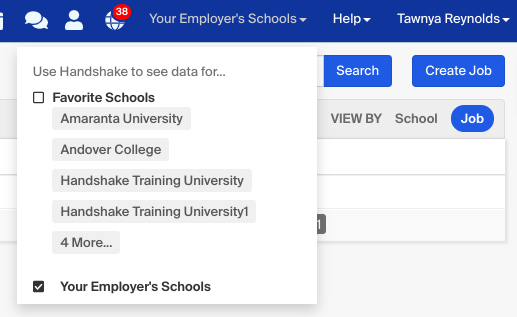 Job View Settings
In the top left of this page, next to Jobs, you'll see either "viewing all EMPLOYER jobs" or "only viewing jobs created by you". Click on Edit this to change the view.
All "employer name" jobs will display all jobs created for your company, which will include jobs posted by other staff members in Handshake.
Jobs created by me will only display jobs that you have created. 

Posting active state and divisions
Immediately below the job view settings are tabs for posting activity and a filter for divisions. Using these tabs or filter will impact which jobs are displayed on screen (for either your favorite schools or your employer's schools, as previously described).
Posting activity tabs allow you to view jobs for only that specific posting active state. Available statuses are: 

Active: only jobs with active postings 
Expired: only jobs with expired postings
All: every posting, regardless of status
Declined: only jobs with declined postings
Not Posted: postings that have been created and saved, but not posted to any schools yet. To learn more about posting these to a school, click here. 

Clicking on the Divisions filter will display the divisions that your company currently has created, with the number of postings per divisions in parentheses. If you are not seeing the expected division listed, click on All Options to view all divisions.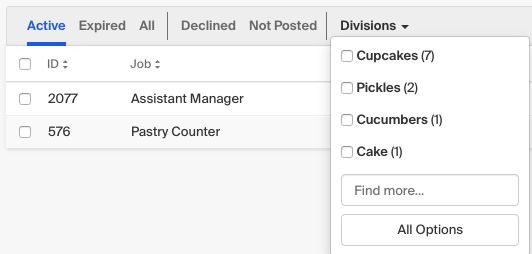 Search and create new jobs
In the top right, below your name, you'll see a search bar and a blue button that says Create Job.
The search bar allows you to search your existing postings based on job title, school posted to, or job id number. 
Click on Create Job to post a new job. Review this article for more insight on this process: How to Post a Job

View by and sort
Immediately below the search bar and create job button, there is an option to view by school or job. The option with a blue oval around it will indicate which option is currently selected. 

School will display a list of all targeted schools, based on the job posting status selected. If a single job posting is posted to multiple schools, then each school will be listed out individually. 
Job will display a list of job titles, based on the posting status selected. Instead of seeing the school name displayed, a count of targeted schools will be displayed instead. 
Sort by the following column headers: 

ID: the job id number
Job: the job title
Applicants: the count of applicants either per school or per posting, depending on your selected "view by"
School or Schools: either the school name or the count of schools, depending on your selected "view by"
Created: the date the posting was created
Type: the job type selected
Status:

Viewing by School: Status will show per school posting. Possible statuses are: 

Pending: this means the posting is pending approval from this school. The job will not be live for students to view or apply to until the school first approves the posting. 
NOTE: It typically takes 1-5 business days for a school to approve an employer's job postings. If you do not receive a response within that time frame, we recommend contacting the Career Services department at the school directly. You can find the contact information for a school's Career Services by selecting Schools in the left hand menu, and then clicking on the name of the school you wish to reach.
Approved: this means that the job is approved by the school and is currently live for students to view and apply to (depending on your application apply start date for this position). 
Declined: this means the school has declined to post the position. 
Expired: this means the posting has passed the expiration date and is no longer active. 

Viewing by Job: This view will not allow you to sort by status. It will only display the count of pending/active/expired/declined postings. 
Posting Overview Page
From the Jobs page, click directly on the name of your job posting to view details about the position.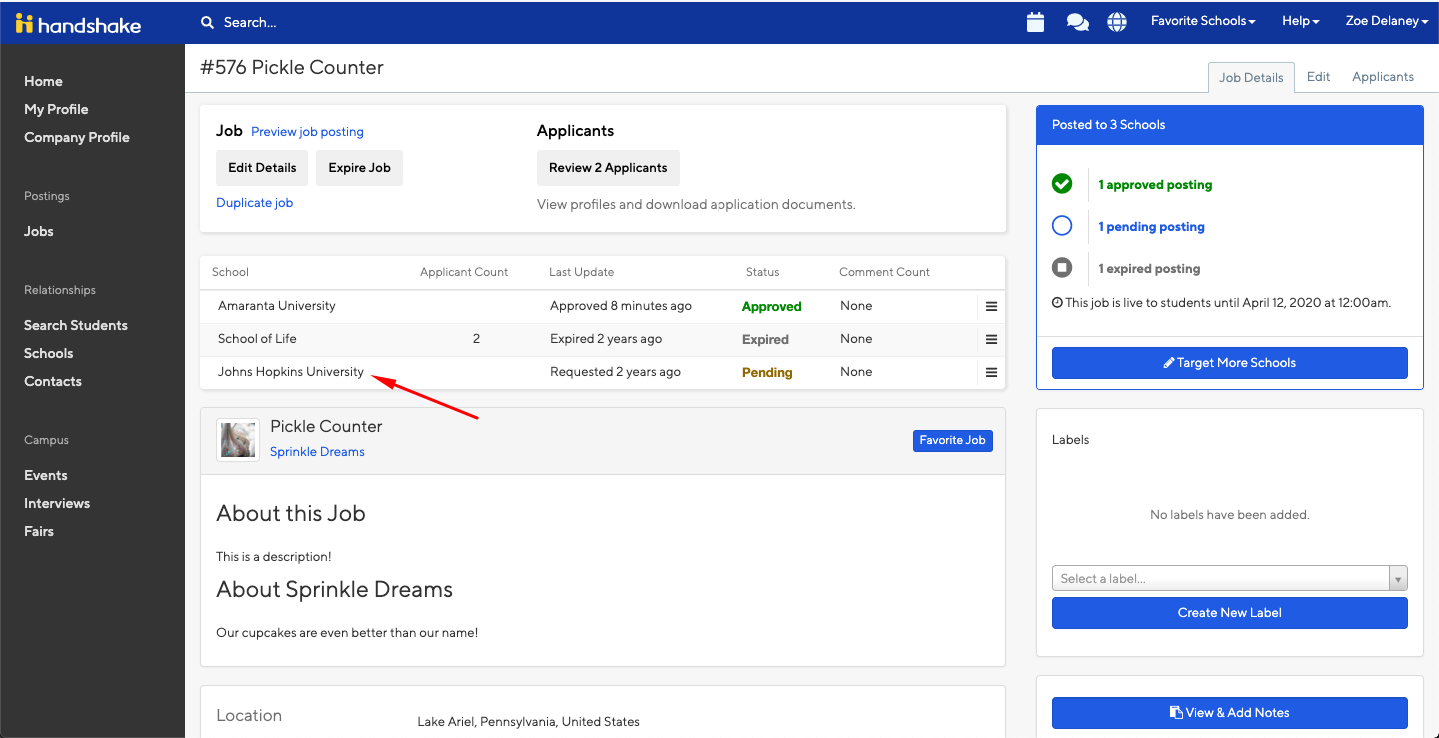 From here, you can see the schools that the job has been posted to, applicant count, last updated date, the status at each school, and the number of comments on the job.
To view and add comments, click on the three hashmarks to the right of the comment count column, then click on View Details.

The pop-up will show details specific to that school at the top. In the middle, you can leave a comment for the career center in the box that says Add a comment. This will notify their career services center. Type your message and click Add Comment to save and send. Click Close in the lower right to close this pop-up.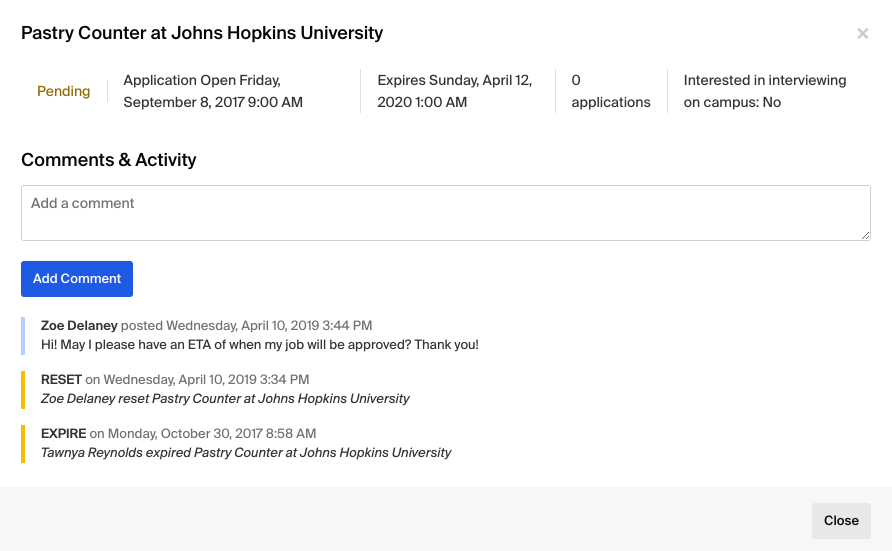 If the job is connected to an On-Campus Interview, scroll to the bottom of this page to view interview details. Click on the interview schedule name to go to that overview page.
You can also Add Attachments at the bottom of any posting.