To post a job via Handshake, you must have a confirmed user account connected to a company profile. Your company profile must also be approved by the institutions you've requested to connect with.
Learn how to Create an Employer User Account, Join a Company, and Connect with Institutions.
Once the job is created, the institutions you chose to post it to will review and process the request. Refer to Understanding Job Posting Approvals.
Permissions
In addition to being approved by the institutions you've requested, your company must be granted permission to post jobs at each institution. For additional guidance, refer to Why can't I post jobs at an institution that's already approved me?.
All role types except for Representative can post and manage jobs. To learn more about our roles, refer to A Guide to Employer Role Types in Handshake.
If you do not have access to post a job, reach out to your company's Owner or Admin to request a role change or permission. For more information, refer to Who is the Owner of My Company's Profile?.
Posting a Job
Click Post a Job from your home dashboard, or click Jobs from the left navigation bar to access the Jobs page, then click the blue button Create Job in the upper-right corner of the page.

Complete the Basics, Details, Preferences, and Institutions tabs in the job form as outlined below to successfully post the job. All fields are required unless specified otherwise.
Note: Premium partners have ATS integrations available. For more information, refer to Integrations & SSO.
Where should students submit their application?

Apply in Handshake
Apply through external system

Enter the website or the ATS URL in the Website or Applicant Tracking System URL field

Note: URL must begin with http:// or https://

If you'd like to add an ATS/job code to match against your applicant tracking system, click +add an ATS/job code, and enter the code in the Applicant Tracking System Code field.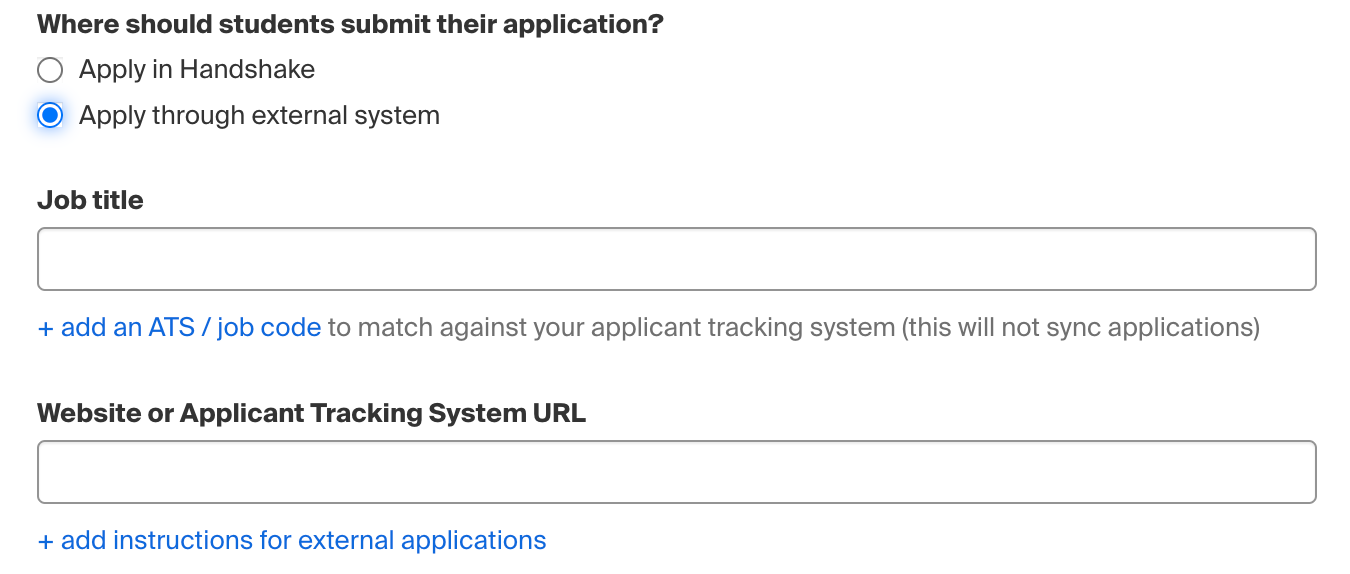 Job Title

Fill in the appropriate title in this text field.

Company Division (optional)

If your company has Divisions set up, a drop-down menu will appear right below the job title. Make sure to choose the company division you're hiring for.

choose a Job Type

Job
Internship
Cooperative Education
Experiential Learning
On Campus Student Employment
Fellowship
Volunteer

choose an Employment Type & Duration
choose a Duration

Permanent
Temporary/Seasonal

Note: w

hen selecting this option, you'll be required to enter the start and end dates.

Are you open to speaking with interested candidates? (choose Yes or No)

Yes, I want interested candidates to reach out to me for a conversation.

If Yes (check one or both):

No, I'd rather candidates apply without contacting me
Add a Description for your job

If you copy and paste a description from your own website, the formatting will remain the same.

How many students do you expect to hire for this position?


Type a number in the field, or click the arrows (up, down) to add a number.

Note: this doesn't affect your job in any way, but rather is used for historical, data, and tracking purposes.

Job location

Start typing an address and select from the autocompleted results.
Note: addresses cannot be edited, and you must choose one from the results to proceed.
Addresses can be a specific office location, or a general city like "London"

If you are unable to find your location listed, select the city where the job is based.
Submit feedback to Mapbox (optional)

If the job is remote, enter your main location, then click the box next to Allow remote workers.
If this position is located in multiple locations, you can choose Add Another Location.

Paid or unpaid?

Paid
Note:

Students are more likely to view, save, and apply to jobs that include estimated pay ranges than jobs that do not. Institutions are also more likely to approve and recommend jobs with estimated pay ranges to their students.

Estimated pay

Show pay by

Range
Custom range
Exact amount

Amount

Select range
Enter a custom range (min pay/max pay)
Add amount

Rate

Per year
Per month
Per hour

To not provide an estimated pay range for jobs, click the blue text Opt out of estimated pay.


Note: if you decide to opt out, you can still enter an estimated pay range.

Unpaid
Note:

Before posting an unpaid position, please check all applicable regulations including these UK employment rights and pay for interns. Please refer to

Employment rights and pay for interns.

choose Required documents for the job application

CV
Cover Letter
Transcript
Other Document (e.g. work sample, course schedule, or other misc documents)

Tip: if you're having students apply via your Direct ATS, we recommend not selecting any documents here. If checked, applicants will be prompted to first apply in Handshake.
Note: if documents aren't required, you'll be unable to choose a contact to receive applicant notifications, and your contact information won't be displayed on the job.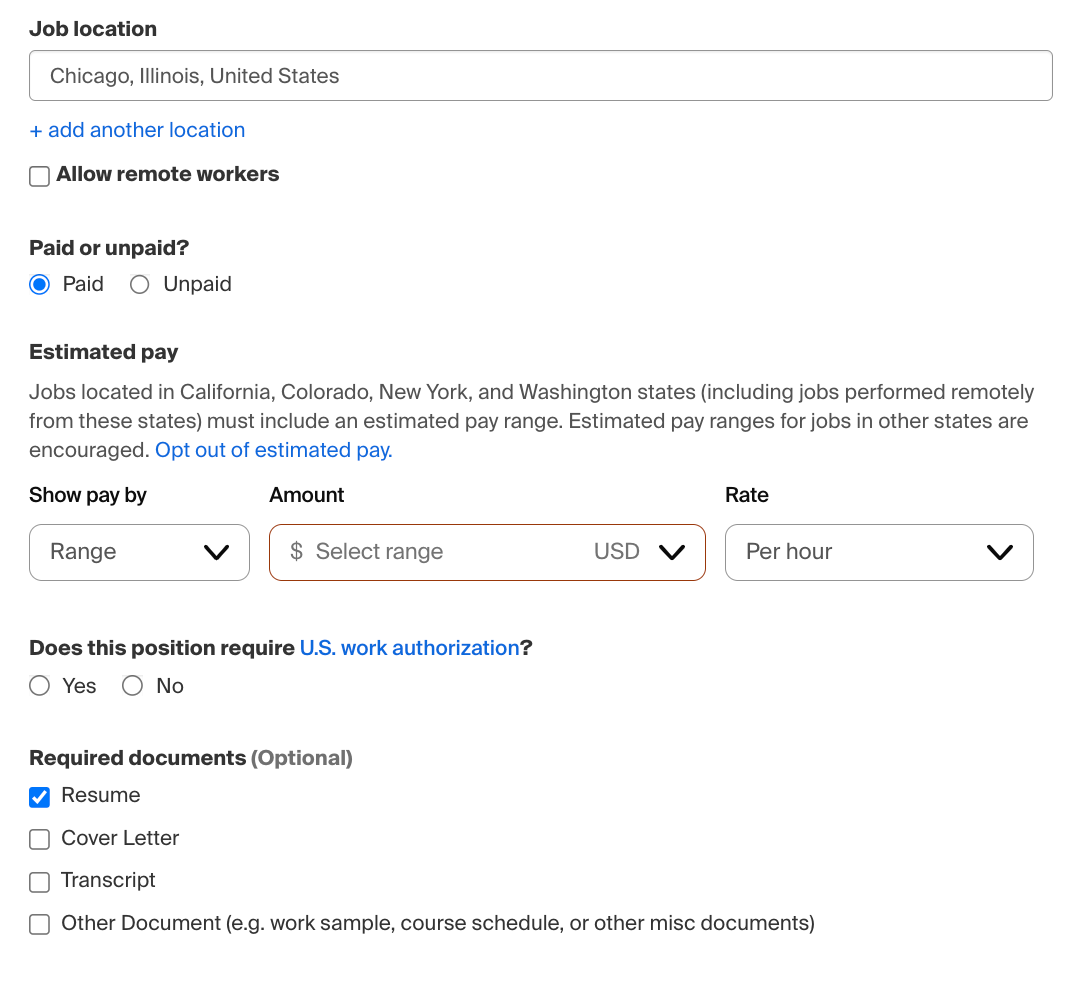 Note: all of these preferences are optional, and none of the preferences you add to this page will block students from applying for your job. Handshake will state which candidates meet all of your preferences, and those who don't. For more information on this, refer to Understanding Job and Applicant Preferences.
4. Once you're finished with Job Details, click Next, or click directly on the Job Preferences tab.
Add a Graduation date range for your job by specifying the earliest and latest graduation date for qualified applicants.
choose a Level of Study

Accelerated Masters
Alumni
Certificate Program
Doctorate
Level 3
Level 4
Level 5
Level 6
Masters
Masters of Business Administration
Postdoctoral Researcher

Choose which Course Categories would make a student qualified for your job.

Setting up your Course Categories

By choosing a course category, you are mapping your course preference to each institution's individual term for that particular category.

Even if the course name is different at different institutions, it will still get bucketed into this course category correctly as these course are consolidated across every institution on Handshake.

Once you choose a category (by clicking on the checkbox next to it), that category will expand to display the courses within it.

All courses within a category will be selected by default. However, you can remove them by simply clicking on the course you'd like to remove.
If you know of a very specific course at an institution that you'd like to choose instead of our mappings, click the link at the bottom of the list Choose a specific course by institution.

Agriculture, Food, & Horticulture
Arts & Design

Business, Entrepreneurship & Human Resources

Civics & Government

Computer Science, Information Systems & Technology

Education

Engineering

General Studies

Health Professions

Humanities & Languages

Life Science

Manufacturing, Production, and Skilled Trades

Math & Physical Sciences

Natural Resources, Sustainability & Environmental Science

Social Sciences

Technologies & Technicians

Configure your Applicant Packages recipients

, and frequency of notifications.

Note: if you haven't marked at least one document type as required by applicants, this option won't appear.

Add institutions


Click the blue button Add All Institutions to add all connected institutions.
If your employer on Handshake has access to the Open Network, a checkbox for "Include students in the Handshake Open Network" will appear below the button. Check this box if you'd like to post your job to students from non-partner institutions. Learn more about How to Connect with Handshake Open Network.
Click the grey button Add Favourite Institutions to add your Favourites.

If you're a Premium partner, click the Grey button +Add Institution List to add your Favourite institution and/or institutions added to any Institution List created/saved.

Note: if your company hasn't been approved to post jobs at a institution, you can not add that institution as an option. If you haven't been approved at any institutions, you can still create this job and come back later to add institutions.

Once you've added institutions, you'll have options to manage them:

Remove an institution - click the (x) to the left of each institution that you'd like to remove
Interview on campus?- selecting this will simply notify the institution that you may be interested in interviewing at their institution.
Apply start date — choose if you'd like to block students from applying to your job until a specific date.
Expiration date — confirm the date that the job will expire at that institution (and students will no longer be able to apply).

Global apply start date — applies the same start date for every institution on your list (overwrites previously set start dates).
Global expiration date — applies the same expiration date for every institution on your list (overwrites previously set expiration dates).

Once the institutions have been added, click Next or on the Preview tab.
Check to confirm that all of the information is correct. If you're satisfied with the job preview, click Save in the lower right corner to save the job and send your posting to the institutions selected for review.
Note: while you may receive the message, "This preview no longer accurately represents the candidate experience," you will still be able to post the job. Currently, Handshake is redesigning the jobs page, so the job posting may appear differently to students than it does in the preview.
Upon saving a job, Handshake will automatically tag up to three job roles according to its title and description. For more information, refer to About Job Roles (Employers).
If you'd like to make sure your job is posted successfully, refer to Confirming Your Job is Posted Successfully.
Promoting your job
Any upcoming events or fairs that your company is attending at an institution will be promoted on the job posting for students.
Note: an event or fair must be less than 60 days away to be promoted on a job posting. If your company is attending multiple events or career fairs at an institution, only the most upcoming event or fair is displayed. Once the promoted event or fair passes, it will automatically be removed and the next soonest is applied.
Pro Tips
When posting a job with multiple locations, create one posting and indicate the locations in the Job location field in the Details tab.

This will allow you to manage the posting more effectively and prevent individual postings for the same job.

When choosing courses or course groups in the Course categories field in the Preferences tab, select the most appropriate courses or course groups for the position instead of choosing all courses.

The courses or course groups selected should correlate with the information provided in the description field.
Choosing the most appropriate courses or course groups will ensure that qualified students view the job on their feed.

While Level of Study is an optional field, select the preferred level of study for the job listed to narrow down your candidate pool.
Additional Resources
Consider taking our free mini-course in which we dive into how to post jobs on Handshake. Learn more about Posting jobs on Handshake.