Once a job has been created and saved, you can review in-depth information about the position on the posting page.
The posting page will load after saving a job. To access the job posting anytime after, click directly on the name of your job posting from the Jobs page. Learn more about Navigating the Jobs Page.

In the upper-right corner of the page, click the grey buttons Edit to edit the job posting or More Actions to take other actions - Duplicate job, Expire job, Preview job.

There are five tabs that provide information as it relates to the job: Overview, Institutions, Matches, Applicants, and Details.
Note: the "Edit" and "More Actions" buttons remain available regardless of which tab you select.
The Overview tab provides aggregate posting performance data for Applicants, Job Views, and Reach, as well as helpful recommendations for improving posting performance.
This tab is available for all employers in Handshake, however, only Premium partners have access to Job Views data.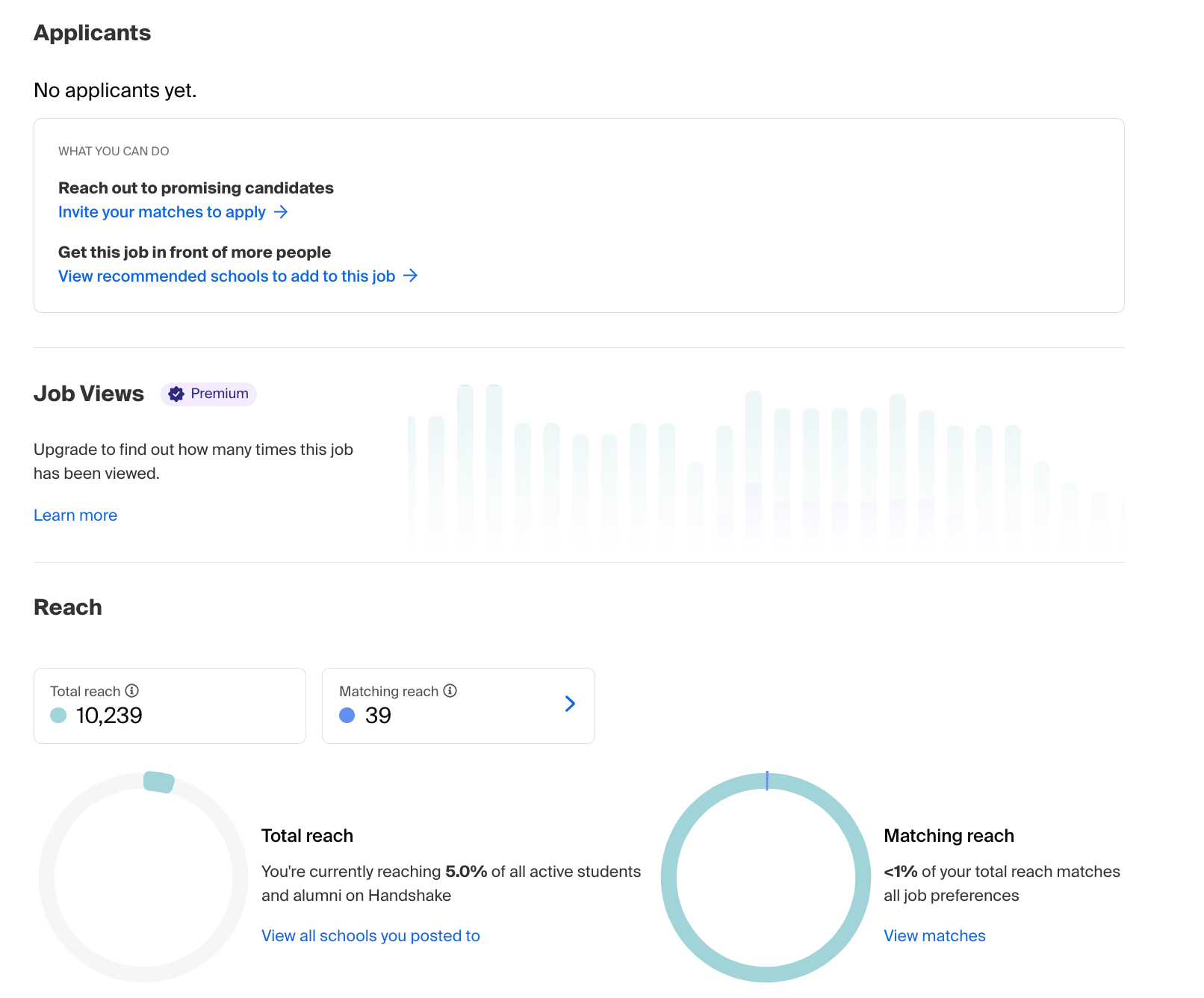 For more information, refer to Job Posting Overview Tab.
Click the Institutions tab to review the institutions the posting has been shared with and each institution's posting approval status.
Recommended Institutions
Targeted Institutions

Use the keyword search to search for a specific institution, if many are listed.
Filter on approval status using the checkbox(es) to the right of the keyword search.
On the far right of the page, click the blue button

Post to more institutions to target more institutions. Learn How to Post a Job to Additional Institutions.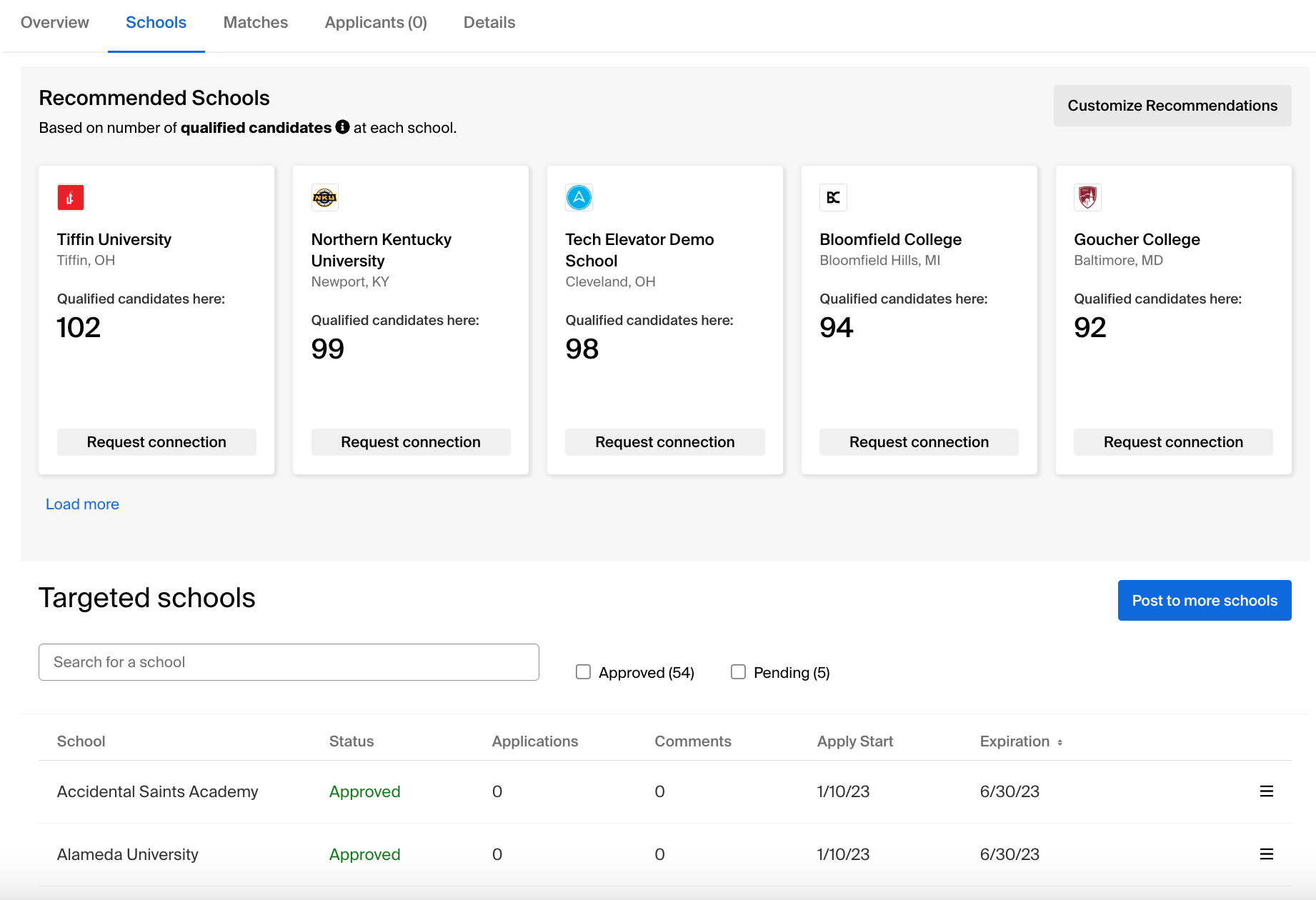 Click the three hashmarks to the far right of each institution row to access additional actions.
View Details

—

this will open a modal with details about posting, including status, application start and expiration date, application count, on-campus interview status, and job posting comment history.
View Institution

—

this will take you to the institution's page in Handshake, where you can review your approval status, institution contact information, and general comment history.
Expire Job

—

this will prompt you to expire the posting for this institution only.

The Matches tab displays candidates from your approved institution connections who are likely to respond to your outreach, and candidates who meet all job preferences specified on the job posting.
Filters and actions on this page may vary, depending on your current partnership with Handshake.

Learn more about Job Matches.
The Applicants tab displays a count of all applicants. On this page, use the filters on the left sidebar to narrow and above the candidate table to narrow and customise your search results.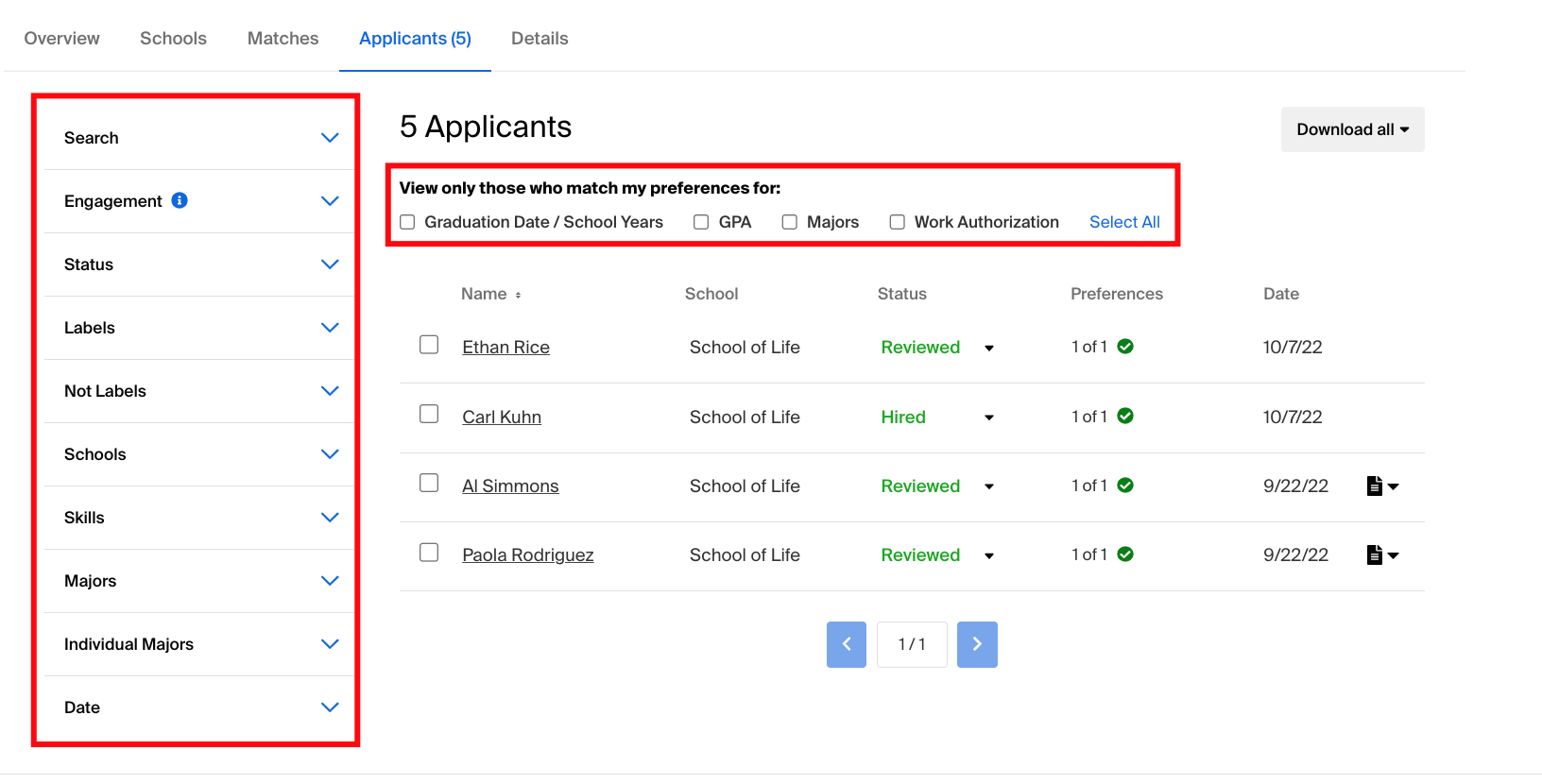 For additional details, refer to our Job Applicant Management Guide.
This tab includes the posting information that's visible to institutions, as well as the options to add or manage labels, add notes, review an added tracking code, and review applicant package recipients.
Job posting details include:
Basic Information

Employment Type
Location type
Locations, Duration
Compensation (Paid or unpaid, Estimated pay)

Job Roles

Job Description

Click

Edit

to update the job description, then click

Save

in the lower-right corner of the page.

Preferences

Click

Edit

to add, change, or remove candidate preferences, then click

Save

in the lower-right corner of the page.
All possible preferences are displayed, along with the current selection for each:

Graduation Date
Level of Study
Courses

Company Details

Industry
Headquarters Location
Size
Type
Website
Social Media

On Campus Interviews

This section displays approved on-campus interviews with requested institutions.

Attachments

This section shows added attachments. To upload a new attachment, click

New Attachment. For additional steps, refer to Add an Attachment to a Job.