Each school is independently responsible for approving or declining employer requests to connect, and every school has different deciding factors when selecting which employers to connect with and which roles to provide to approved employers.
Decline reasons
If a school declines your request to connect, they are prompted to select a reason for the decline. This provides sufficient information for you to correct any errors in order to be reconsidered for approval or awareness of any moral, ethical, or state-specific legal reasons for the decline.
The selected reason is added as a comment to the school's overview page and is visible to other to other team members in Handshake.

At the time of the decline, an automatic notification is sent in Handshake and via email:
example of Handshake notification:

example of email notification:

Sent from: "

handshake@notifications.joinhandshake.com"

Subject: "Your request to connect with a school has been declined."
Following up with a school
After reviewing the decline reason, if you'd like to request more information on the decline, and if appropriate, be reconsidered for approval, we recommend that you reach out directly to the Career Services center at the declining school.
To get the contact information for the Career Services center, search for and click on the name of the school in the blue global search bar at the upper-middle of the screen.
From the school overview page, you can choose to leave a comment, or you can access their contact information on the left side of their overview page.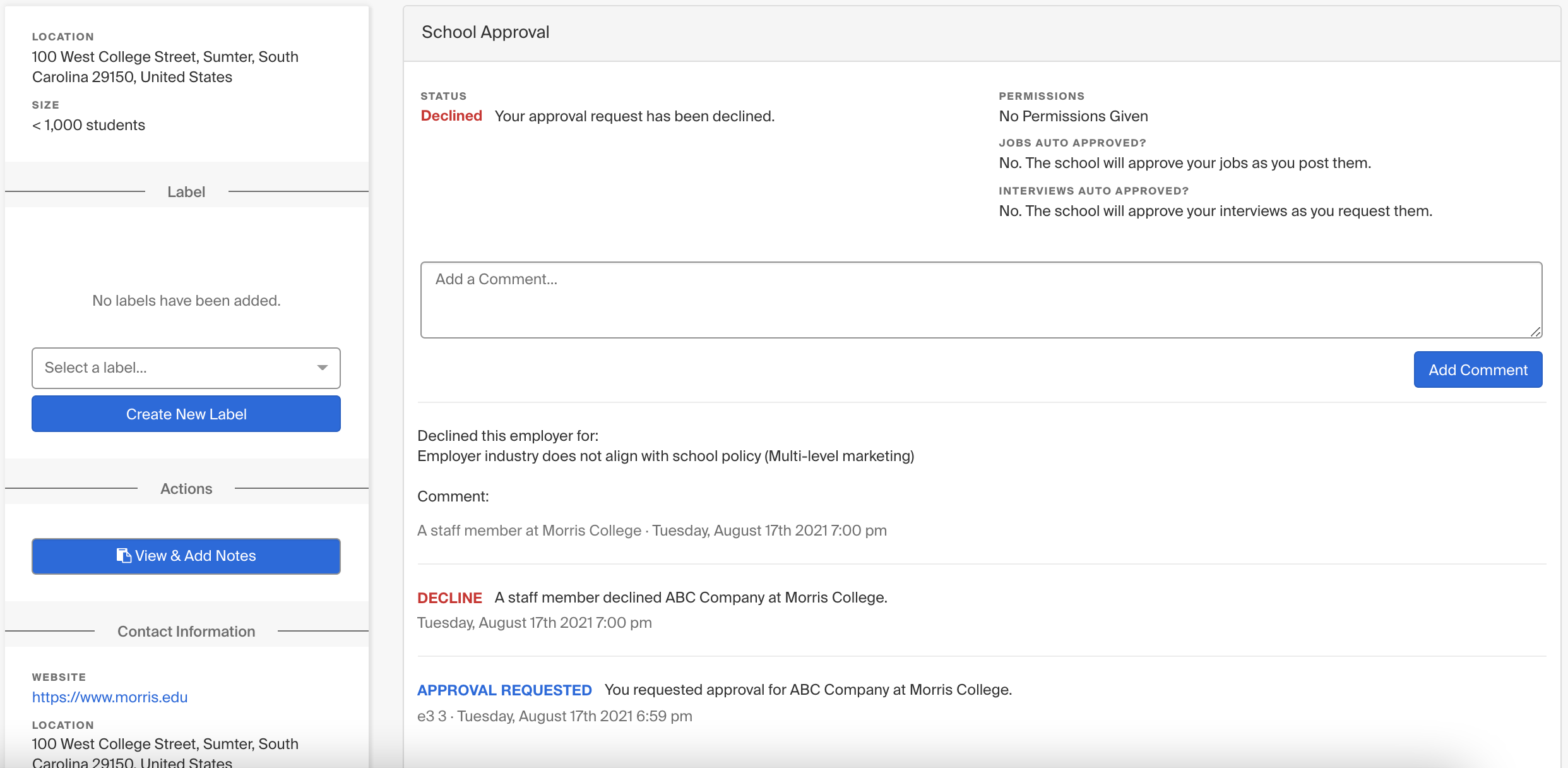 Review all school declines
If you'd like to review all existing school declines, click on Schools from the left navigation bar, then click the tab More Schools on Handshake.
On the left of this page, select the filter Approval Status > Declined. A list of schools that have declined to connect will be displayed, and the number of existing comments (if any) will be listed to the immediate left of the Declined status.
Click on the name of the school or the comment count to access the school overview page.