Handshake offers enhanced account management options to keep your account secure.
How to Configure Global Settings
Go to "Company Settings", under your name drop-down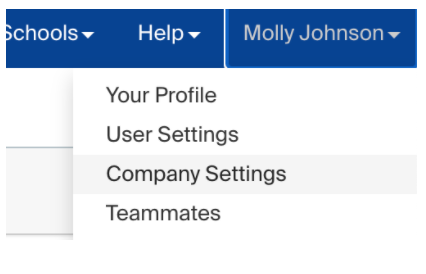 2. Configure settings for your Employer account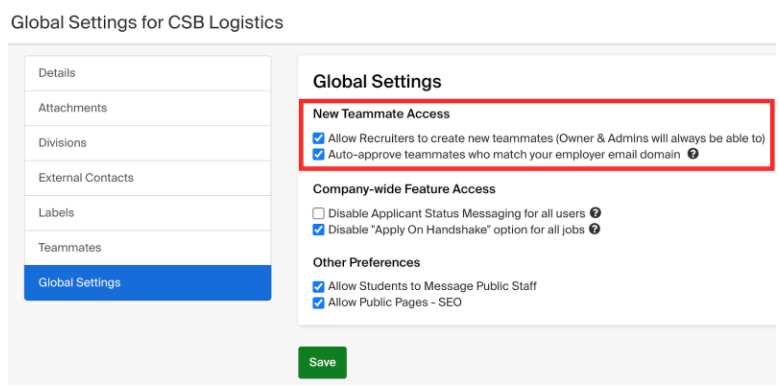 Note: The New Teammate Access settings are only for core employer accounts at this time.
Allow Recruiters to create new teammates (Owners & Admins will always be able to)
Turning this setting on allows Recruiters to see an "invite link" option and a "Create User" option to invite new teammates to Handshake. Teammates who are invited or added and match your email domain, will be approved for access to your account. When creating a new user, after filling out basic information on the new teammate, they will be invited to create a password and claim their Handshake account. By disabling this option, only Owners or Administrators can grant access to new staff members.
Auto-approve teammates who match your employer email domain
Turning this setting on allows teammates who request to join, invited to join, or manually added and match your email domain will be automatically approved for access to your account. By disabling this option, only Owners or Administrators can grant access to new staff members.
Employer User Account Types
Owner
One user per company profile may be the Owner. This user has the ability to all roles, including editing the company's branding page and managing staff.
The Owner is typically the person who originally created the company profile in Handshake, however, this role can be transferred to another teammate if needed. See How to Transfer Ownership for more details.
If the Owner of your company is no longer able to access Handshake, please reach out to our Support Team for assistance.
Benefits of an Account Owner:
Clear point of contact

for new recruiters at your company trying to gain access to Handshake

Account security:

Only the Account Owner can approve new recruiters and disable old accounts

Brand security:

Only the Account Owner can make updates to your company page
Account Owners: Approving and Creating Accounts
Owners and admins can see an option to Invite or Create Users

Only admins will receive an email alert to approve or decline new recruiters that need access to their company

Admins will be alerted in Handshake of any accounts waiting for approval with a notification icon


Recruiter
The most common role among users connected to a company profile.
Recruiters are not able to edit your company branding page, the account information of other recruiters, or approve new recruiters trying to gain access to your company's account
Other than that, recruiters have full access to post jobs, interviews and events.
Representative
Representatives can participate in fairs and events, both in-person and virtual. Think of it as 'read-only' rights to all things event related - this allows them to participate in the fair by hosting sessions, viewing student's profiles that signed up for sessions, viewing RSVPs and downloading public resumes of signed up students. They can't see any personal data like a student's application though. Representatives also cannot:
Request

School Access

Post

Jobs / Interviews

Request

Events / Fairs

Review

Job & Interview Applicants

Send Messages
View student profiles
Invite or Create users if given permissions per Global Account Settings listed above
Administrator, Hiring Manager, Ambassador
These roles are reserved for our Premium Employer Partners. For more information, please see Role Based Access: Managing Roles.
Additional Resources for Owners and Admins: