Within Segments is a set of filters located under the Graduation and Class Standing section. These filers include:
Class Of
Graduation Date
Degree Types
Within this section, you have the ability to:
Use our smart defaults to recommend a "Class of" selection based on your hiring needs.

Easily select a Graduating Class without having to manually calculate the corresponding Grad Dates.

Include a custom graduation date range if needed.

Utilize the "Degree Type" option in addition to the "Class of" field instead of grouping Degrees with School Years.
Please note: Premium features are for Handshake Premium accounts only. For more information, please check out this resource.
Graduation and Class Standing
What are you looking for? Click one of the following options:
New Grad Hires
Intern Hires
Recent Grad Hires
Custom

Class Of
Once selected, we'll use our smart defaults to pre-select the corresponding Class Of to match your search. Although pre-selections for Class of are made, you can adjust the the filters at any time.
Note: if you choose Custom, the smart defaults aren't available. You'll need to select the desired Class Of options by clicking the box to the left of the school years.
Graduation Date (not required)
If you would like to add a specific graduation date range, click the blue link Choose custom graduation date range.
Click inside the Graduating After (start date) and Graduating Before (end date) box, and use the calendar to select the dates.
Degree Types (not required)
If you would like to add a Degree Type, click the box to the left of the desired degree.
Associates

Bachelors

Masters

Doctorate

Postdoctoral Studies

Technical Diploma
Note: some profiles which meet your criteria may include a degree type. Applying any filter here will exclude those profiles.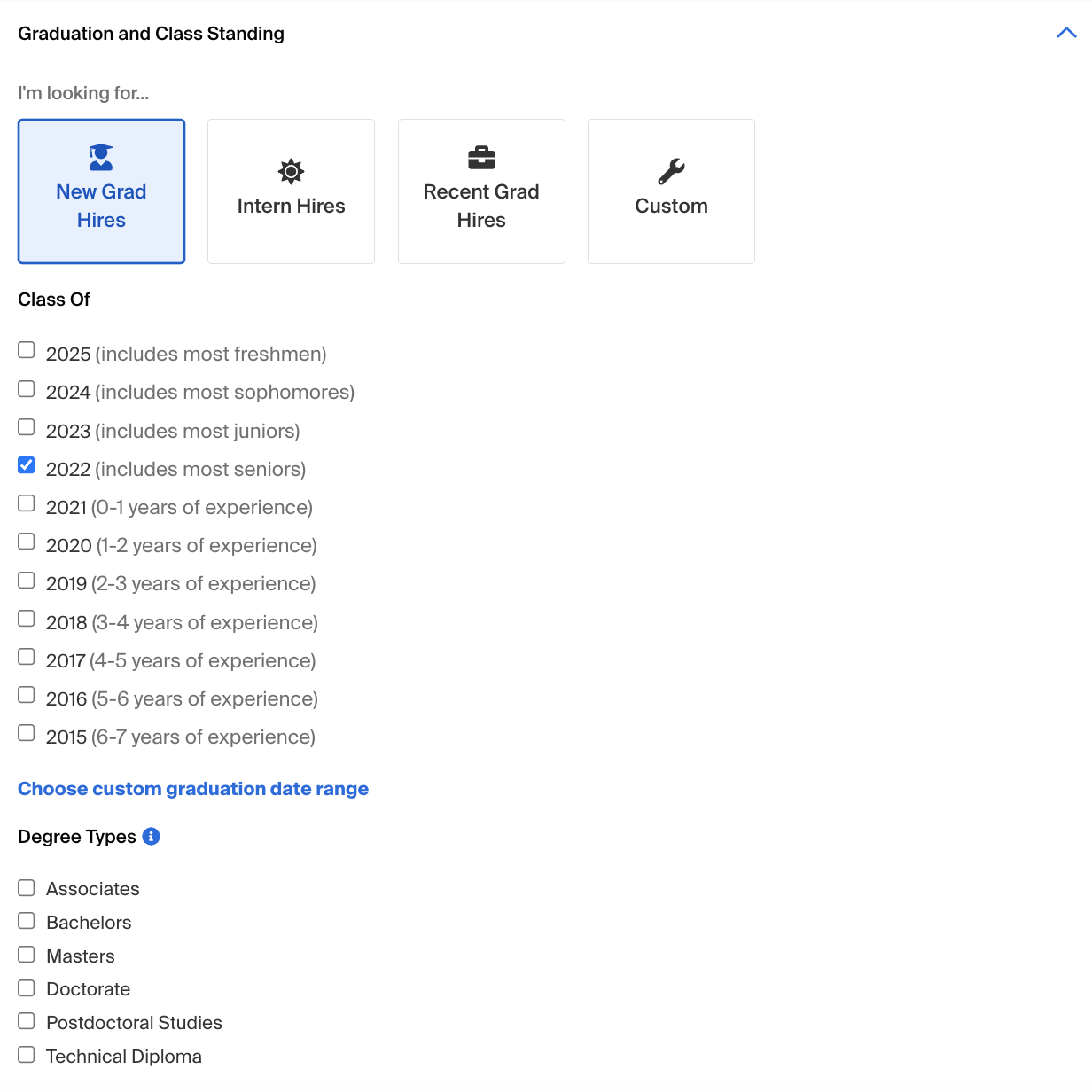 Annual Updates
We rotate 'Class Of' labels once per year (on July 1st), so they will always be updated for the current School Year.
Your existing segments will remain as is - the target audience may shift but the criteria will remain in place.
Class Of / Degree Types:

all school years will be retained - they'll just be updated to reflect the new Class Of / Degree Types.

Grad Date Range:

all grad date ranges will be migrated to retain their grad date range.