Please note: Premium features are for Handshake Premium accounts only. For more information, please check out this resource.
Value
Make it easier for employers to easily find and recruit students based on major category: STEM, TEM only, or Liberal Arts
One-click selection of major group

Target based on primary major
Functionality
In Segments, under the Academics and Extracurriculars section, look for the Major Category section.

2. Put a check next to the desired major category to include students. You'll see an update toward the upper-right of the page that shows the count of students, as well as the categories selected.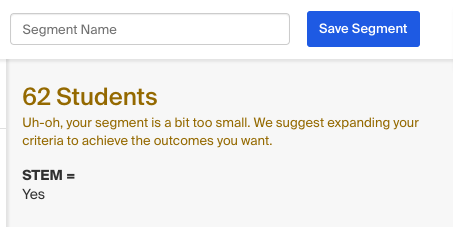 For a list of majors groups in each Major Category, please download the PDF attachment below.