School Recommendations match employer jobs with schools that have the highest number of candidates aligning with school location and job preference criteria.
Topics: 
School Recommendations filters
Employers will be shown schools that have a significant number of students based on both or either of these filters related to a job:
Job geo-filter: Radius based on schools within 250 miles of job's primary location

Note: if there is more than one location on the job, the first location listed is used. You can change this via Customize Recommendations, instructions below. 
For Premium partners: if "various locations" is indicated instead, no geo-filter is applied.

Job preferences:


GPA
Major
School Year
Grad Date
Work auth
School Recommendations access and overview
To access school recommendations, employers must:
have an active employer user account connected to a company profile.
be able to access to jobs. If Jobs is not listed on the left navigation bar, reach out to your company's Owner to request a role change.
1. Click Jobs from the left navigation bar in Handshake, then click on the desired job's title. 
2. The job's overview page will load–click the Schools tab, to the right of Details.
3. The top 5 School Recommendations load at the top of the tab, with Customize Recommendations in the upper-right corner of the section.
Immediately below, each listed school displays:
the school's name and location
a count of Qualified candidates here, based on your job preferences
an action button, which varies depending on your company's approval status with the school
Below the top 5 recommendations is blue text "Load more"–click on "Load more" to view an additional 5 recommendations, up to 25 schools max.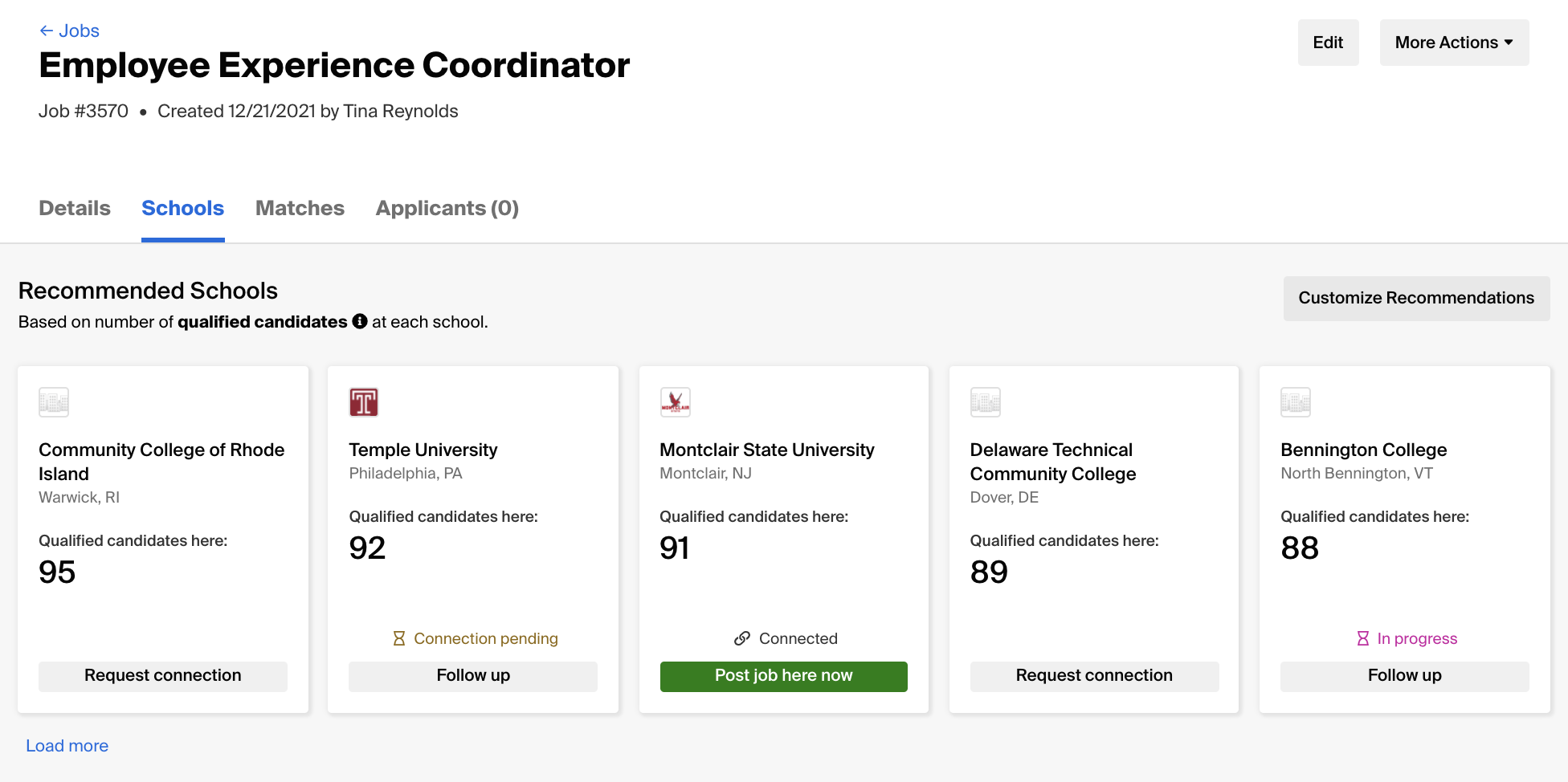 School Recommendation actions
Request connection
This option displays if your company profile is not connected to the school and hasn't requested to connect. Click Request connection to send an employer approval request to school.
In the popup that appears, the option prompts if you'd like to automatically post this job to the school if connection request is approved (defaulted to yes). Uncheck the box to opt out of automatically posting the job upon approval.
Click the blue button Request to proceed and send the request.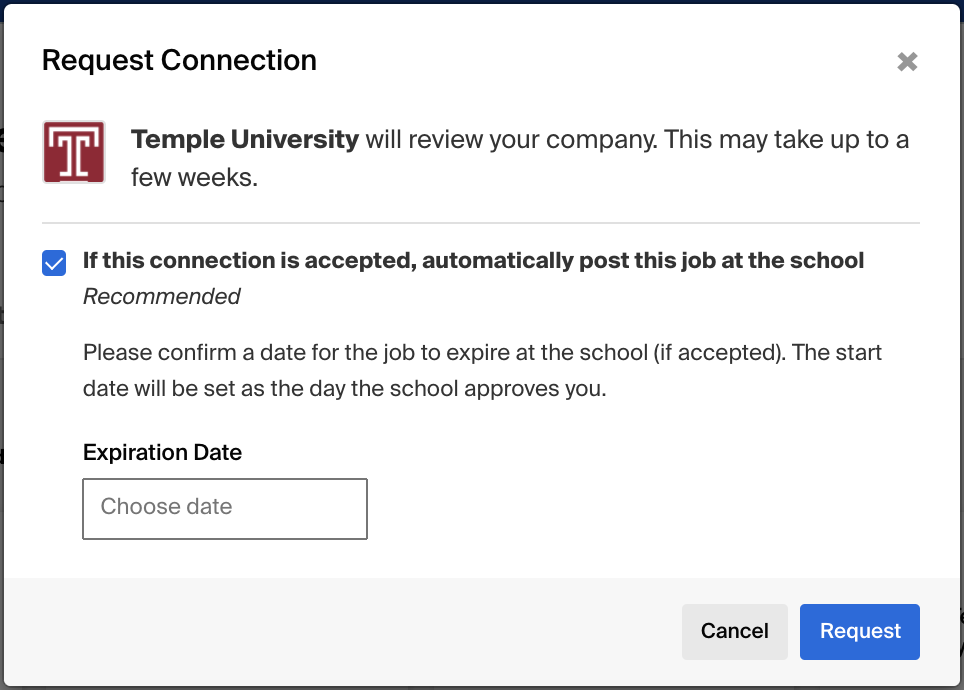 Follow up
This option displays if your company has an existing request to connect that is set to "Pending" or "In Progress".
Click Follow up to load the school page. Review the request history and add a comment to send a note directly to the school.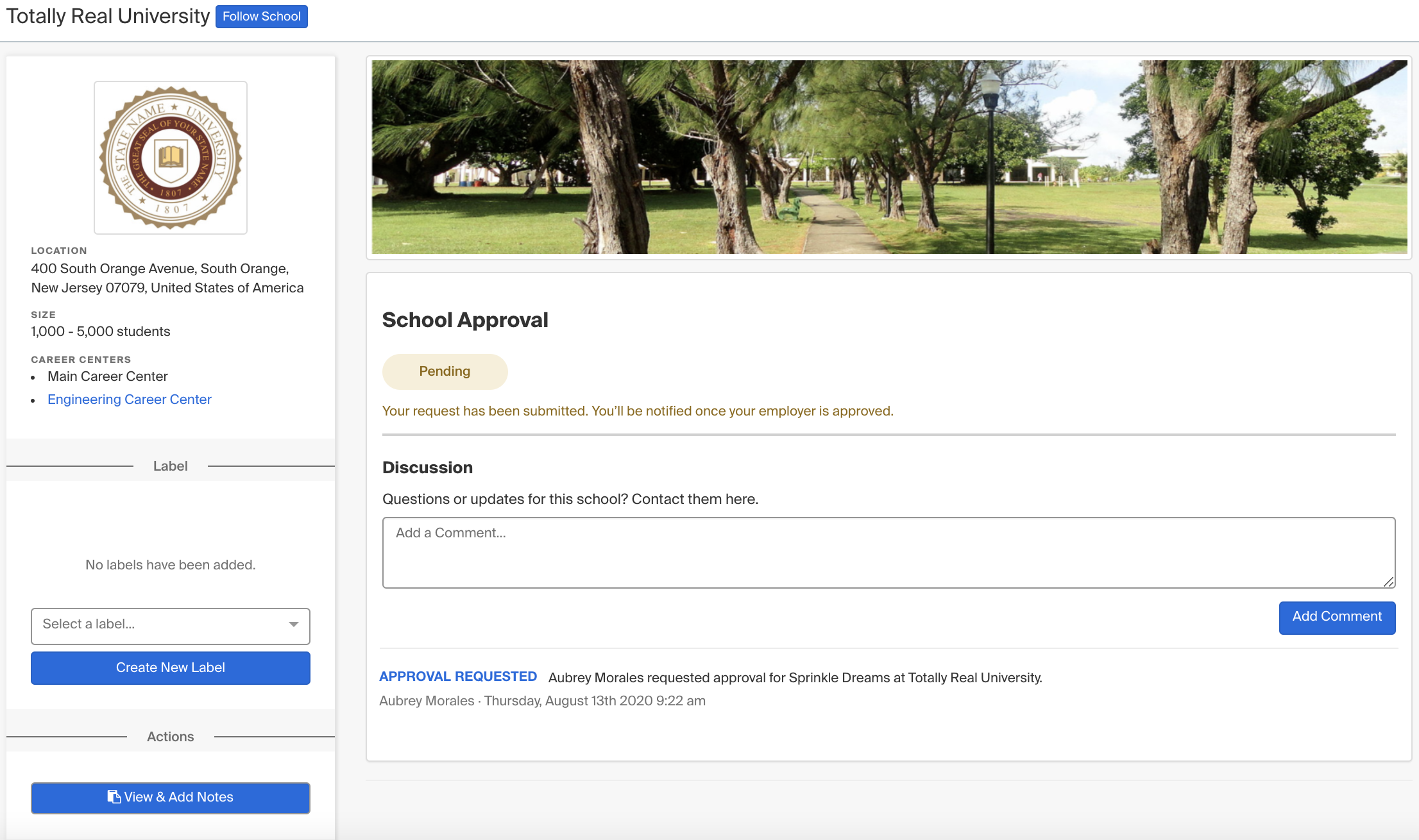 Post job here now
This option displays when an employer is already connected to a school and has permission to post jobs. Click Post job here now to send the school a posting request.
Once the posting request is sent, this school will be removed from the recommendations list and appear on the "targeted schools" list below it (which includes details on status of the posting).
Schools that have declined to connect will not display in the School Recommendations view. 
Customize recommendations options
School recommendations are based on existing job preferences and the primary location by default. 
Click Customize recommendations in the upper-right of the School Recommendations section to change applied filters.
In the popup that appears, uncheck/check the boxes as desired to remove/apply a filter to recommended schools. 
All employers can customize recommendations based on preferences and location: 
They meet your job's preferences

Your current preferences are displayed below–click the blue hyperlinked text "Edit them" to access and edit your job preferences.

The school is close to your job's location(s)

The location(s) selected is listed with the range of 250 miles. Edit the job post to change the location.
Core employers have a prompt to upgrade for further customizations, with a link to learn more. 
Premium partners can customize recommendations based on students' selected interests: 
They want to work near your job's location 

Choose from a radius of 5, 15, 30, 50, 75, 100, and 250 miles

For postings with multiple locations, students with at least one of the locations chosen as an interest are counted as a match

They have an interest in your job's role 

Student interests include at least one of the job roles tagged on the job posting

They have an interest in your industry