A career fair is a great platform for your students to meet potential employers. In Handshake, we provide the flexibility to allow you to create the parameters regarding size and scope of your career fairs and to select which students and employers to invite. 
You can create a new career fair from any page in Handshake. Click Fairs on the left navigation bar to get started. You'll be taken to the Fairs overview page where you'll see any career fairs your school has already created.   
Article Contents:  
Basic Structure
Click New Career Fair in the upper right corner of the page. 

1. Begin by giving your career fair a name. 
2. Next, select Published or Drafting to indicate the status of the career fair. 
Tip: We recommend selecting Drafting while you are setting up the fair as this will allow you to work on the career fair without it being visible to students or employers. You may then change the status to Published once you have completed all the set up process. 
3. NEW!!! Select the fair's location: Physical or Virtual. Selecting Virtual will allow employers to set up schedules to meet with students in group and 1:1 sessions when our virtual fairs offering is fully launched in late-July.
4. The next section of the form will help you restrict which students and employers are able to register for the career fair. 
Check the Public checkbox to allow students from other institutions to be able to register for and attend the fair.
Check the Hidden checkbox if you would like this fair to be hidden from employers searching for career fairs. If this box is checked, only employers who have the fair's Employer Preview Link will be able to access and register for the fair. 
Check the Invite Only checkbox if you'd like to restrict this career fair only to students who are invited to attend. 
5. If you choose, you may add your Logo to the registration form. Please note the suggested image size requirements when choosing the right image: Handshake Image Size Guide (Additionally, logos cannot be deleted once uploaded, only replaced.) 
6. Now you must enter the Location, which is the location where the fair will take place on (or off) campus.
7. If your school has multiple Career Centers, select the desired Career Center from the drop down menu.
8. Enter a Contact for the career fair. This will be the main point of contact for employers and students who have questions about the fair. If you leave this field blank, the contact will default to the person who created the fair. 
9. The section for Invoice after Approving provides two choices: 
If you want to invoice employers immediately after approving their fair registration, CHECK the Invoice after Approving box. (You will be able to review the invoices and confirm them before sending.)
If you want to send invoices manually (after approving the registration), leave the Invoice after Approving box UNCHECKED. 

10. You now must select your preferred payment method(s) using the Employer Payment Methods checkboxes. 
If you check the Manual box, approved employer registrations will be able to pay fair fees using any payment methods you accept, i.e. checks, money orders, wire transfers, or in-person credit card. 
If you check the Credit Card box, approved employer registrations will be able to pay fees by credit card right in Handshake. Note: payments will need to be enabled via your school settings in order for this to be selected. For more information, refer to Payments System Setup and Testing Guide.  
You must check at least one payment method box, and you're welcome to check both. Most schools find it most convenient to only allow employers to pay fees with the Credit Card option. If you're concerned that an employer may not be able to use this method, you'll want to allow Manual payments as well. 
11. If you're allowing Manual Payments, you can use the Payment Instructions field to provide information that will be included with the employer's invoice. For example, you may want to include the address where payments should be sent, or to whom checks should be payable. 
12. If you'd like to charge students a fee to attend a career fair, enter a dollar amount in the Student Cost field. Leave the field blank if there is no cost to attend. 

13. You may limit the number of students able to attend career fair sessions in the Student Limit field. Enter 0 if there should be no limit, or enter the number of students desired. Keep in mind this limit is per session. If you set a limit, and student registrations reach capacity, students will have the option to join a waitlist. For more information, please refer to Waitlists for Fairs & Events.
14. If the career fair is being managed externally, you may enter an External Link. Students will be redirected to this page once they register for the career fair in Handshake.
15. The Career Fair Sessions section will allow you to create as many sessions as is needed for your career fair. You'll be able to enter a session name, designate a start and end date and time, and upload a booth map for each session. If you'd like more than one session, use the blue "Add a Session" button.
16. Select the Timezone where the fair is taking place from the dropdown menu.
17. Next you will set up the schedule for Student Registration and Employer Registration sections of the form. Even if you're not requiring students to register for the fair, it's helpful to make their registration end date the day of the fair (but prior to the first session start time) so any student looking at the fair will know they are still able to come. 
18. Check the Allow all Majors box if you'd like to allow employers to recruit from all majors. If left unchecked, employers will need to specify which majors they are recruiting for at the fair.
19. In the Allowed Major Groups field, you may select major groups in Handshake or specific majors at your school who may attend the career fair. You'll want to select major groups if you'd like to specify majors and are inviting other schools to attend the career fair. To learn more about Major Groups, refer to School Settings: About Major Groups.
20. You may enter Employer Instructions, which is any specific information you'd like Employers to see on the registration form when they register for your career fair. This might include the size of the table they'll have and any table covering that's included, the number of chairs they'll have, or whether or not they'll have to pay for parking or lunch for example. 
21. Enter the desired Student Description, which is information students will see when viewing your career fair. You may want to include information about the fair's major focus (if there is one), companies you know will be in attendance, the number of companies you're expecting, appropriate attire for the fair, and anything else that will help encourage students to attend and to be successful when they do. 
Here's an example of a comprehensive Student Description: 
Held each semester, this fair is for students and alumni seeking a full-time job, internship, co-op or part-time experience in the field of engineering. A job fair is an opportunity for you to present yourself professionally in person to a potential employer, while showcasing your communication skills. The keys to a successful job fair experience are preparation and follow-up. Here is a checklist to help you get prepared: 
Research the list of participating employers through Handshake
Attend the Preparing for the Job & Internship Fair Seminar
Get your resume reviewed (see below for hours)

Resume Review Hours 1:00-4:00pm Monday, Tuesday, Thursday (walk-in)
Friday (by appointment only)

Prepare your 30 second introduction
Make sure you have a suit, pad-folio, and copies of your resume
Don't forget to ask for business cards at the job fair so you can follow-up with thank you notes!
22. Similarly, enter the Employer Description, which is what employers will see when viewing your career fair. This is an opportunity to sell employers on why they should participate in this fair. You might want to share appealing information about your students, the fair location, other companies attending, or promotional opportunities. 
Here's an example of a comprehensive Employer Description: 
Held in both the fall and spring semesters, the Engineering Job & Internship Fair is ideal for employers looking to fill internship, co-op, part-time, and full-time opportunities in the field of Engineering. 
Before the event begins, our College of Engineering & Applied Sciences (CEAS) pre-professional societies (i.e. SHPE, NSBE, SWE, etc.) host a networking mixer. The mixer provides employers with the opportunity to network with our exceptional student group leaders and their members in a smaller, more intimate environment before the fair begins at 12pm. You will also have the opportunity to connect with professors during our Faculty Networking Luncheon from 11am-12pm. 
Please note: If you are looking to hire software engineers, or for other information technology (IT) related roles, the IT/Computer Science Job & Internship Fair is ideal for you - see date below. Those looking to hire engineers outside this area (i.e. civil engineering, mechanical engineering, etc.) should attend this fair. 
23. If you'd like to use a Default Invoice Message, you may now enter that. This is the template that will appear by default when preparing to send your invoice, which you're welcome to edit as needed prior to sending the invoice.
24. Enter a Student Welcome Message, which will be automatically emailed to students when they register for your career fair. You may want to include reminders about items the students should bring, appropriate attire, or the importance of researching participating companies. Note: students on the waitlist will receive this confirmation only if they are registered for the fair from the waitlist. 
25. List your school's Employer Refund Policy here. You'll want to be specific and include cancellation dates and amounts eligible to be refunded, if any. 
26. When a company registers for a career fair, they have the option to fill out a company description. Enter Maximum Company Description Length to set the limit on how many characters (including spaces) a company's description may be. The default is set at 750 characters. 
27. The survey section allows you to add questions (using Handshake surveys) that students and/or employers will see on their respective registration forms. To learn more about how to customize the registration form using surveys, refer to Creating and Testing Surveys. 
28. The Name Tag Printing section will allow you to enable name tag printing and input your custom XML code. For more information, refer to Kiosk and Name Tag Printing Configuration and Testing Guide.
29. If you have filled out all the required fields, you are ready to launch your career fair. Click the green Create Career Fair button in the bottom right of the page. 
Tip: Once your fair has been created, at any time you may change its status from Drafting to Published (explained in step 2 of this article). When you are ready for your fair to be seen by students and employers, click Fairs from the left menu. You will see any upcoming career fairs for your school on this page. select the fair you'd like to edit, and click Edit in the upper right corner. Select Published, and click Update Career Fair in the lower right corner of the page. 
Configure Details
At this point, you've created the basic structure of your career fair. Now it's time to configure additional details of your fair. 
When the fair has been created, you'll be taken to a page where you can edit the basics you just created and add more details. The default view will be on the Details tab, and you can use the boxes on the left side of the page to navigate: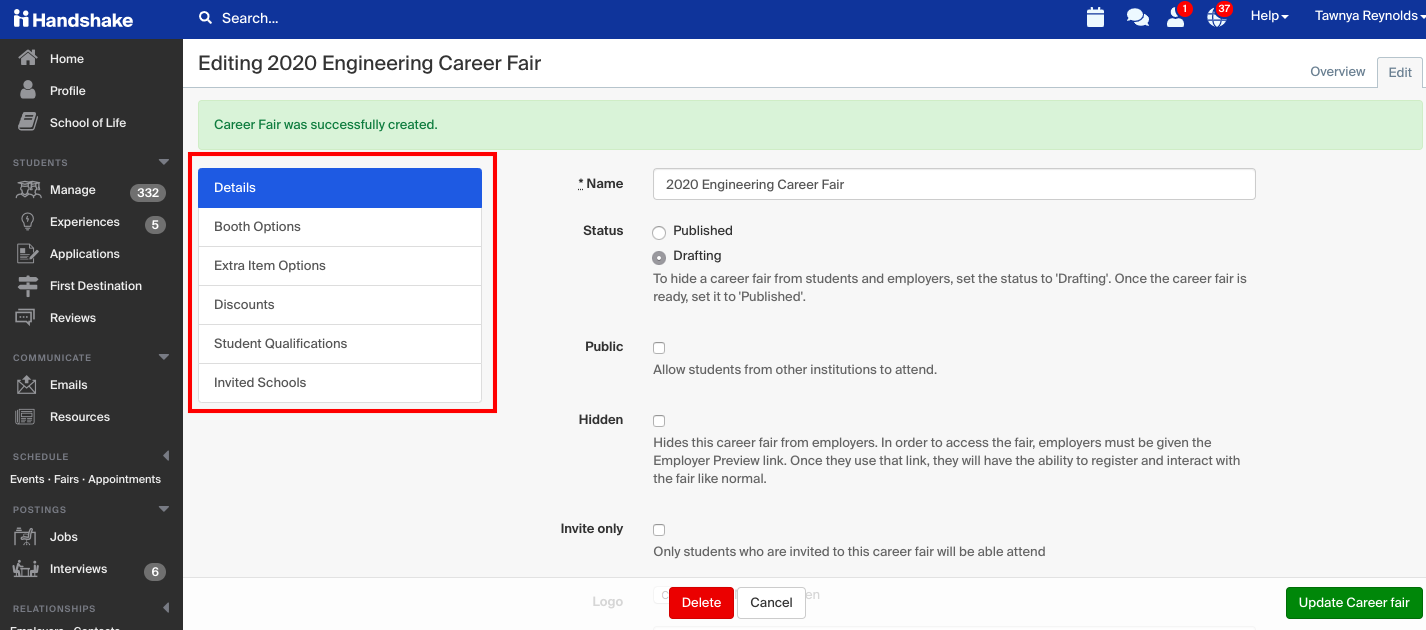 back to top
Booth Options
A fair must have at least one booth option in order for employers to be able to register. Without a booth option created, employers will be unable to register. Without a booth option added, you'll see an error appear on the fair overview page: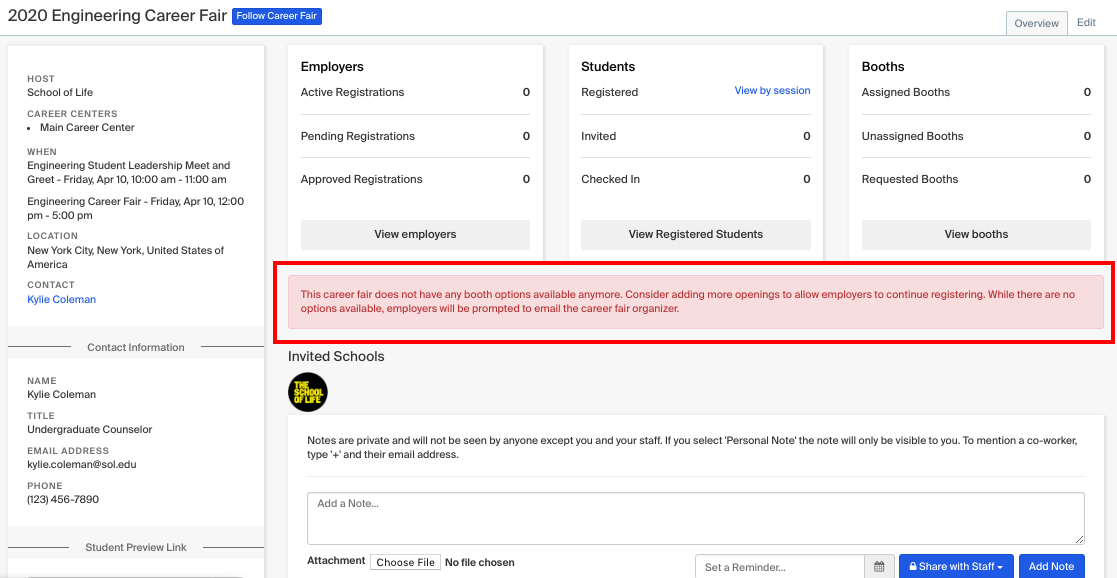 The Booth Options tab will allow you to see existing booth options that have been configured and provide a blue button to Add Booth Option in the upper right: 

Once you click on Add Booth Option, you will see the following fields available to complete: 
Name: i.e. "Corner Booth", "Small Booth", etc. 
Career fair session: if your fair has more than one session, select the appropriate session for this booth option.
Hidden: If you check this box, the booth option will not be visible to employers, however, you will be able to add this option to a registration on an employer's behalf. (You might use this feature if you'd like to keep some of your booth inventory reserved for non-profits, or for last minute VIP registrations for example.)
Description: Use this field to include details about the booth option, what is included, etc. 
Price: Enter the dollar amount that this booth option will cost employers. 
Count: This specifies the number of booths of this type that are available. Handshake will automatically ensure that the booths don't oversell.
Included representatives count: The total number of representatives included in this booth option.
Maximum additional representatives count: The maximum count of additional representatives that an employer can pay for individually to attend. 
Additional representatives cost: This is the cost per additional representative that the employer will pay.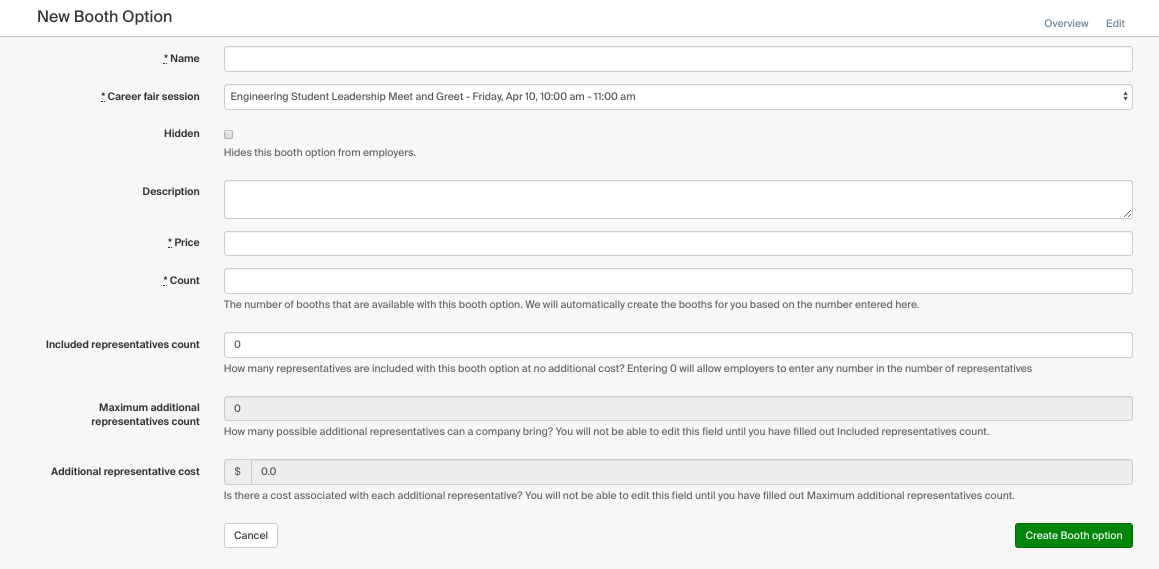 Extra Items 
Use the Extra Items options button to define add-on purchase options. To learn more about Extra Items, refer to Adding "Extra Items" to a Career Fair. 

Discounts
Use the Discounts tab to define discounts available to employers who meet certain qualifications (i.e. non-profits, companies with multiple registrations, early registrations, etc.). To learn more about Discounts, refer to Applying a Discount to a Career Fair Registration.

Student Qualifications
The Student Qualifications tab allows you to choose certain requirements that students must meet to be eligible to register to attend this career fair. 
Selecting multiple requirements will mean that students must meet all requirements in order to register. For example, if the following are selected: school year - Junior, college - college of business, label - "fair eligible", then only a student with a matching school year, college, and label would be able to register. You'll see a total number of eligible students in the top right of this page; as you select requirements, this number will decrease each time to show how many students qualify.
School years: Select school years to limit registrations to only students with these school years. You may select as many as you like. 

Note: Students that do not have a school year on their profile will not be able to register. 

Cumulative GPA Required: Check this box if you'd like registrations limited to students with a minimum gpa. Use the Cumulative GPA text box to enter the minimum gpa. 
Major Groups: Select specific majors groups to limit registrations to students with a qualifying major. 
Colleges: Enter the name(s) of colleges that students must be linked to in order to register for the fair. 
Required Labels: Enter any labels that students must have on their profile in order to register.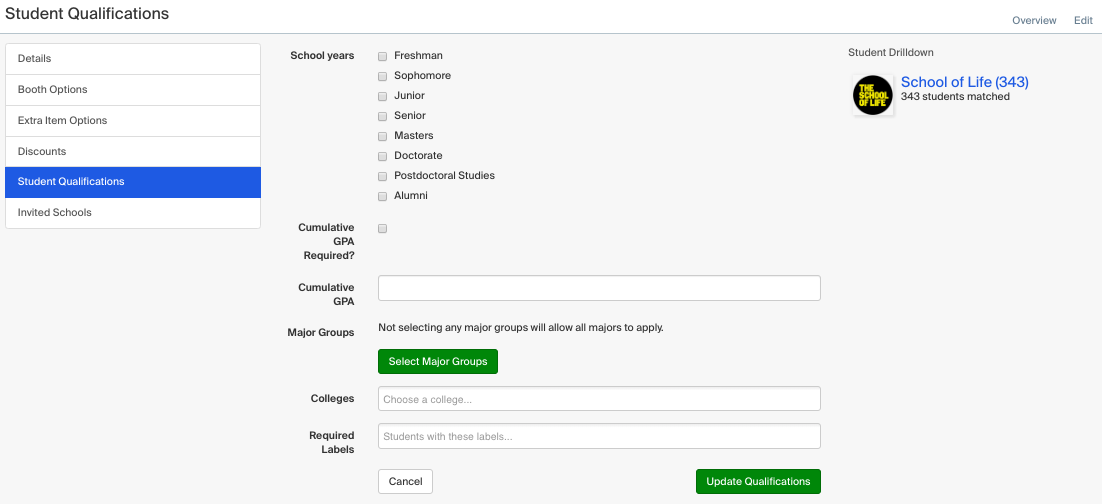 Invited Schools
The Invited Schools tab will allow you to invite other schools to attend your fair. Students at invited schools will be able to see and register for your fair. 
To invite a school, click on the green button "Add School" in the top right of this screen, then select the desired school(s) from the drop down menu. 

back to top
Additional Resources
To see what the registration process looks like from an employer's perspective, please refer to our employer help center article Registering for a Career Fair (Employers).  
If you need to complete registration on behalf of an employer, please refer to Registering for a Career Fair on Behalf of an Employer. 
To see what the registration process looks like from a student's perspective, please refer to our student facing help center article Registering for a Career Fair (Students).