Are you a Handshake Premium partner? If so, check out Employer-hosted Meeting Scheduling, part of our Virtual Events Module!
If your company is looking to conduct interviews virtually, you can manage those schedules through Handshake using the recommendations included below.
Update existing OCI titles to indicate it's virtual now, and add "virtual" to the title of new schedules

Once your interview is updated to indicate a virtual process, there are three potential ways to add your meeting links to the schedule:
add the link to the interview schedule description
add the link to the interviewer slots (once the schedule is approved and built by the institution)
partner with the institution to consider adding an institution room with a virtual meeting link
Add the link to the interview schedule description
If you'd like to add the a virtual meeting link to the interview schedule's description, you may do so at any time. Please note that this link is not clickable, so students will need to copy and paste the link into a browser window.

If you use this method, we'd recommend to message all interview candidates directing them to check the Description for virtual URL.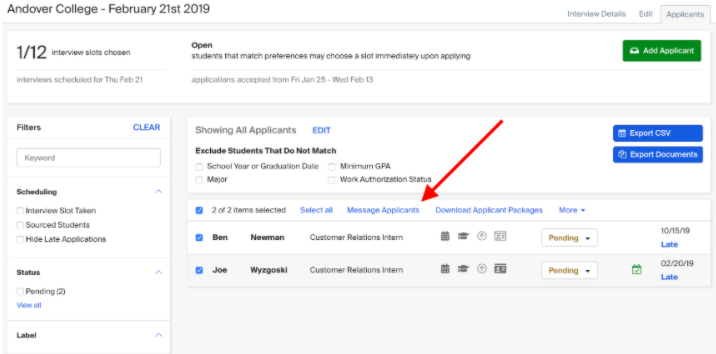 Add the link to Interviewer field
Once the interview schedule is approved by the institution and slots have been added, you can edit the "Interviewer" name on existing slots, so add a meeting link to slots as appropriate.
Select the desired slot from the list, or you can put a check to the left of the room name and choose to bulk edit slots, if you wish to add the same link to each slot:

In the popup that appears, enter the link into the Interviewer field, then click Save in the lower right: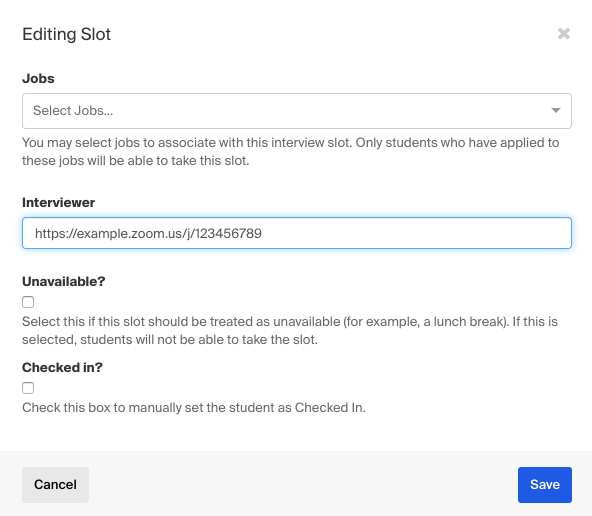 You'll see the link appear in the Interviewer column on the slot list:

Adding the link to the assigned room (only institution can edit)
The institution can also update their Rooms with a meeting link, and assign the room with meeting link to slots as well. Partner with the requested institution to determine the best way to proceed here, as only institution staff members can manage these changes.
If the institution adds the link to a room, you'll see the building and room name, along with a clickable link display for both the date and applicable slots: