Handshake is the #1 place where students find jobs and get hired. We've developed a way for you to attend career fairs virtually so you can meet interesting companies looking to hire students like you.
The Virtual Fair on Handshake
Institutions are able to host virtual fairs in Handshake, and employers can register similarly to in-person fairs. Once the employer's registration is approved by the institution, employers are able to generate session schedules for representatives that will be present.
Employers are able to host two types of sessions to interact with students:
Group Sessions:

30 minutes each

multiple students can attend

1:1 Sessions:

10 minutes each

one student and one employer representative can attend
In these sessions, employers will be identified as the Host, and they will be able to share their screen with participants.
Identifying a virtual fair
Navigate to the Events page (via the top menu bar), then use the Virtual filter to identify virtual fairs. A fair may be created by your institution, or your institution may be invited to participate in a virtual fair from another university.
You can click on All Filters, then click on Only posted by my school to narrow down the displayed list of fairs.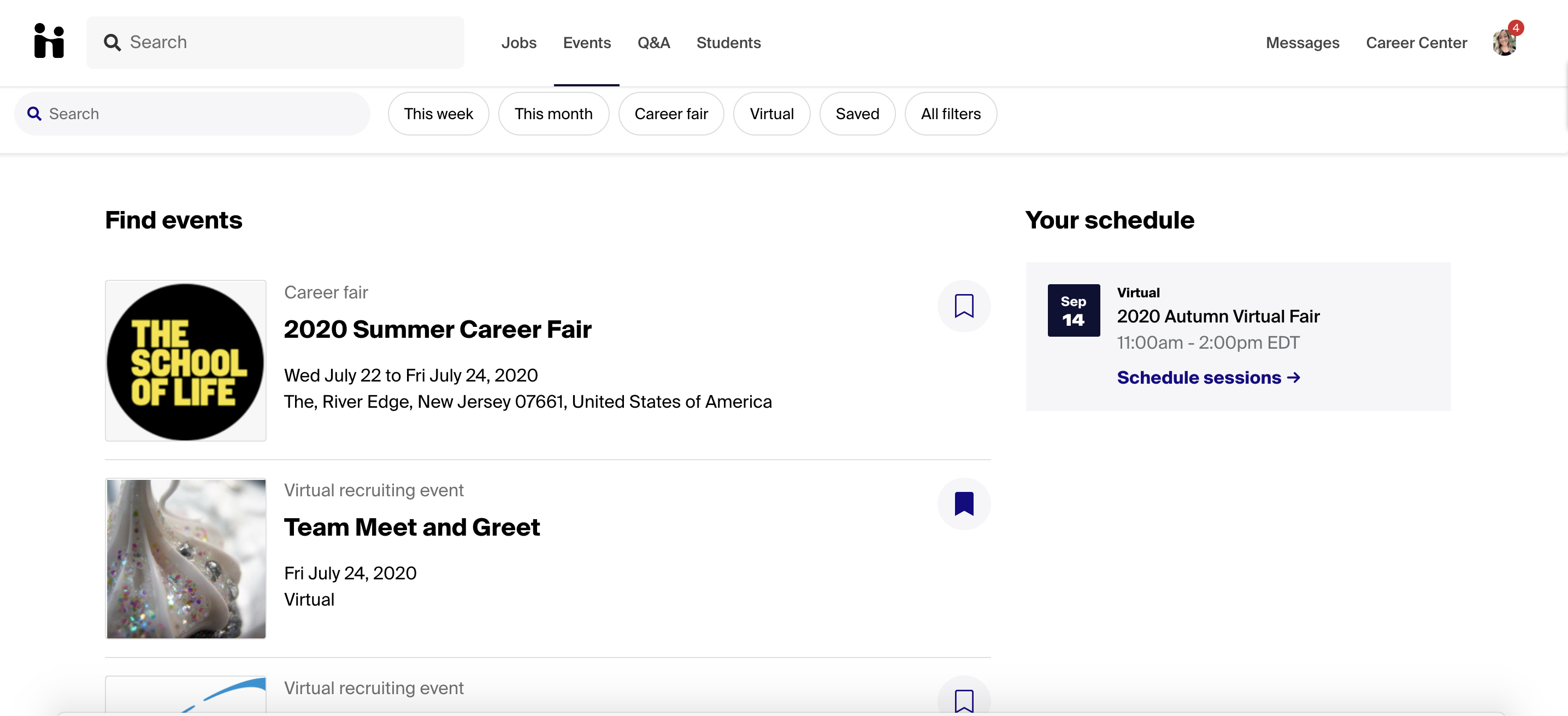 If you see a fair or event you'd like to save to review later, click the bookmark icon to the far right of the fair name to save it. You can use the Saved filter on this page to locate saved events and fairs.
Registering and signing up for sessions
In order to sign up for sessions with employers, you must be registered for the fair.
To sign up for Group or 1:1 sessions, your profile privacy will need to be set to Community or Employers.

Review which employers are attending the fair (follow employers you want to check back in with)!

You'll be able to sign up for sessions up to one(1) minute before the start time; once the session has started, you'll be unable to sign up for the session.
Preparing for the fair
Here are some best practices to help you prepare for a successful fair:
Ensure you have the right setup to support your audio (required) and video (optional).
Complete your profile
Upload a CV to your profile, if you haven't already!


Tip: After uploading, click the blue button Feature on Profile to make the document public - when you sign up for sessions, this will allow the employer to view your CV!
Check out our blog post for more tips on how to stand out in a virtual fair!
Participating in the fair
All sessions will have the option for Handshake video, audio and text based chat. There is no customisation for types of interaction; it is up to the employer and student joining the session to determine how they would like to connect.
See details on day-of participation in Participating in a Virtual Fair.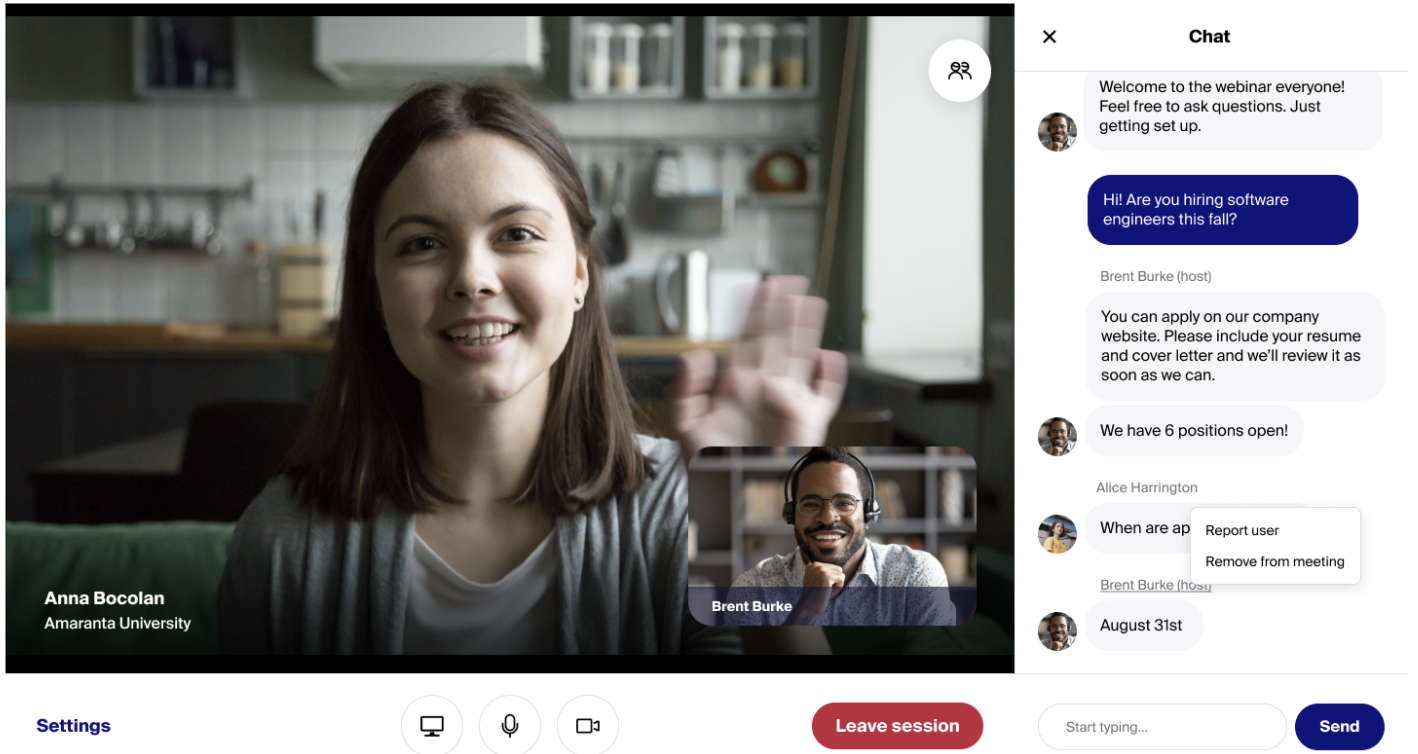 As long as you're signed up for the session successfully, you'll be able to launch video at any point after the session has started.
We want you to feel as safe as possible while attending virtual fairs and interacting with employers, so we've taken several steps to ensure your safety.
Read more about these steps in Reporting an Issue at a Virtual Fair.
FAQs
Will students be able to submit their CVs to employers? Without joining sessions?
Yes! Students will be able to sign up to meet with employers in 1:1 and group sessions during a virtual fair, and employers will have access to these students' CVs before and after the fair.
Will students who live internationally be able to participate?
There are no restrictions by location, so as long as the student has logged into Handshake they will be able to participate.
Can a student see previously attended sessions?
Yes! Students will be able to see their previous sessions within the sessions tab.
Will students, employers and career staff have access to transcripts of the chats they had during the virtual fair?
Transcripts will not be provided for conversations held during the fair. Instead, there will be moderation options for students and employers to utilise during conversations.