We are so excited to announce that Handshake is now open to all 4-year, accredited institutions in the United States. For the first phase of this new initiative, employers will be pre-qualified to post jobs to the Handshake Open Network based on their Trust Score and past activity on Handshake. We will continue to update our vetting process throughout Fall 2019, to create the best possible experience for students in the Open Network.
Jobs:
We've built an update to the job form that will allow certain employers to post jobs to students from non-partner institutions in addition to partner institutions.
When posting a job, if "Add All Schools" is selected, a checkbox will appear for "Include students in the Handshake Open Network", as seen below: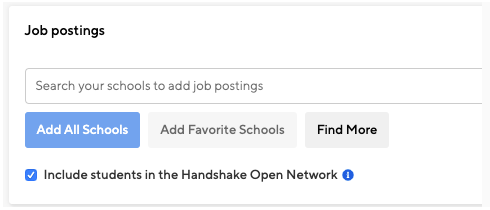 While this update rolled out mid-summer, the job will not actually "post" until the end of August, when the Handshake Open Network officially launches. For now, it will be used to gauge employer interest in posting jobs this widely.
When the job is posted successfully, employers will be able to view a blue information bar on the job show page that indicates the job is posted to Handshake Open students as well.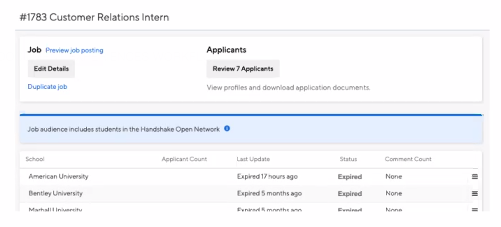 All employers will see the option to post to students in the Handshake Open Network, but only employers that have been vetted by Handshake will be able to post their jobs to students in the Handshake Open Network.
If an employer is not meeting the requirements now, but they eventually meet our requirements, their job postings will become visible to Handshake Open Network students at that time.
Note: Employers will only see the option to post to Handshake Open Network students if they've chosen to target all partner schools they're connected to. If they are targeting their posting to a subset of schools they're connected to, they will not see the option.
Events:
Only our Premium Employer partners will be able to post a public event to the Handshake Open Network. In order to share an event with students in the Handshake Open Network, you'll need to create the event as off-campus or virtual, then you can share that link with specific students. As long as the students are signed in, they'll be able to see and register for the event using the link you shared!
For our core users, to learn more about premium, click here: About Handshake's Premium Employer Offering
Search and Message:
Employers that are connected with the Open Network are able to search for and message students within the Handshake Open Network from the "Search Students" page. To do this, employers will just need to search for the name of the school the students are connected to using the "School" filter: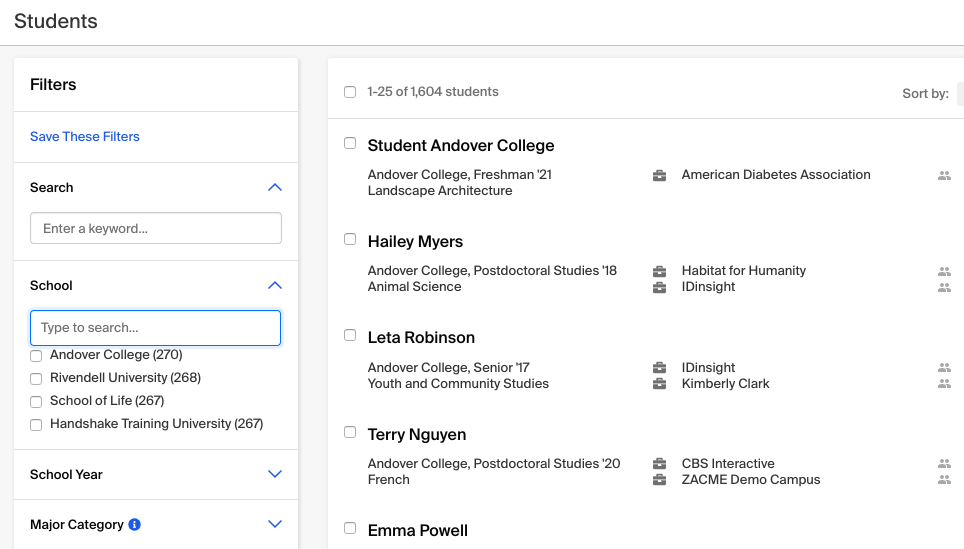 To message a student, select the messaging icon to the far right from the student's name:

Enter your desired subject if you prefer a custom subject, otherwise the default subject will be "Your Name from Company Name has sent you a message on Handshake." Compose your message content, and select Send when you're ready to share your message: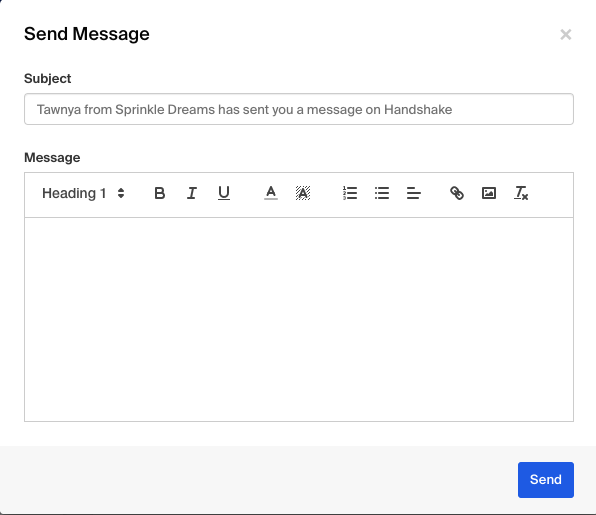 FAQs:
How do I search for students in the Open Network?


This feature has not been released yet, but we will update this article when that ability is live!

Does the Open Network exclude students who are part of schools that are already partnered with Handshake?


Student accounts can only be connected to one institution within Handshake. If a student is connected to a Partner School, then that student will not be listed as part of the Open Network. If a school chooses to partner with us, then any current students in Handshake would transition from the Open Network to the Partner School, when the school launches Handshake.

Can "open" students see my full employer profile?

Yes! Students from Partner Schools and in the Open Network have the same view of employer profiles.